2G CENERGY Power Systems Technologies Inc.
---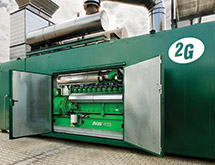 When Hurricane Sandy hit the  East Coast in 2012, electrical power was cut off for days. In circumstances like those, the smart company will generate its own electricity. Rising electricity costs make self-generation even more attractive. Now add to that the benefits of cogeneration – in which the heat produced by electrical generation is captured and turned into useful heat to increase the total system's efficiency – and the argument for cogeneration is even stronger.
2G Cenergy Power Systems Technologies Inc. adds to that equation the benefits of turnkey service, effective service plans and meaningful warranties. The company is dedicated to the production of decentralized power generation systems that provide combined heat and power (CHP) cogeneration technologies.
---