Blackhawk Engineering
---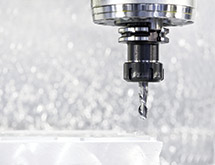 Last year was a major year for Iowa-based Blackhawk Engineering. Not only did the precision CNC machining specialist mark its 40th anniversary, but the company also completed a 40,000-square-foot expansion of its main facility. The company says this expansion is significant because it demonstrates the growth and evolution of the company since its inception as well as its commitment to serving its customers. 
"Blackhawk Engineering was founded in 1974 to design and build tooling, dies, and special machines," the company says. "Over the next 40 years, our company has expanded and diversified to provide customers with the best precision CNC machining services available."
Based in Cedar Falls, Iowa, Blackhawk Engineering specializes in high-quality precision CNC machining and production manufacturing services for a broad customer base. The company's customers include some of the largest manufacturers in the agriculture, construction, energy, military, railroad and wind energy sectors. Wherever the company applies its expertise, Blackhawk Energy says, it delivers the same high-quality services with a focus on delivering true solutions for its customers. 
---