Electri-Cord Mfg. Co.
---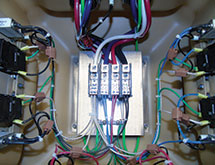 Electri-Cord Mfg. Co. is dedicated to meeting the needs of its customers, regardless of where those customers are located in the world. "Our customer service, and our ability to respond and react to customer needs, set us apart," explains Dennis McDonald, vice president and general manager of the Westfield, Penn.-headquartered operation.
The company takes what it calls a "Globally local©" approach to business, which includes utilizing manufacturing facilities in the United States, Mexico and Asia and maintaining inventory in local distribution and sales facilities to provide products "when and where our customers need it," he adds. 
---