Elster American Meter Co.
---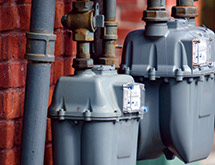 Millions of homeowners across the United States are familiar with Elster American Meter's products, whether they know it or not. "We estimate that every six of 10 homes has one of our residential gas meters on it," the Nebraska City, Neb.-headquartered gas measurement and regulation product manufacturer says. "Chances are, if you were to look, you probably have one of our meters on your home, hopefully."
The company, a business unit of German manufacturer Elster Group GmbH, manufactures diaphragm-style gas meters under several brand names including American Meter, Canadian Meter, Perfection, Gas Depot and Instromet. The company also produces regulators and mechanical fittings for its gas meter lines. Elster American's top-selling gas meter is the American Meter AC250, which has sold more than 41 million units worldwide.
---