New Era Converting Machinery Inc.
---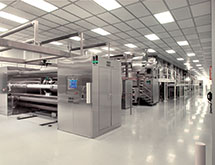 As a world-leading provider of processing equipment to the web converting industry, New Era Converting Machinery Inc. regularly hears from potential suppliers eager to do business with the company. 
When it comes to choosing prospective vendors, the company takes a highly considered approach. "We're looking at three things: quality, on-time delivery and price," President Bob Pasquale says. "Quality for us is first and foremost, and the ability to get components on time is extremely important because of the just-in-time manner in which we do assembly, so those are the most critical elements."
The company meets with prospective vendors to review their capabilities, then solicits bids to determine pricing and delivery times. New vendors initially supply New Era with a small quantity of non-critical path parts. If the vendor proves to be worthwhile, New Era then engages it in a deeper relationship including having the vendor develop and supply more critical parts.
---