Roboworld
---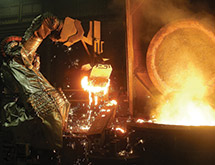 Industrial robots have changed the face of manufacturing, helping companies become more competitive via increased speed and productivity while at the same time reducing costs and removing humans from potentially dangerous and harsh working conditions.
But there are numerous environments in which robots might not operate without appropriate protection. Robots used for applications such as die casting, high- and low-pressure washing, and media blasting applications often-times require protection to shield them from extreme manufacturing conditions.
Charles Tur sought out such a solution more than 20 years ago when he worked in the automation industry. "He was canvassing the market for people who could protect the robots and was coming up empty handed," says Tur's son, Chris Tur, president and CEO of Roboworld. Charles Tur founded the West Chester, Ohio-based company in 1993.
---