£120 million investment approved for futuristic vape manufacturing center
The facility will be over 15 times bigger than the company's previous 14,000-square-meter factory
One of the world's leading vape technology brands, GEEKBAR, has announced it will be investing more than £120 million into establishing a new, smart manufacturing hub in China's Guangdong province.
Expected to be one of the most futuristic production facilities within the vape technology sector, GEEKBAR seems to be raising the standards for the industry, while also continuing to spearhead the growth of a flourishing e-cigarette and vaporizer market.
In December 2022, for instance, the Office for National Statistics published a report, indicating that smoking rates in the UK have fallen to an all-time low (13.3 percent); conversely, e-cigarette and vaporizer use has peaked at an all-time high.
As it stands, there are approximately 6.6 million smokers in the UK, compared to four million vapers. The report suggests that the decrease in the proportion of current UK smokers could be attributed to the relative increase in vaping and e-cigarette use.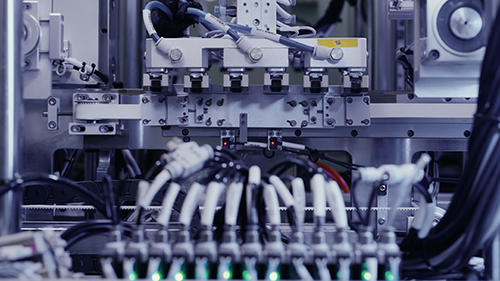 Evidently, the vape industry has exploded – particularly in the 18-to-24-year-old age group. The independent Center for Economics and Business Research – more commonly known as Cebr – has recently published statistics revealing the economic strength of the niche.
For example, in 2021 the aggregate value of the UK vape industry topped out at a staggering £2.8 billion, funneling more than £310 million to the Exchequer through tax and, potentially, saving the National Health Service (NHS) around £320 million annually.
To keep up with demand, GEEKBAR will introduce some of the industry's finest machinery to its new site, which will be built over a two-year period in the Zhuhai National Hi-Tech Industrial Development District, to maintain high quality standards and enhance efficiency rates. With this new equipment, the firm argues that it will boast a 99.8 percent yield as well as a fault-free production process, thanks in part to its collaboration with QISITECH, an atomization technology group based in Dongguan, China.
QISITECH will assist with research and development, the manufacturing and distribution of electronic atomization equipment, while also creating clean and dust-free facilities so that the facility is properly set up for production, assembly, and preparation for liquid filling and final packaging.
"Digitization and smart manufacturing will offer great benefits, not just in production volume and efficiencies, but also in assuring retailers and consumers in the UK and around the world that our products are made to consistently high-quality standards and can be enjoyed safely," commented Allen Yang, CEO of GEEKBAR.
"The integrated packaging technology and three-level QR coding introduces a higher level of traceability to defeat counterfeit and illicit sales," he adds. "It is of vital importance that we can trace products in this way using the information stored in each batch to ensure confidence that consumers are getting genuine GEEKBAR products.
"We will continue to make the best use of technology to ensure that retailers can be confident that only genuine GEEKBAR products get onto their shelves."