300,000 tiles per day: catch up with Johnson Tiles, the UK's leading manufacturer of tiling solutions
The last time we featured Johnson Tiles in Manufacturing Today was about a year ago. Recently, we caught up with Richard Kelsall, the company's Marketing Director, to hear the newest developments from the UK's leading tile manufacturer.
Indeed, for over 120 years, the Stoke-on-Trent-headquartered firm has dominated the ceramic manufacturing industry, creating bespoke and intricate products that spruce up public and private spaces – and when we say public, we mean it. The company has provided tiling services for the London Underground, Palace of Westminster, and 2012 London Olympics. With over 100 different ranges, anything is possible.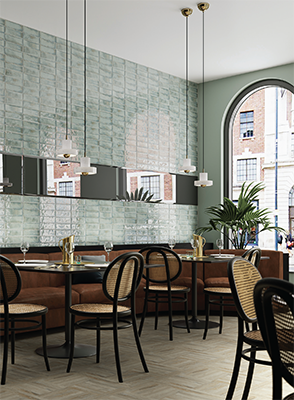 "I am thrilled to share that the last 12 months have been great for us," says Richard. "Although, it has not been without its challenges, but that is ultimately to be expected. With vast developments in the industry and the world we live in, we have entered difficult times. However, everyone here has pulled together to achieve plenty of brilliant things. Among many new product launches, we have also updated our Continuing Professional Development (CPD) suite, and created four new CPDs surrounding the built environment, which have been very well received. "We are a business that continuously invests in itself," he goes on. "Though, infrastructurally speaking, the small format investment model has been big for us. After further investment from our PLC, we have been able to remodel our mid-format size to the longer brick size of 45-by-25, which is set to launch in early 2023. We have received some tremendous feedback already from our house developer and retail customers, so we cannot wait to see this revisualized mid-format design integrated into our product range."
Champions of sustainability
Manufacturing over 300,000 tiles each day in a state-of-the-art 75,000-square-foot facility, Johnson Tiles has a vast output. With that, however, will inevitably come a significant carbon footprint. Fortunately, the company is highly aware of this, and is consequently making strides to become more sustainable.
Last time we spoke, Richard highlighted that the firm had become the first tile manufacturer to completely eradicate single-use plastics. To achieve that mission, Johnson Tiles had to approach over 100 different suppliers. Dogged enthusiasm for more sustainable practices prevailed: a specialist packaging partner was found to create shrink wrap made from sugar cane waste.
More recently, Johnson Tiles has pushed its sustainability mission even further. Earlier this year, the company received Environmental Product Declarations (EPD) certification, Gold Status, with the Supply Chain Sustainability School, and released more digitized brochures than ever before.
Richard elaborates: "There have been several notable sustainability wins for us this year, and we are very proud to share these with you. Indeed, we have dedicated more than two decades to finding an abundance of new ways that will better our operations across every aspect of the business. We have been driven by a robust commitment to improvement, which extends to our impacts on both local and global environments.
"For this reason, we began working with the Supply Chain Sustainability School to further strengthen our operation and awareness on sustainability," he adds. "The organization was able to help recalibrate our consumption of energy, supply chain sustainability, and water usage. All the workshops we attended were insightful and engaging, and will no doubt reinforce our processes and knowledge in the future.
"Our impact on the environment also extends to our customers and colleagues, who are now more engaged with sustainability than ever before," reveals Richard. "Hence, by utilizing the fantastic resources available to us, we have committed to targeted competency training for colleagues throughout the business. From top-line overview resources to deep-dive analysis, we are empowering employees to better their understanding of our environmental impact, with continued learning and action plans already in the works."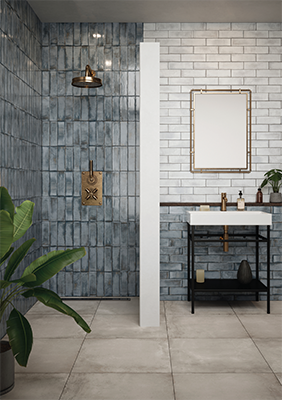 Colorful selection
On the product front, Johnson Tiles has also been busy delving into new territory. It has introduced a new small format size of 245-by-75, for instance, which Richard explains is more relevant for today's market and, following impressive sales figures, stands as testament to the ability of the design and manufacturing team. "Across our range, we have added many impactful new products," he goes on. "These all seek to address market functions with a level of distinction. A good example of that is our Melrose collection, a new range showcasing our new small format size perfectly. Featuring varied inkjet-colored textures and inspired by our natural surroundings, its stand-out glossy glaze is ideal for both commercial and residential use.
"Then there is 1901," Richard adds. "This is our proud heritage celebratory tile, which gives the illusion of beautiful, handcrafted qualities. An exceedingly popular range, 1901 has been key for us after hitting our 120th anniversary. Consequently, we have selected different names to honor local ceramic sites of note. Duplet, our sophisticated yet playful range, also showcases an architectural color palette that we find particularly inspiring. Our take on the geometrics trend, moreover, always makes for an impressive wall feature, with the additional choice of matt and gloss finishes, which is perfect for residential and commercial spaces alike."
Outstanding results
There is currently a curious crossover between past and future at Johnson Tiles; heritage is drawn forth into the light of 2022, and the results are impressive. To stay up-to-date with the latest trends, of which this is evidently one, Richard explains that the firm operates around Tile Trace, its biannual trend bible, which provides content for designers and architects. In the last twelve months, furthermore, it has updated and expanded its decoration capabilities with spray and dry powder applications, as well as making investments in new surface decoration processes.
"The business continues to grow from strength-to-strength, and we trust that we will continue to be the UK's number one specifier and designer of tiles in five years' time," he concludes. "We are an undoubtable leader in design, and we remain immensely proud that our in-house design team can both work uniquely and creatively to bring award-winning ranges into the world."
www.johnson-tiles.com