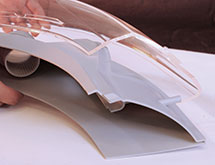 3D Systems' Quickparts Solutions has changed the way product development and manufacturing professionals outsource custom manufactured parts. Since its founding in 1986, the company has pushed for innovations to serve the needs of nearly every manufacturing industry, from space rockets to entrepreneurs trying to build a better mouse trap. "The culture at 3D Systems is one of innovation across everything that we do," Chief Marketing Officer Cathy Lewis says.
Direct Metal Printing (DMP) is one of those technologies that have led to advancement for the manufacturing industry as a whole. The process uses a laser to melt fine powder layer by layer, resulting in dense, chemically pure metal parts that can be printed within a few days without the need for tooling. This allows the geometry of the component to be optimized and the assembly to be reduced from multiple parts down to a single piece.
DMP has had critical benefits for the aeronautics and space industries, which constantly demand smaller and lighter components. "With DMP, aerospace companies are discovering new applications every day," according to Ziad Abou, vice president and general manager of Quickparts Solutions Global.
3DS' Quickparts has ISO 9001 certification, but to meet the high-reliability needs of defense contractors and space pioneers the company has also achieved AS9100C and is International Traffic in Arms Regulations (ITAR) compliant. Those qualifications have allowed Quickparts-printed components to be a part of recent SpaceX launches, but the technological advancements in DMP have implications for the average person as well in applications such as customized titanium implants.
DMP implants are also used for man's best friend. It used to be that as dogs aged gradual ligament damage ended their days of catching Frisbees and chasing rabbits. But thanks to the kinds of advancements happening in DMP, more than 10,000 dogs have received a 3D-printed titanium implant that heals cruciate ligament ruptures, allowing man's best friend to return to running down mailmen in only a few weeks' time. Direct Metal Printing is enabling people to make parts that were previously not manufacturable in any other process.
Global Footprint
Customers may submit designs through the 3D Systems' Quickparts website, instantly receive quotes and place orders 24/7. Orders typically ship in two to four days, but can be expedited if necessary. This has streamlined the order process from design to delivery.
Dedicated project managers provide customers with expert advice on which printing process and what materials best fit their product or prototype. The company has built its own software and scanners to test components on whether they meet specifications. Because 3D Systems manufactures its own machines, employees have a familiarity with the equipment that ensures quality in the end-result.
Quickparts counts among its customers companies specializing in medical equipment, automotive, shoes, aerospace, defense and even refrigerators. "You realize the world around you is made up of plastic and metal parts and somebody has to design every one of those," according to  Brian Ford, senior director of sales and service.
To serve all those markets, 3D Systems has created a global footprint, with dozens of Quickparts advanced manufacturing centers across the United States, Europe, Asia and Australia. "We're responding to customers' request for a global brand to be what they need us to be," Lewis says.
As 3-D printing has become more vital to manufacturing, many of those customers have invested in their own in-house systems. However, they often still turn to 3D Systems Quickparts to supplement production during peak manufacturing periods and because of the company's ability and expertise to handle complex designs. There is virtually no limit to the size of a component Quickparts can make, though larger designs may be assembled in sections.
The range of scalability is suitable for major companies, but has also attracted numerous startups that need access to parts but are not yet ready to make the heavy capital investment necessary for in-house production. One such customer is 360Heros, which sells holsters for GoPro cameras that allow the user to film video with a 360-degree field of view. "When [360Heros] needs to produce hundreds and hundreds of these it turns to Quickparts," Lewis says.
Making Advancements
Those are just some examples of how the company follows through on its forward-thinking philosophy. "Every year we have a new technology or new process to offer to the customers," Abou says.
With its range of 3D printing technologies, from ColorJet and MultiJet printing, to Stereolithography, Selective Laser Sintering and Direct Metal Printing, 3D Systems has a solution for a broad range of applications, and combines that with its deep expertise in digital design and fabrication. Quickparts also supports its clients with a hybrid approach, complementing its advanced manufacturing with traditional manufacturing services. "We're changing the game on manufacturing with a hybrid approach and a new design to manufacturing paradigm," Lewis said.
Although most of 3D Systems' business is centered on manufacturing, consumer interest in the applications has risen. Through Quickparts, the structure is already in place to meet demand. Lewis says people can make custom birthday gifts, like the "Ghostbuster" figurine with personalized faces 3D Systems debuted last fall, or wedding cake toppers featuring the bride and groom's likeness. 3D Systems is also exploring edible 3-D printing through its "Sugar Lab" in California. The focus is on its continuous advancements and adoption of new technologies that allows it to meet a huge range of needs.