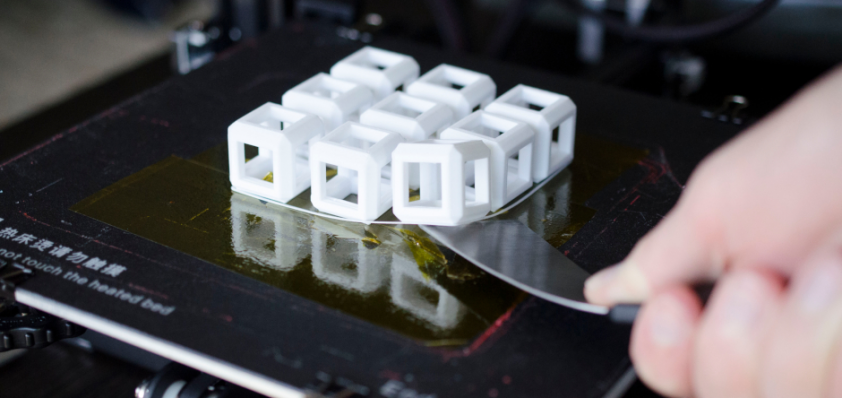 These days, companies use 3D printing more than ever to manufacture prototypes of plastic products. But when these firms decide to manufacture large volumes, they often turn to injection molding.
To get the best price, manufacturers often have to order large quantities resulting in having an overloaded inventory, increasing their costs of warehousing and risking obsolescence. But that is where 3DQue Systems Inc. can help. The Vancouver, British Columbia-based company is gearing up to offer new technologies that enable less costly, high-volume production of plastic parts in-house with 3D printers.
"We've invented a way to automate fused filament fabrication [FFF] printing," founder and Chief of Innovation and Technology Mateo Pekic says. "That allows FFF to become competitive with traditional manufacturing processes and prices."
Pekic co-founded 3DQue in 2018, but his background in 3D printing began four years ago when he purchased his first printer for $1,000. "It was a hobby that I had when I was in school," he recalls, explaining that he was impressed with how such a compact machine could make any part he wanted.
He initially used the printer to create small prototypes for small inventions and ideas. When word got out about Pekic's talent for building printers and printing parts, many classmates and family members began asking him to make parts for them.
An entrepreneur also approached him about printing 50 devices that were assembled from two components. But this created a challenge for Pekic. "Being in school, I had to study, and most days, I had to sleep at night, so I didn't have time to keep up with all of the demands," he explains.
Birth of a Business
Pekic began researching 3D printer automation and trying different solutions. Although he found the print process to be relatively quick, "There's all these auxiliary tasks you have to do in traditional [3D] printing," he explains.
These include applying adhesive to the print surface to ensure parts will stick. "But when you scrape the part off, you destroy that media, so then you have to re-dress the print bed," he continues. "I started looking and doing a whole bunch of research on how I could automate this."
After Pekic created a way to autonomously remove parts, he created software to reset the printer so it could automatically start on the next one. "Two years ago, the hardware essentially reached the state that it is in today," he says.
This allowed Pekic to focus on creating new innovations, including a system that turns single-use, plastic water bottles into filament for prototyping. This attracted the attention of CEO Steph Sharp, the mother of one of his classmates, who also was a finance expert and seasoned entrepreneur.
During a meeting, the two discussed Pekic's real passion, which was the automation technology. After Sharp saw its potential, "We started looking at how do we commercialize this technology and scale it into something where we can have it implemented so every 3D printer has this type of automation," Pekic recalls.
After many meetings, the two decided to partner on a business where they divided the work; Pekic would focus on the technology by working with programmers and consulting experts,
while Sharp managed marketing, sales, finance, and the tasks required by a new startup. "We incorporated in November of last year and we're launching the product on May 21," he says.
Automation Advantages
According to Sharp, one of the main reasons manufacturers choose injection molding over 3D printing is cost. "A plastic part is a few cents to a dollar if you get it injection molded," she says.
But if someone were to use a regular 3D printer for mass production, "The cost goes through the roof," she says. "People will use it for a prototype, but once they need a thousand of them, they will have to go to injection molding."
Another issue that users encounter with 3D printers, Sharp adds, is the challenge of placing enough adhesive on the print surface for the first layer of plastic to stick. "If it doesn't, the bottom of your part will be in a different place from the top of your part," she says.
Users also have to take the time to remove the part, and in most cases, companies will rely on a scraper. "That [manual labor] is where a big portion of the costs come in," she says.
But 3DQue's technology eliminates those challenges ensuring good adhesion of the part to the print surface throughout the process. When printing is finished, the finished part drops onto a conveyor belt. "After that, it's like any other manufacturing process," Sharp says.
The technology also provides manufacturers with advantages over the injection molding process. A large pain point, she notes, is that organizations often have to redesign their part to fit injection molding, but do not when they use a 3D printer.
"It expands the possibility for parts design for sure," Pekic says. "What we see for our place in the industry is facilitating this transition from prototyping technology to a mass scale solution."
Manufacturers also have to pay for the costs of mold design and fabrication and go through the process of ordering the part. "There's a lot of points where you're touching the material and costs are being incurred," Sharp says. "All of that goes away with 3D printing."
With 3DQue's automated technology, users can print more than 1,000 parts over a day or two, as well as eliminate the need for a warehouse. "You produce on-demand, on-site and your [need for] working capital drops," she says.
Solutions on Display
3DQue will be presenting its technology at this year's RAPID+TCT 2019, North America's largest 3D printing tradeshow. This will include QPoD, a pre-built configuration of 3D printers that is the world's first compact, volume production-on-demand unit that provides 24/7 automation to shop floors.
Sharp explains that QPoD consists of nine printers connected to a conveyor belt that collects the printed products and deposits them into a bin. Clients also will be able to include secondary processes in their QPoD setup. "We want to work with existing 3D printers and OEMs to integrate this into their printers," she says.
Manufacturers, she notes, already have a wide customer base that wants to use 3D printing on a massive scale. "We think there's going to be such a demand that people will want units right now," Sharp says. "They're going to want to optimize their system."
The QPoD configuration is driven by QSuite, which is 3DQue's end-to-end automation system for plastic 3D printing that is compatible with most FDM printers. With QSuite technology, "We take regular 3D printers and automate them," Pekic says. QSuite will be available for integration into other 3D printers later this year.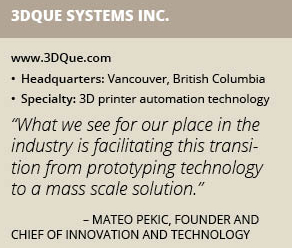 The leading industries that will be able to use these solutions, Pekic notes, are aerospace and automotive. "What often happens is they come up with creative and interesting solutions to certain parts on their prototyping machines," he says.
For example, these companies can use the machines to develop internal reinforcement geometries that are only possible with 3D printing. "We think those two industries will be the first movers," he says. "They know what benefit it can provide to their products."
Up to the Test
3DQue has proven the capability of its technology through testing. In January 2019, it retrofitted an FFF 3D printer with its QSuite automation and performed a field trial where the machine was put on repeat for eight days in a row, manufacturing switch cube frames (SC-Frames).
Although 3DQue associates occasionally checked on the machine, "It was completely unattended," Pekic says, noting that the machine produced 248 parts over the eight days. "When we started looking at our production costs, as compared to other manufacturing techniques – specifically injection molding – we saw 19 percent savings for the part."
The machine also enjoyed a 350 percent increase in productivity. According to 3DQue, this was due to increased print cycle time, as well as the number of print cycles available each day and during a seven-day period.
It also increased the time-to-market rate. "With QSuite technology, all SC-Frames were ready in eight days, accelerating time-to-market by 21 days," the company says.
Evolving Industries
Pekic sees a strong future ahead for 3DQue, but also a change in the industries it serves. "Now, you don't have to worry about a 'how do I move it to a mass production' solution," he says, noting that this technology will give users an easy package to deploy.
"They can deploy it in-house, which in itself brings a lot of benefits," he says, adding that this will enable 3DQue's clients to eliminate complex portions of their supply chain. "By having it in house, you get a just-in-time production process that is on an order of minutes of precision.
"Days can be cut down to hours with this," Pekic continues, adding that it also gives them more control. "You'll never run into issues like understock and overstock, because you have enough equipment to make exactly the amount of parts you need that day."
Although some may argue that the 3D printing process is too slow, "When you automate, you can run these machines 24/7," he says. "Previously, you needed an operator and that would increase the cost drastically, or your capacity would be limited by eight hours a day."
3DQue's technology also will provide sustainable advantages by eliminating long distance shipping and the need for volume warehousing. This will help them reduce GHGs and their carbon footprint.
"It's something that we're passionate about," Sharp says. "We see it as a wholesale change in the plastic parts business that will shift dramatically into our customers' facilities."
Pekic agrees. "It's more sustainable to run these machines in-house." he says.
The true cost of 3D printing, he adds, has been repeatedly understated. "Many sources tend to leave out critical information regarding overhead (such as labor and time), instead only focusing on direct machine and material costs," Pekic says.
He notes that this is exacerbated by the fact that direct costs are disproportionately higher when volumes are lower. "Ignoring these hidden costs paints a picture of 3D printing that is vastly different than the reality, often leading to frustration when users try to scale up 3D printing beyond a prototyping solution.
"If 3D printing really only boiled down to material cost, why do people continue to outsource and deal with additional logistics?" he asks. "One of the challenges for 3DQue is revealing all these hidden costs and demonstrating that [we don't have the same issues]."
Sidebar — An Industry Veteran
Steph Sharp has extensive experience as an entrepreneur, which began with the start of her first business at the age of 18. Over the years, she has gained more than 35 years of experience managing businesses and financing and coaching thousands of entrepreneurs and business owners in 23 countries.
She also carries expertise in manufacturing and technology, and has held the position of chief finance officer for multiple start-up companies. "[She] is best known for her ability to streamline businesses and get them focused on delivering value to clients while helping entrepreneurs create sustainable business models and finance growth," 3DQue says.