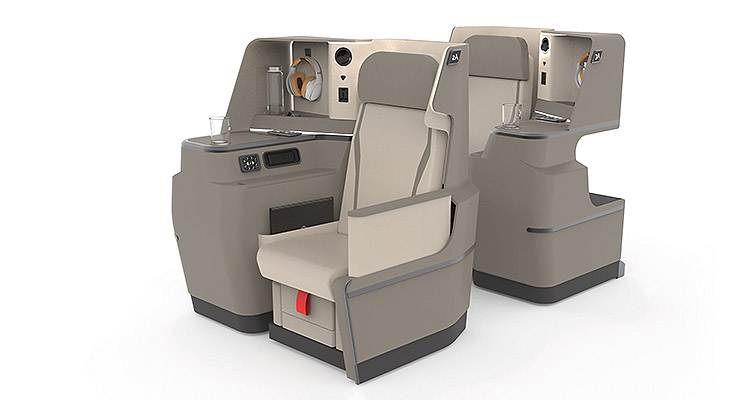 50-year-old business, Aviointeriors, is experiencing continuous success with its non-stop innovations
If you've ever travelled via plane, then you're familiar with the classic layout; the cockpit near the front of the plane, crew rest compartments towards the back, and hundreds of passenger seats in-between. But have you ever considered who designed the interior, or who created those seats?
Aviointeriors has been at the forefront of producing aircraft cabin interiors and passenger seats since its foundation in 1972. With a vision to promote Italian style across the globe, the company's team of designers and engineers manage product development, ensuring the continual stylistic and technical innovation that has characterized the business for decades.
Luca Vetica, CEO, joins Manufacturing Today to discuss the continuous success of Aviointeriors, its latest products, and the ever-present emphasis on product innovation. "I was first involved with the business during the last year of my bachelor's degree, and although I was offered a full-time position at this point, I decided to continue studying," he recalls.
"It was years later, when I was working elsewhere, that I received a call from Aviointeriors offering me a role as Project Engineer, and I accepted without a second thought," Luca reflects. "When our owner rejuvenated the company in 2022, appointing me as CEO, I was nervous about the enormous responsibility, but it quickly faded away as the days passed and it has been enriching for me, both personally and professionally."
Seating solutions
Turning to the business, he explains: "It all started with Prestige, our classic economy and first-class seats, which we designed specifically at that time for the Atlas Group for all its European flagship airlines. We grew year-on-year and gradually gained a positive reputation for delivering high quality products to the aviation market."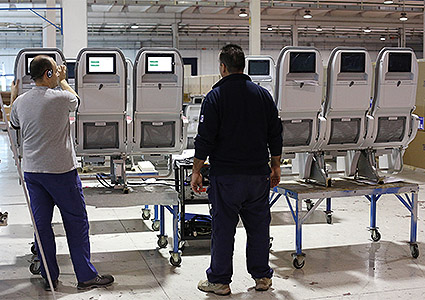 Today, the business continues to offer technologically advanced passenger seats, with fully integrated systems to ensure ultimate passenger comfort. "Our aim is to continuously pioneer in the airplane seat industry," Luca states. "We are proud of being one of the first aircraft seat manufacturers in the world to introduce TieChair fitting to business class seats, for example.
"We also designed the very first electrical seat in the early 2000s, which was able to seamlessly convert into a bed," he adds. Originally designed with Singapore Airlines, the company's lie-flat concept has since inspired many product lines, including its latest first-class offering, Monalisa, and luxurious, lie-flat business seat, Allegra.
"During the Covid-19 pandemic, when many industries came to a halt, we kept ideas flowing and came up with Janus, a seat that optimizes space on the aircraft while meeting social distancing requirements," details Luca. Taking its name from the two-faced Roman god, this product is a two-faced seat with capacity for three passengers, who can be separated with a protective shield that isolates them from other people, including those who walk through the aisle.
However, the company's latest innovation is a new economy class seat, Mya. Luca elaborates: "Thanks to our long history in the market, our extensive experience, and our clients' feedback, we were able to design Mya. It is lightweight, yet simultaneously robust and durable, as well as being easy to maintain.
"With a focus on designing a lightweight seat, we used a composite material and backrest structure to reduce the number of components required to manufacture a complete seat, which resulted in a 30 percent overall weight reduction.
"Mya is an incredibly versatile product," he states. "Its modular design means it can be tailored to fit specific needs, allowing clients to combine various solutions to suit different missions and aircraft. Also, with the potential for greater legroom, Mya is suitable for both short and long-range flights without compromising comfort."
Customer engagement
Despite numerous new products, the business never stops innovating. "We're in the process of designing a new, full flat business class seat, which is going to revolutionize flight experience," Luca reveals. "We also have some products currently in development, which are seats for eVTOL (electric vertical take-off and landing), and fully electric aircrafts."
Throughout its product portfolio, the company's designs have one common factor; versatility. "From economy to business and first-class seats, including the lie-flat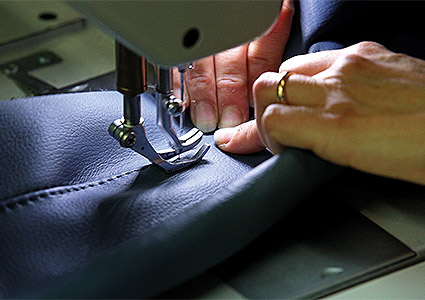 solutions, our catalog can fulfill all of an airline's passenger needs," says Luca. "Whether it is a smaller plane, like a Dornier 238, or a much larger one, such as a Boeing 777, our seats can be installed on any aircraft."
Aviointeriors is preparing to showcase its latest products at the Aircraft Interiors Expo in Hamburg, Germany, and at the Paris-Le Bourget Airshow, both in June 2023. Such customer engagement not only provides an opportunity for clients to try the new products, but also to give the business their feedback or make suggestions for future innovations.
"On the manufacturing side, we have been operating in the same facility for decades," he details. "We make upgrades occasionally; our latest was the installation of solar panels to power the facility with renewable energy. Other than that, we have everything we need there to design, manufacture, and certify a seat all under one roof, which is crucial in enabling us to fully customize products according to customer requests."
Innovative culture
Luca continues: "We maintain excellent standards for both our equipment and machinery, and we are constantly looking for innovative machinery and technology to enhance our production line. On the topic of technology, we're also currently in the process of implementing a new IARP management system, which will improve communication between all departments, permitting a more efficient performance overall."
Its current investments are concentrated on the purchase of new machinery, with the aim of increasing production capabilities. "These machines will require less worker interaction, semi-automating the process to increase efficiency," he expands. "This will also help us meet some of our challenging requests and reduce delivery times, especially during peak periods."
Turning to the future, Luca proposes: "We are currently hiring several young people in a strategy that aims to maintain our culture of innovation and efficiency moving forwards. This will help us keep up with the increasing demands of the market, as we will inevitably continue to grow and innovate within the aircraft interior and passenger seat industry."