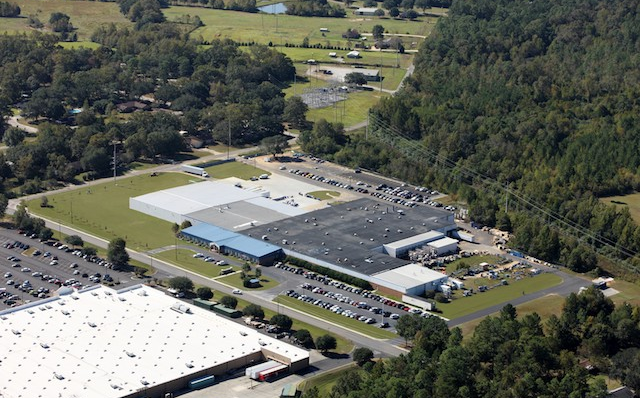 Quincy Compressor considers itself to be more than just a manufacturer. Since 1920, the Bay Minette, Ala.-based company has served as a trusted partner and solution provider to its customers.
"We have established a hard-earned reputation for building extremely reliable products, and that has been our call sign for nearly 100 years," President Tim Last says. "Our primary focus is on having strong and enduring relationships with our employees, distribution partners and end-customers.
"We make sure we are a contributor to our customers' success by identifying problems they are unaware of and helping them solve those problems using the products we manufacture," he adds.
The company is a leading designer and manufacturer of reciprocating and rotary screw air compressors, vacuum pumps and air treatment components. Quincy's products are used in factories of all shapes and sizes and serve markets such as natural gas processing, automotive manufacturing, food and beverage production and plastics manufacturing. The company also has a growing line of piston compressors available through the commercial market including at retailers such as Northern Tool and Lowes.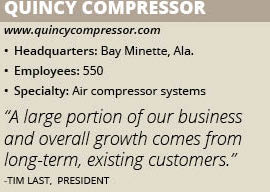 "A large portion of our business and overall growth comes from long-term, existing customers," Last says. "When customers start using us and our products, they tend to highly value their relationship with us as well as the products we provide, and buy from us over and over again."
In addition to manufacturing new equipment, Quincy also offers replacement parts and service. The company has technicians located across the United States who service machines in the field. New technicians are trained in compressor repair through an apprenticeship program, Last adds.
Driving Efficiency
Quincy helps its customers identify and solve efficiency-related problems through its patented efficiency quotient (EQ) process. The process has been recognized by market research company Frost and Sullivan as one that "drivesq qoperational excellence and gives end-users the power to take the first step," the company says.
The first step of the EQ process is to set a baseline of efficiency for an operation's compressed air system. Customers can also complete a self-analysis worksheet on independently or enlist the help of a Quincy systems expert to set the baseline. The analysis identifies the customer's EQ rating as well as estimates their current air system costs and potential for cost reductions.
After the initial efficiency baseline is set, a Quincy representative visits a customer site and connects an EQ Analyzer logging unit to its compressed air system. The Analyzer records the power and performance of the compressors and air pressure levels in the system during normal production cycles. Quincy's system experts then analyze this data as well as other information gathered from observation or plant personnel.
The third and last step of the EQ process involves Quincy's representative developing an action plan for its customers to reduce their operating costs. The company also provides financial projections that include a payback calculation on the recommended action plan as well as a projection of the capital investment costs needed to put it in action.
One example of the company's success in helping a customer audit its efficiency was its work with a U.S.-based machining and assembly plant. The plant was looking for a way to reduce its air system operating costs and improve system reliability. The plant elevated its air system pressure to support its fluctuating production demands, but was using a second compressor to do so, increasing its operating costs.
Quincy's EQ rating survey identified three opportunities for cost reduction at the plant. These included accurately controlling header pressure, eliminating artificial demand and other waste and turning off one compressor.
The company installed a new pressure flow control system and an additional 2,500-gallon receiver at the plant. Quincy also placed the plant's existing compressors in network mode, allowing one of them to turn off. Ultimately, the plant reduced its operating costs by roughly $12,000 annually.
Quincy recently enhanced its ability to monitor its equipment. The company's newest machines are equipped with ICONS digital sensors that track and transmit information to Quincy and its customers via the cloud. Quincy can access this information to determine how well the customer's machines are performing, Last says.
Process Strengths
Much of Quincy's production efforts are focused on research, development and quality assurance through equipment testing. Quincy performs final assembly, testing and shipping in its ISO triple-certified manufacturing facility in Bay Minette.
The company partners with suppliers who manufacture components for many of its products. These include gearboxes, electric motors, cooling systems, lubrication systems, electronic controls and regulators. "We're never going to be the world's best forgers, die-casters, welders or painters," Last says of the company's components sourcing strategy. "Our strength is in design, testing and packaging reliable and efficient compressed air equipment."
The two exceptions to the company's component sourcing strategy are its rotary screw air compressor airends and reciprocating/piston pumps, both of which are manufactured entirely in-house.
Parts and assemblies are delivered directly to the company's production line on an as-needed basis or are replenished via a kanban system. Products are tested either in a test cell or on the production line to ensure quality.
Quincy's manufacturing process is influenced by, but not completely beholden to, lean manufacturing principles. "We've gradually evolved the lean methodology to suit the products and processes of our company," Last says. "With lean in its vanilla form, you get so focused on productivity speed and lowering inventory that you can become inflexible. We are able to adjust our processes to retain that speed, but do so with a higher level of flexibility."
The company continues to seek ways to improve its processes, capabilities and products. "We are continuously finding ways to serve our customers better and faster, or be closer to them," Last adds.