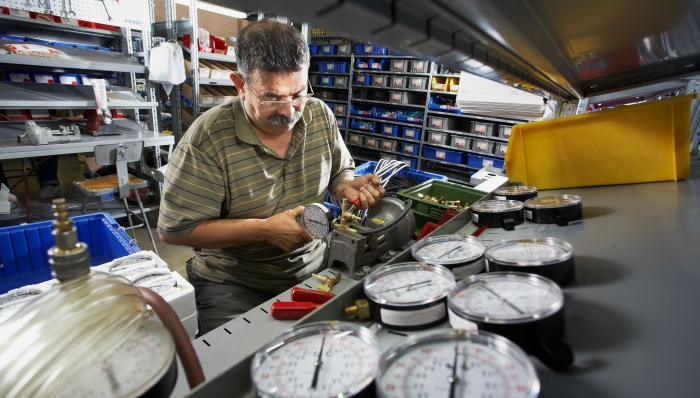 Based in Racine, Wisc., A&E Tools has built a reputation for making tools since 1932. The company understands professional automotive tools and how they are used, and it finds great satisfaction in manufacturing the highest quality products for professional automotive technicians and industrial end users.
"We are a privately held, fourth generation family company that has been in business for 84 years," Director of Manufacturing Keith Gruber says. "Our company is a specialized automotive tool manufacturer that works with major companies in the industry, and we also have our own private label brand, Lang Tools."
Out in Front
Making tools for leading brands and serving professional technicians through American facilities is a point of pride for A&E. The company has two facilities, a 90,000-square-foot main facility as well as its 40,000-square-foot Eckmann Custom Products division that specializes in deep drawn quality stamping.
Keeping the company at the forefront of its industry is an active R&D department that is always keeping an eye of the needs of automotive technicians and responding to customer inquiries. That helps the company to improve its offerings to customers while also helping to build its Lang Tools brand.
"We can see the generational change that is taking place, as older technicians prefer analog and mechanically-based equipment while younger technicians want more digital and higher-tech tools," Vice President of Marketing and Product Management Max Knoell says. "We have to continually reinvest into our manufacturing processes to keep our costs at a point where we can manufacture in the U.S. and remain competitive in the market."
Fortunately, the resurgent push for more American manufacturing is helping A&E to stand out. Many of its customers are looking for higher quality, domestically produced products rather than focusing on the lowest cost. Because A&E is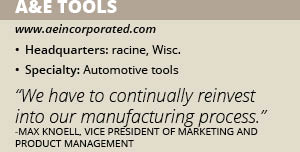 based in the U.S., the company is able to react quickly in terms of product development.
"The domestic market is our largest customer base, and we know how to solve their problems and develop tools quickly," Knoell says. "At the same time, we look to sell worldwide and want to expand our overseas business and sell into more countries. Asia has become the second largest automotive market, and as the number of vehicles overseas grows, we must have a presence there as an automotive tool manufacturer."
Although the company tries to keep as much of its operations as possible under its own roof, A&E has some plating, heat treat and laser cutting and forming operations that are outsourced. In those areas, the company understands the importance of having a reliable vendor base.
"In certain circumstances, we integrate planning with suppliers," Gruber says. "We identify our capacity levels and stick with key suppliers where we can. We have strong communication with suppliers through our production planning process."
Continuous Improvement
Among the most important investments that A&E has made in recent times include bringing in laser cutting capabilities that allow the company to cut through half-inch thick steel. The company does a lot of stamping, and tooling in that arena can get quite costly. The laser cutting capabilities increases the company's ability to do low-volume runs and prototyping projects with no tooling involved. This can be done rapidly, cutting much faster instead of having to tool up.
"We also reinvested in our traditional equipment," Knoell says. "We've had many CNC machines over the years, and last year we invested in some new CNC equipment and some Swiss turning machines to help us ensure that we are cost competitive with imported products. The Swiss machines allow us to eliminate steps in manufacturing processes, help control inventory levels and improve response time. We've also invested in vertical CNC machines, as well as a CNC bench machine to go with the laser cutting capabilities to help remove tooling."
On a domestic level, A&E works with the premier tooling companies in the country. The company sees its domestic distribution channel as its most important asset, and it feels that channel doesn't need to be heavily expanded.
"We don't see much growth for additional customers in the U.S., but we do want to expand our business with our current customers," Knoell says.
Therefore, international sales growth is critically important for A&E. To help increase its export business, A&E works with state and federal commerce departments to help identify international growth opportunities.
"They provide information that helps us determine where we should focus so we can target the countries where we think there are growth opportunities," Knoell says. "We also have a dedicated international sales person that is also helping to identify those opportunities."
The major priority for A&E in the years ahead is to ensure continually ongoing improvement of its operations. The company knows it must make strategic investments internally to be sustainable, putting money and resources into the business and making sure it pursues the right equipment, acquisitions and other opportunities. A&E is careful not to overextend itself, but it is always looking to find the right areas of investment.
"Between 2008 and 2011, many companies made minimal investments, but now is the time to look for the right investments, and making the right reinvestments is critical," Knoell says. "We are fortunate that most of our employees are long-term employees, with more than 40 percent of our employees having been here for more than 20 years. That speaks to the strength of our company, that experience helps maintain our quality. We also believe in American manufacturing, and we do everything we can to make most of our products right here to help support our employees and our community."