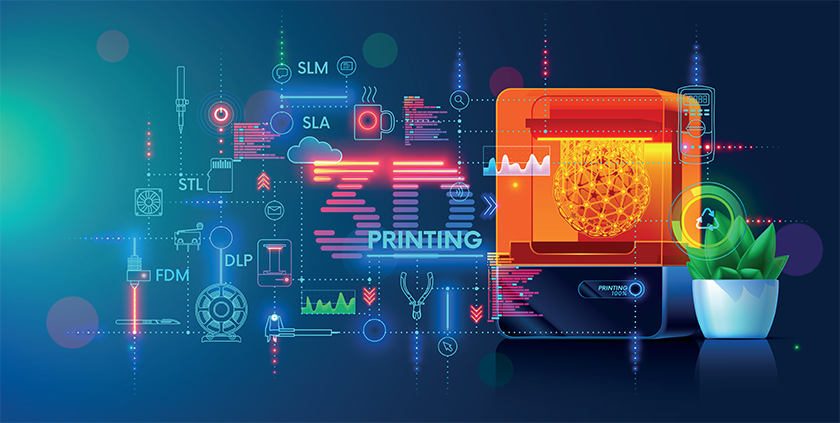 Over the past few years, we have all witnessed the fragility of our global supply chains. From Covid-19 to the Suez Canal, the need for operational resiliency to ensure that businesses can maintain operations and recover from unexpected setbacks has never been so important.
Recent challenges have shone a light on the incredibly complex variables of supply chains, where even the smallest change in environment could make manufacturers and customers vulnerable. As it stands our supply chains are only surviving; all it takes it one more storm and teams will once again be scrambling to remain operative.
Unsurprisingly because of this, 89 percent of companies are currently planning to invest in improving the agility of their supply chains over the next two years. Additive Manufacturing (AM) is one solution manufacturers are looking at to build agility and resilience. Already, it has proven to be an essential component for multiple applications, delivering quick cycle times and eliminating costly retooling fees.
More importantly, AM can be implemented to help future-proof supply chains and manufacturing plants, providing on-demand solutions at the point of consumption. Such technologies can act as critical components to manufacturing and digital warehousing, providing vital support to those orchestrating supply chains around the world.
Time and cost
Across all industries and sectors, organizations are trying to manage a multitude of supply chain inefficiencies. Not only can these mean that it takes weeks before new parts are sourced, but it also comes at a high cost to manufacturers, both in terms of the parts themselves, and the time needed to get production back up and running.
AM can be seen as one solution to this, aiding in the production of a wide range of parts, from a simple component to a highly complex, technical robotic arm. Alongside continued innovations in AM, 3D printers are now increasingly using superior alloys and producing parts with higher functionality to handle challenging operational needs. This not only reduces cycle times but does so for a fraction of the cost manufacturers would have previously forked out.
Next-generation warehousing
Working hand-in-hand, digital warehousing and AM can automate and optimize warehouse processes. Through digital warehousing, supply chain organizations have the ability to improve the efficiency and accuracy of workflows, with much greater visibility across the entire value chain.
More so, by enabling on demand manufacturing at the point of consumption, AM works as a key enabler – equipping workers with the tools required to continuously reduce cost, improve performance, and reduce lead times. The hope for manufacturers is that this next generation of digital warehousing will remove the need to stockpile parts and reduce logistical migraines caused by having to transport spares and repair parts around the world (in less than 90 days).
Looking local for supply chain resilience
One critical component for successful AM is distributed manufacturing – getting the parts where you need them, when you need them. But this requires a clear strategy in terms of how you're producing and procuring parts and spares in time to predict disruption.
Manufacturers know that market demand and supply chains are increasingly volatile, so they have to be equipped with agile solutions. Using additive manufacturing to add resilience to local supply chains reduces a company's reliance on global supply chains, which, while still important, are also a large contributor to environmental issues.
Research from Capgemini shows that up to 80 percent of greenhouse gas emissions in industries come from the supply chain. So, any organization looking at their environmental cost should be assessing cleaner alternatives for transportation, data transfer, and even communications – AM offers one such solution with a much smaller carbon footprint than traditional production methods.
Looking to the future, it's clear that organizations in all industries need to assess the fragility of their supply chains and how they can make them more resilient in preparation for any upcoming challenges. Innovative, new solutions are required to support and serve these networks, enabling them to continue operating and keep economies functioning as normally as possible.
For any new strategies however, manufacturers need to be asking the right questions – could AM bridge the gaps in our supply chain disruptions? Could AM compress innovation lead-time? Does AM provide greater resilience? For a wide number of applications, the answer to all three is a resounding yes, all the while setting businesses up for future success as digital warehousing comes to the fore and sustainability is put under an intense magnifying glass. v
For a list of the sources used in this article, please contact the editor
Farhan Khan
Farhan Khan is Senior Manager Applications Engineering at Xerox EMEA. For more than 100 years, Xerox has continually redefined the workplace experience. Today, Xerox scientists and engineers are continuing its legacy of innovation with disruptive technologies in digital transformation, augmented reality, robotic process automation, additive manufacturing, Industrial Internet of Things and cleantech.
www.xerox.com