How UK-based manufacturer, Whitecroft Lighting, is paving the way towards sustainable solutions
Whitecroft Lighting (Whitecroft) is one of the UK's largest manufacturers of commercial lighting and occupies a position at the forefront of LED product design, innovation, and sustainability. With an annual manufacturing capacity of upwards of 600,000 luminaires, the business boasts the ability to complete the entire process of initial design through to finished product from its 10,000-square-meter facility in Ashton-under-Lyne, England.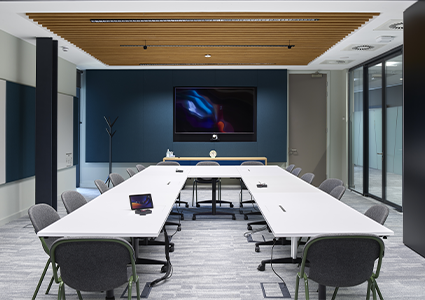 "We're a project solutions organization, focusing on various key sectors like education, commercial, healthcare, and industrial," begins Whitecroft's Operations Director, Robert Bates. "Whether it be a distinct color, shape, size, or control mechanism, we've always prided ourselves on our ability to offer technical and architectural solutions with a difference.
"We could be working on a bespoke solution or fully custom product one day, then regenerating a customer's existing luminaire the next. Hence, flexibility has been at the forefront of our investment strategy to ensure we maintain our design capabilities and production agility.
"It's also about ensuring speed of agility," he continues. "It's great to offer dynamic solutions, but it's important that we can fulfil these requests with a quick turnaround. Our investment has seen us introduce high levels of automation to our manufacturing process, but we also have agility within the workforce. Our people are highly skilled and flexible, and we can organize additional operations in certain areas of the factory within a short space of time, enabling us to more than double our capacity when necessary."
Whitecroft is incredibly proud of its status as a UK manufacturer and strives to retain its production capabilities entirely in-house. "Keeping our operations within the UK has been at the core of our investment journey," Robert states. "When the focus shifted from fluorescent to LED lighting around 2013, for example, it provided us with an opportunity to transform from an electrical manufacturer to an electronics manufacturer.
"It was a huge step for us," Robert adds. "We'd never expanded into electronics, and it requires a totally different production process using a heightened level of automation. We invested around £2 million in automated technologies to keep the manufacturing process in-house.
"We've been self-sufficient since, boasting the capability to produce our luminaires," he reveals. "Our new equipment allows us to form various product shapes and sizes at a rapid speed. The machines are also able to change tools automatically, furthering the efficiency of the process while maintaining a supreme level of quality."
Turning to sustainability, Robert explains: "We've been on a sustainability journey for a number of years, analyzing how our product is designed, manufactured, used, and then dealt with at the end of its life. More recently, we've started to experience an ever-growing retrofit market, which brings with it an entirely different dynamic to how we service our customers.
"We're supporting the regeneration of existing buildings through our Vitality ReLight scheme. By identifying areas with the greatest potential impact in terms of decarbonization, and implementing improved quality solutions, we help to reduce waste, reuse assets, and regenerate existing lighting systems. We can design a solution that retains its existing luminaires, for instance, or reuse as much of the existing material as possible.
"While retrofitting currently accounts for a significant portion of the business, we anticipate that increased demand will drive this figure up to a much larger percentage by 2025," he proposes. "Retrofitting is an essential step in the UK's energy transition and net zero goals and is therefore a rapidly growing market with three key influential factors: energy costs, sustainability, and legislation.
"Firstly, as energy costs continue to rise in the UK, replacing inefficient lighting can be an 'easy win' for organizations and domestic customers to reduce their energy bills.
In terms of sustainability, it goes without saying that retrofitting existing lighting with new LED technology is an effective step in reducing the environmental impact of any building.
"Lastly, the obsolescence of fluorescent tube lighting will dramatically drive demand in the retrofit market," he proffers. "The 1930s technology is being phased out across the European Union (EU) and UK from September 2023 and February 2024 respectively, which will force organizations to replace such lighting with alternative solutions that improve their sustainability credentials."
Whitecroft's presence in the retrofit market means the business has significantly changed its approach to product design. It has launched a new product line, Whitecroft Vitality, which includes its latest innovations: Cascade Flex Vitality and the Flight Vitality range. Robert elaborates: "Our Whitecroft Vitality products boast long-life LED luminaires, requiring minimal maintenance, and are Cradle to Cradle® certified, meaning the environmental impact of the manufacturing process has been carefully considered and minimized where possible.
"However, reducing carbon emissions is a continuous process and we know there is always more scope to improve and reduce," he continues. "We're committed to making strategic investments in machines that offer enhanced functionality and unlock automated features, enabling us to offer circular solutions.
"We're also analyzing the ways in which we can minimize or even reuse waste. We now punch out several components from otherwise waste material, and we've recently designed a double-sided LED board, which is more environmentally friendly due to a reduced material use.
"Our vision for the next two-to-three years will see us focus on our logistics processes, both internally and externally. Specifically, we want to look at our material storage and handling to identify ways to enhance our efficiency. This is largely implemented through automation, like automated guided vehicles (AGVs), for example, which quickly transport materials and goods.
"Overall, it's a constant journey of driving a combination of sustainability and efficiency," Robert concludes. "For me, the exciting part of that journey is seeing new technologies, processes, and materials emerge – and we have some really innovative changes on
the horizon."