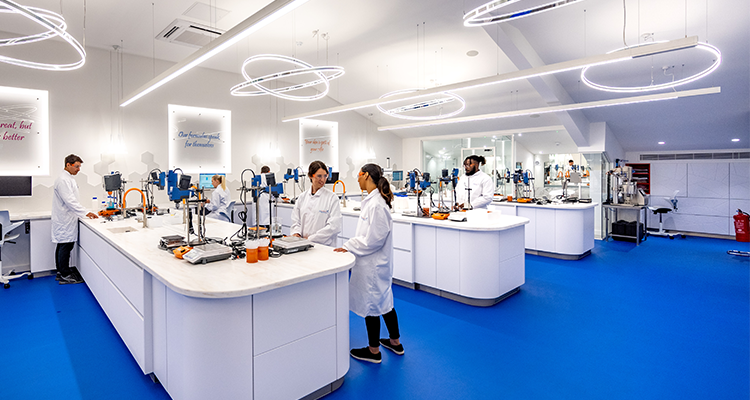 A new Mega Factory for future-proofing, and utilising further automation is on the agenda at Herrco Cosmetics 
Herrco Cosmetics is a British beauty and cosmetics manufacturer that works primarily with luxury, masstige and spa brands. With a strong established client base who dominate the market space across the UK and global markets, it also has an outstanding record of working with start-ups and indie brands, helping them to come to market with high quality and innovative trend-led products.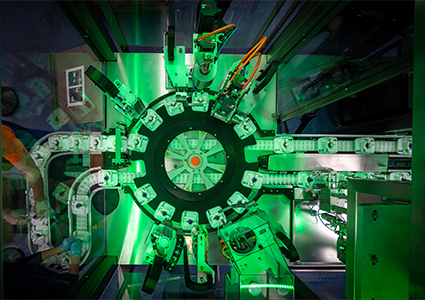 The business is led by Derek Herrmann, CEO, who is the son of Nigel Herrman who founded the company in 1988. Derek has led and grown the business over the past 18 years, holding various roles along the way, including Sales, Chemist and Managing Director. The business has grown from 25 to 160 teammates, with turnover increasing from circa £1,000,000 per annum to £32,000,000 per annum. It partners with 78 brands and launches hundreds of new products every year from its base just off the Suffolk coast, in the market town of Halesworth.
"After years of steady progress, over the last five years in particular, the company has seen extraordinary growth," says Managing Director John Wiley. "We have partnered with the right brands who have utilized our manufacturing capabilities and technical expertise, combined with their creative marketing strategies , these brands have thrived, supporting mutual growth, which means we share many successes and accolades."
He continues: "Over the last 18 months we have continued to invest and improve our capabilities throughout the business. A key area has been the investment into Phase 1 of the Mega Factory development, which will see us increasing our industrialized process capacity by 400 percent. This future-proofs the business and improves current efficiencies and carbon footprint."
Mega Factory development
Michael Hardman, Engineering Director, gives more details on this exciting project. "The development of the Mega Factory is built with the intention of replacing the existing bulk manufacturing plant without interruption. One of the existing warehouses will be remodeled to create a new bulk manufacturing suite capable of exceeding the requirements of the business for many years to come."
To support the proposed increased demand in both hot and cold bulk manufacture required significant investment in the engineering services that support vessel operations. Furthermore, there are several key utilities required for any manufacturing plant of this nature – steam, natural gas, mains water, reverse osmosis (RO) water, clean in place water (CIP) and chilled water.
Herrco has added several new systems with added redundancies to ensure that the plant continues to run in the event of unplanned stoppages. This includes pumps, filters, chillers, and steam boilers.
Michael shares: "For example, two new 1,360kg/hr steam boilers replace the original 960kg/hr unit. The boilers can run independently or in duty-assist modes. The steam output can be controlled to provide 183 percent increase in steam production to include availability for future growth. A new dedicated natural gas supply was installed to feed the new boiler system as the existing was not capable to provide the volume required."
Mains water is not used uniformly onsite and needs to be buffered to ensure supply always meets demand. "We now hold 30,000 liters of mains water on site, compared to 15,000 liters previously. Furthermore, we've increased the volume of RO water, which is used throughout the manufacturing area, including in the bulks we manufacture. This RO is generated by a new duplex RO skid capable of delivering up to 5m3/hr in parallel operation. The previous output was 2.2m3/hr, an increase in potential output of 127 percent."
Herrco has also installed a new CIP system. The system is constructed with two individual CIP sets capable of heating, storing, and supplying RO water at 85°C for manufacturing vessel cleaning. Each CIP tank can hold 5,000 liters of water with independent or duty-assist operating modes. This new system provides an increase in capacity and prevents interruption in supply whilst heating.
With the initial phase of the Mega Factory fully commissioned in 2023, the next and very exciting step is the design and implementation of the new bulk area.
Outside of the investment into the plant and infrastructure, over the same period, Herrco has also invested in seven new filling lines. "The investment into the new filling lines and the infrastructure of Phase 1 for the Mega Factory couldn't have come at a better time," John states. "With the legacy of Brexit and Covid still impacting on material lead times and costs, plus the unexpected spike in utility costs and even labor shortages in some areas, being able to manufacture and fill quicker by having these new machines that offer further automation, along with the latest in technological advancements and run rates, has helped us remain competitive and continue to strive to be the best at what we do."
The beauty industry continues to thrive, and Herrco is extremely proud to contribute as a manufacturer, especially with the products for which it is highly regarded. These span across haircare, skincare, bath and body, men's grooming, spa and home, as well as suncare and self-tan. Herrco continues to home in on what it does best, with its technical team always at the forefront of trends and technological advancements. "This stems from our continuous efforts into R&D and hundreds of successful new product launches each year, with the development teams heavily supported by other departments and teammates across the business," John shares. We believe that we have the largest technical team for the equivalent turnover in the UK, and we continue to attract highly qualified chemists who are able to create award-wining formulations in our state-of-the-art laboratory facilities."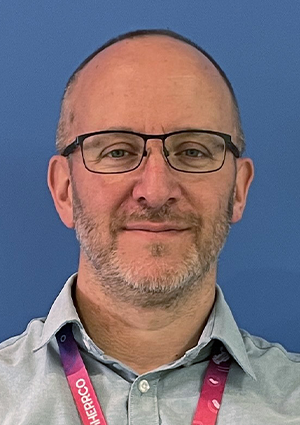 To keep up with demand and speed required by a segment of brands, in 2023 Herrco launched 'Fast Beauty.' With thousands of ready-to-go, tried and tested formulations created over the years, it was an opportune time to commence its white label concept.
John expands more on the Fast Beauty model: "To make this more feasible for new brands, the MOQ was reduced from 5000 to 3000 units per SKU, with a launch timeline of under six months. However, unlike other white label concepts with zero room for customization, our Fast Beauty models allow slight personalization, such as fragrance (a key element that will set the tone of the brand's unique identity).
"Since the launch, we've been flooded with enquiries from indie brands and influencers who want to test the market – it's proved to work as we've since successfully launched a variety of product ranges, with haircare specifically being the most requested."
Additionally, Herrco's ability to scale up production in both quantity and speed, has meant that it has also been attracting brands from the other spectrum – established brands that are being held back by their current manufacturer who aren't able to scale up production for them.
Always looking out for areas in which to grow and expand, Herrco has recently been certified with ISO 13485 (Medical Devices) which enables it to manufacture liquids, creams, and semi-solid, non-sterile medical devices, for dermal conditions. John is ecstatic about this and says: "This is a terrific achievement and has cemented how exceptional our existing standards are – going through the audit process, we were praised for our high standards and ways of working. The slight adjustments we had to make to get the ISO 13485 certification will benefit all our clients, and we are especially delighted with the interest shown by clients in this space that span across the medical, pharmaceutical, and healthcare industries. Many of them are looking to return manufacturing back to the UK and we have already commenced with three new clients from these industries and continue to gain traction in this sector."
How sustainable is manufacturing at Herrco?
Displaying an EcoVadis Gold rating and sitting in the top four percent among other top-rated companies validates the quality of Herrco's sustainable management systems.
According to John: "We are powered by green energy, installed 127 solar panels, and utilize movement-detection occupancy lighting and intelligent heating across the sites. All wastewater is collected and recycled, with effort diverting cardboard boxes to be reused – saving trees and delaying the environmental damage of recycling.
"We also utilize biodegradable or recyclable materials where possible. We mustn't forget the Herrco Apiary that houses thousands of buzzing bees – you won't get a better drop of honey anywhere else!"
What's next?
When asked 'What's next?' John answers:
"Well, we're a business that is never settled. We have a very strong leadership team who are always looking at ways to move the business forward, and continue to strive to be the best in our industry."
"We will continue to grow our people and facilities and solidify Herrco Cosmetics as an industry leader in the beauty and cosmetics sector, setting trends and hopefully inspiring others along the way."
As Herrco continues to make exemplary strides in the industry, the Herrmann family remains steadfast in their commitment to crafting dependable eco-conscious beauty solutions. With a rich history of innovation, Herrco stands as a testament to the power of family values, expertise, and a shared vision for a beautiful, more sustainable world. The business is shaping into a UK-based powerhouse renowned for exceptional product innovation and technological advancements.