A Q&A with SMMT Chief Executive Mike Hawes
LEADING THE SWITCH
1. Can we focus our attention on yourself to start with – can you tell me about your own career so far, and what has brought you to this point at SMMT? What do you enjoy most about the role?
I ended up in the automotive industry by accident rather than design, but I haven't regretted it for a moment. Automotive was the cross-section of a handful of sectors that I was interested in, having experience of transport policy and planning, government policy and research, and then corporate communications, before senior roles at Toyota and Bentley. Automotive is one of the most exciting, vibrant and challenging sectors to be in – the great thing is that it stirs emotions and people always have an opinion, positive and negative. There's a wide range of issues, and it's great to be in an industry that makes something – a set of consumer goods on which people depend. And there's great people and businesses across the industry, and meeting them is what I enjoy most. There is nothing that replaces the insight and inspiration you get by going out and seeing the businesses – the products, the technologies and the people.
2. What are the biggest issues that need to be addressed in terms of electric vehicles and the move to EVs?
For the customer, the biggest issue at the moment is charging. If you've got a driveway, you can charge at home, but if you don't, you're dependent on street charging, workplaces, supermarkets and so forth, and you're going to be paying more money to do so. On-street charger provision needs to be improved, as well as charger reliability and availability, while VAT on public charging must be aligned with home charging at five per cent. Action is needed sooner rather than later. We need a nationally devised, locally delivered infrastructure plan that mandates higher levels of roll-out – in line with EV production targets and growing consumer adoption – to ensure that charging is available to all. Crucially, we need reliable infrastructure that is designed for all types of vehicles and road users, including disabled motorists, in the best locations across the UK.
For the industry, our biggest challenge is to drive down the cost of these vehicles, which is really difficult during supply disruptions, with the cost of raw materials and logistics going up. It's a new technology too, so price parity isn't likely to happen in the next year or two. But, gradually, as you get towards mass market, cost pressures and local assembly will drive down some of those extra costs, as will the availability of cheap, affordable and sustainable energy. Then, we will be well within that total cost of ownership benefit, meaning that buying an EV is a no-brainer, because the driving experiences are phenomenal.
3. A lot of focus goes onto electric cars but electric vans are growing in popularity – do you think more focus should shift to the commercial side? What are the barriers to adoption?
What most people are talking about is what they see on the road, what they read about; and that is the rise of electric. Mainstream media and popular consumer titles will always report mainly on passenger cars, because their audience has the potential to have one of those on their driveway or parked on the street. But you mustn't lose sight of commercial vehicles, because society depends on them for the provision of essential goods, the provision of services, filling the shelves and everything else. The paucity of infrastructure for passenger cars is obvious but, despite the criticism, it is so much better than that for commercial vehicles. Certainly for HGVs, roadside charging is non-existent. The industry is being challenged not just to decarbonise passenger cars but every single road transport segment, so the infrastructure, incentives, and affordability have to be there, across every region of the UK, from London to the Scottish Highlands.
4. When it comes to delivery and deployment, how are UK automotive manufacturers addressing the shift to EV? What is on their agenda for the next three to five years?
The UK is in many ways the same as any other manufacturing location: we must accelerate a transition from fossil fuels to decarbonised technologies. OEMs are investing to build the vehicles and we are trying to attract investment in gigafactories, because batteries need to be produced relatively nearby. For that you need cheap, renewable energy – because it's the whole circular economy we're looking at here – access to ports, availability of finance, a competitive investment environment and a strong domestic market. Invariably, about 20 per cent of what you produce tends to stay where it is. UK demand for EVs is accelerating dramatically and, despite a tremendous amount having been already invested, we need a lot more.
We have a relatively small window to attract these investments, because all major OEMs are moving towards new technologies at pace, making big bets on where they should be investing. The UK has to be on the shortlist, so we need a really compelling competitive proposition to attract them here. We have a lot to offer given the UK sector's diversity, skill sets, R&D expertise and, potentially, significant amounts of renewable energy. There's a lot in our favour, but everyone's facing headwinds around logistics, supply chain, and availability and costs of raw materials. We need a framework for that investment especially for the supply chain which is as challenged as any other part of the sector to make the transition. But I am convinced we have a competitive offer. We just need to ensure we have political and economic stability as that is essential for long-term investment.
5. Do you think there needs to be more focus on educating and enticing customers into moving towards adoption of EVs? What holds them back?
Public awareness of EVs has certainly shot up, but you need to turn that awareness or consideration into demand. That's about cost of ownership. Recent changes to VED rules mean that EV users will pay road tax from 2025, and while it's right that all road users should pay their fair share, the current approach will mean that the majority of EVs will be subject to the "expensive car premium". With charging infrastructure lagging behind, there needs to be more not fewer incentives to encourage consumers to make the transition.
And this has to be a national transition; the popularity of EVs already varies across the UK: I live up north but work in London, and the conversations you have with friends about EVs are very different. In London, people tend to drive shorter distances and you can see EVs charging on the street, whereas in other parts of the country, such as more rural areas, you don't see the vehicles or infrastructure, as readily possibly because people tend to drive longer distances. We have to make sure EV ownership works for everyone, especially motorists that don't have driveways or don't live in a city. We're not doing too bad on the strategic road network, but once you get off that, all the evidence demonstrates charger provision is still a major issue.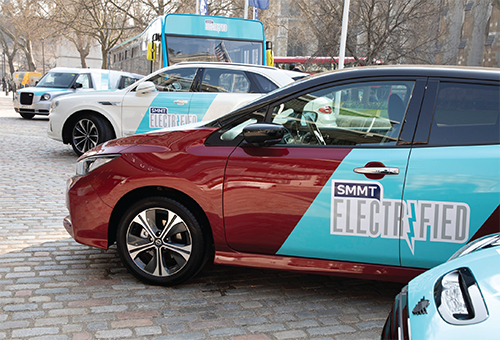 6. EVs are also linked to both fuel prices at the pumps and the cost of energy – not just for charging EVs as electricity prices increase, but also for manufacturers as heavy energy users. Can you comment on how energy costs are impacting the automotive sector and the strategies manufacturers are introducing to deal with the issue?
Unsurprisingly, rising energy costs are the number one concern for manufacturers. The UK pays, on average, 60 per cent more for energy than the rest of Europe, before the current price volatility. And these are the markets with which we are competing for inward investment. These steep energy costs are primarily a European issue, largely due to Russia's invasion of Ukraine, so we must find a way to address these issues or else European manufacturing – not just the UK – will remain less competitive compared to other parts of the world. Every manufacturer, whether you're in supply chain or an OEM, has been looking to reduce energy costs, which SMMT's Sustainability Report demonstrates. But the low-hanging fruit has been picked many years ago so significant energy cost reduction measures are going to cost significant sums – at the very time the economic environment is so costly for manufacturers. Government can help, for instance providing business rate relief for these investments, else you end up "robbing Peter to pay Paul".
7. On the manufacturing side – can you comment on the issues that manufacturers have been experiencing with the supply chain and if that is improving?
Supply chain issues have been incredibly difficult for everyone. The constraints on manufacturing are obvious: production levels are 30 per cent off pre-pandemic 2019, which has led to the significant fall in the sales of new cars, vans and trucks. The issues don't singularly lie with one component but semiconductor shortages have been a major factor, with the supply chain facing acute difficulties in terms of cash flow as a result of production volatility.
Do I think things improving? They're beginning to. There is more optimism about next year, with supply issues expected to gradually ease as the year goes on, but the industry will be playing catch-up in terms of supply such that we could very well appear counter cyclical next year; we are forecasting production and registrations up 15 per cent in 2023, whilst the UK may well, regrettably be in recession. This is an indication of how severe the past few years have been and why we have to finally deliver recovery.
8. How has the UK automotive manufacturing sector adapted following Brexit and what is the current outlook for Europe and international trade?
The industry was pretty united in its position going into the Brexit referendum: we would have preferred to remain, but this is not how the country voted. We are focused on making the deal we have work for us, and we fought hard to ensure the deal did all it could to safeguard the UK automotive industry. Indeed, the TCA offers opportunities for us – there is an automotive annex and provisions for the creation of technical working groups. But they have never met as, for that, you need a relationship of trust on both sides.
Manufacturers have had to persevere, and they have done a brilliant job so far. But there are still additional costs to bear. Moving goods, components and finished vehicles across the border into the EU costs more than it did – perhaps somewhere up to an extra five per cent. And with the TCA requiring more stringent Rules of Origin requirements on EVs from 2024, threatening the continuation of tariff free trade for these goods, the EU and UK must make an honest assessment of local battery manufacturing capabilities and assess the risk to the sector and the delivery of shared decarbonisation targets.
9. Are there any other major trends or issues that you would like to cover or feel should be highlighted?
Like other sectors and across Europe, we are facing an acute labour problem and are focused on filling the skills gap, investing in upskilling our current workforce. It's better for us, better for our people, to do this. However, this will not solve our immediate problems. We need to get more talent into our sector.
It is essential that we diversify, reflecting the local communities in which we're based and the broader society and customers we serve. We are not as diverse as we should be, nowhere near, and all the evidence shows that the more diverse your workforce and boardroom, the more creative, productive, innovative and financially successful a business is going to be.
Automotive is becoming increasingly more technologically advanced, and as such we are hoping to reposition the sector to entice more young people to join the industry. We may have been perceived as a metal bashing but it is no accident that we are facing production challenges not from a shortage of metal but computer chips. That tells you all you need to know about where the industry is headed.
There is also a wide variety of other trends challenging the sector; connectivity, automated vehicles, differing ways we purchase or own vehicles, changes in how we manufacture, and even changes in how we, as a society, approach mobility. It is a challenging time but also hugely exciting.
www.smmt.co.uk