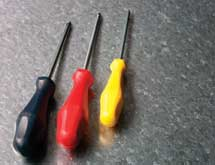 One of the most underrated aspects of any tool might be its handle. While most concentrate on using the tool for a specific task, they would have trouble doing so without the all-important handle, which allows them to get a good grip as they get the job done. A firm that provides such ease is A&L Handles, a Pottstown, Pa.-based company that manufactures plastic tool, storage, cushion grip, and ergonomic and modeled handles, as well as screwdrivers and nut drivers. Vice President and General Manager Dominic Acquarulo says Al Wetty and his son, Les Wetty, founded A&L Handles in 1976.
A native of Spring City, Pa., Wetty gained extensive experience in the handles industry before starting the company. After World War II, Wetty operated a business making screwdriver handles, S.A. Wetty & Sons, from his home in Royersford, Pa.
In 1970, the Wetty family sold the company to Stanley Works. Al Wetty later formed A&L Handles with his son six years later, using their initials in its namesake. Over time, the company moved to its current location on Shoemaker Road in Pottstown and became a division of IDEAL INDUSTRIES INC.
Today, A&L Handles ships 40 million handles per year, worldwide. "[Our] customer base is predominately USA manufacturers," Acquarulo says, adding that it has two in Canada. "We take pride in our branding, 'Made in the USA.'"
He adds that the firm enjoys strong loyalty from its customers, who dictate the changes in its products. "We have customers who have purchased from A&L for over 25 years, and on the other side, we do get new customers each year," he adds.
Team Effort
Acquarulo joined A&L Handles eight and a half years ago. A longtime veteran of the industry, he notes that he has a Bachelor of Science and a Master of Business Administration, as well as 30 years of operations experience in supply chain management and finances.
According to Acquarulo, a key to the company's success is its dedication to its mission statement, which is, "To ship on-time, every time at a fair price a product that meets or exceeds our customer's expectations."
"Our core [competency is] to [produce] a small tool handle in any color, shape or size the customer requires," he adds.
He also credits the company's success to A&L Handles' staff, "no matter what level," he says. "It's a team effort to [succeed] as a USA manufacturer."
Custom Work
A&L Handles' custom services include imprinting lettering, logos and graphics onto handles, which it has done for such clients as Bartlett & Associates, Baltimore Tool, A&E Associates and Crain Cutter. According to A&L, the company can imprint letters and logos through hot stamping and pad printing.
"The style and shape of the handle has an influence as to the process of imprinting that would be required," A&L Handles says. For instance, the hot stamping method requires a magnetic steel die that is made to order based on client specifications and normally used for basic imprinting on fluted handles.
The pad printing method, however, transfers quick-drying ink from a customized printing plate onto the handle. "This process is recommended for rubber grip-type handles and larger handles with more of a radius and more of a detailed logo or graphic," A&L Handles says.
A&L Handles also provides drilling services where it can create hole diameters ranging from an eighth of an inch to a full inch for screwdriver blades, tool bits, insets, ratchets or specialty tools. "Counterbores, countersinks and special threading is also a standard part of our drilling process," the company says. "The threading accommodates both the large and small screw caps to use as a storage handle."
Lending a Helping Hand
Based in Sycamore, Ill., IDEAL INDUSTRIES INC. specializes in serving electrical and datacomm professionals, along with the high-power interconnect, environmental monitoring and measuring, and telecommunication industries. "Over 6,000 items make up the IDEAL family of products, including some whose names have become synonymous with their function," it says.
"[Our] Wire-Nut Wire Connectors, Yellow 77 Wire Pulling Lubricant and T-Stripper Wire Strippers are products which have found their way into the tool bags of professionals and solidified the IDEAL reputation as an engineer of innovative and trust worthy products," it says.
"The wide variety of products offered by IDEAL reaches the professionals of many markets," it says. "From the electrical contractor and datacomm technician to the production engineer and plant manager, the job is easier when IDEAL lends a helping hand."