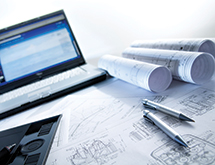 AAM is a global Tier I automotive supplier of driveline and drivetrain systems and related components for light trucks, SUVs, passenger cars, crossover vehicles and commercial vehicles. Its footprint is regionally cost-competitive and operationally flexible regarding global manufacturing, engineering and sourcing. Its competitive advantage is its highly engineered, advanced technology products, processes and systems, along with operating performance, the company says.
The company's technical center and global engineering centers are driven by a systematized innovation process that is applied worldwide. Advanced, innovative technology in fuel efficiency, safety, environmental concerns and vehicle performance is key to delivering maximum value and satisfaction for customers, the company says.
AAM incorporates leading-edge manufacturing technology into the production of driveline and drivetrain systems and components, and metal-formed products. The company says its engineering and manufacturing are fully integrated, which allows products to get to the assembly line and the consumer faster and more efficiently. AAM estimates it has invested approximately $4 billion in capital expenditures.
The company's product portfolio has expanded from high-volume products such as front and rear axles and driveshafts to include advanced, electronically activated components and systems. In addition to locations in Indiana, Michigan, Ohio and Pennsylvania, AAM also has offices or facilities in Brazil, China, Germany, India, Japan, Luxembourg, Mexico, Poland, Scotland, South Korea, Sweden and Thailand.
Manufacturing Technology
The company explains it employs a factory information system that allows views of the factory operation at any time anywhere and analyzes operating efficiency. Each product incorporates a "birth certificate" to allow traceability. This also is true of metallurgical products. AAM's quality information system uses a radio frequency tag to gather manufacturing information.
The manufacturing engineering desktop captures and integrates product information and process sheets. Manufacturing lines are built in 3-D virtual reality, which allows them to be simulated in a dynamic-mode line operation before being built.
AAM employs lean manufacturing as a business performance improvement tool that focuses on enhancing quality, cost and delivery. One example is the pull system, a "supermarket" approach where components are staged and ready for assembly operations. The pull system improves efficiency, accelerates productivity and helps maintain on-time delivery.
Another lean concept that contributes to continuous improvement is the operational equipment effectiveness program. It is designed to ensure maximum equipment uptime, product quality and uninterrupted product flow.
Quality Policy
AAM defines "quality" as satisfying the requirements of the customer who uses the product. AAM's quality policy requires employees to demand excellence of each other and to pursue new processes and continuous improvement. "At AAM, quality is our business," the company says. "We are committed and focused on world-class quality and warranty performance in all aspects of our operations, from engineering to manufacturing."
All of AAM's facilities have achieved and are maintaining ISO/TS 16949 certification, the company reports.
One of the metrics used to monitor customer feedback is the parts per million (ppm). With more than 40 million parts being delivered to customers annually, performance is in the single-digit ppm. AAM focuses on consistently achieving Six Sigma performance levels (3.4 ppm or better).
Metal-formed Products
Metal-formed products include axle and driveline components, transmission components, transfer case/power transfer unit components, chassis and steering components and wheel hubs and spindles. The company's embedded logic development strategy for rapid prototyping includes hardware-in-the-loop, and utilizes an advanced modeling environment with auto-code generation techniques to shorten time-to-market for embedded controls.
AAM begins the design process for electronically enhanced products using fifth-generation technology that creates algorithm-based simulation models. The company notes that electronics are integrated in more than 80 percent of AAM's products.
New All-wheel-drive System
On Dec. 19, AAM introduced what it said was the automotive industry's first disconnecting all-wheel-drive named EcoTrac on the 2014 Jeep Cherokee. It is a new approach to minimizing the effect of inertia and drag on a vehicle's driveline system, the company says, by disconnecting many of the rotating components from the driveline when they are not needed.
EcoTrac disconnects at the power transfer unit (PTU) and the rear drive module (RDM), which allows large portions of the driveline to discontinue rotating while in front-wheel drive. These components include both the PTU and RDM hypoid gear sets, the bearings associated with the gear sets and the driveshaft. The result is an all-wheel-drive system that does not have to sacrifice fuel economy and emissions.
"Traditionally, when adding all-wheel-drive capability to a vehicle, it results in an automatic one- to three-mile-per-gallon fuel economy penalty," Philip Guys, AAM's vice president of product engineering, said in a statement. "We set out to find a solution to offset this, and that is exactly what our EcoTrac disconnecting all-wheel drive does."
EcoTrac can be engaged with driver input or when automated transition events (ATEs) occur. These ATEs are 100 percent customizable and include both environmental and dynamic events, such as lower temperatures, rain detection and changes in slope. Upon receiving the signal from the AAM electronic control unit to engage all-wheel drive mode, EcoTrac reportedly engages all-wheel drive without noticeable shifting to the driver.
Five U.S. patents have been assigned to AAM for EcoTrac and nine U.S. patents are pending relative to the technology. EcoTrac is being manufactured at AAM's facility in Three Rivers, Mich. AAM has invested more than $100 million in the facility and hired more than 550 new associates in 2013 to support this new program.
Engineering Equipment
AAM's engineers are equipped with the latest computer firmware and software. They use advanced mathematics to achieve rapid product development so products are taken from concept to production in months, not years, the company says. Engineering services are provided 24 hours a day.
AAM provides advanced engineering, development, testing and product validation to support its engineering centers worldwide at the company's 112,600-square-foot technical center in Rochester Hills, Mich. Full-service driveline and drivetrain engineering and applied design and testing are provided at the technical center.
The center supports active research and development programs in a variety of disciplines, including noise, vibration and harshness (NVH) development, vehicle system integration, component testing, data acquisition and vehicle handling and dynamics development. "By taking an interdisciplinary approach, our cross-functional teams are able to bring fresh insights, new perspectives and innovative solutions to the product development process," the company says.
Materials Testing
AAM's corporate materials testing and development department includes a scanning electron microscope, X-ray diffraction equipment and inductive-plasma testing instruments. The company's metallurgical team can analyze material specifications, chemicals, organic materials and do competitive analyses along with corrosion testing.
AAM's product test laboratories provide durability, wear, efficiency and developmental testing, as well as fatigue and impact testing. AAM says it evaluates and validates every component and subsystem in a vehicle driveline system.
AAM employs robust engineering, an intensive approach that optimizes product design through the understanding and designing in of desirable performance characteristics. Applied to products or processes, robust engineering improves quality by yielding the best-performing design with the least variation, the company says.
AAM says its global prototype operations offer multiple prototype facilities to serve worldwide customers. Prototypes include current technology products in addition to advanced and future products.
An ongoing engineering initiative, AAM's NVH development program applies computer analysis techniques and disciplines early in the vehicle development process using a combination of analytical tools focused on optimizing vehicle systems. The goal is zero perceptible NVH.
The vehicle and driveline system laboratory applies proprietary engineering methodologies for driveline NVH optimization, improving system integration and design robustness, while shortening development cycles.
When it was founded in 1994, AAM had two customers. Today, AAM has more than 100 diversified customers. On Jan. 29, 1999, AAM became a publicly traded company on the New York Stock Exchange (NYSE) with the ticker symbol AXL.
Today, AAM is one of the largest automotive suppliers in North America, and ranks in the top-50 Tier I suppliers in the world.