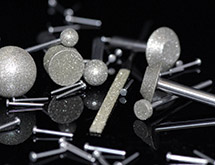 Ever since its inception more than 30 years ago, A&M Instruments Inc. has been always moving forward. In the company's earliest days, President Ron Michaeli says, this often literally was the case. "I started this company out of the back of a pickup truck that didn't shift into reverse," he says. "Each time I left a potential customer, I had to roll up my sleeves farther, and push the truck a few feet backwards in order to move forward with the business and life."
Today, A&M Instruments is recognized as one of the leading producers of diamond and borazon-coated cutting tools used by a variety of customers globally in the medical, industrial and manufacturing sectors as well as for do-it-yourself supply houses. "[We supply] basically anyone who uses a diamond rotary tool to do anything from grinding the head off of a nail, to building cell phones or fabricating aerospace parts," Michaeli says.
Beyond the company's dual capabilities of diamond coating and manufacturing precision blanks, Michaeli says A&M Instruments has become a success partly because of the strong work ethic his father and grandfather instilled in him at an early age but, more importantly, due to its commitment to having the most advanced, state-of-the-art equipment in its facilities and a team of exceptional employees. The company has moved well beyond the pickup truck without reverse, and shows no signs of ever moving backwards.
Two-In-One
A&M Instruments got its start by forming a proprietary diamond-coating process, and diamond coating procured blanks to fulfill customer needs. Seeing the need and efficiency in providing a more complete process, they added within a short time Tornos/Bechler Swiss screw machines imported directly from Switzerland. The company began producing their own blanks at which point, Michaeli says, it made perfect sense to integrate the two processes and fabricate a complete line of diamond cutting tools. "It was only natural to integrate the two functions," he says. "So we began diamond-coating our own blanks."
A&M Instruments is a 'lights-out' Swiss screw machining operation utilizing Swiss CNC screw machines, and others, to achieve the first essential steps in their process, high-precision and concentricity. "This gives us our quality-control edge," Michaeli continues.
The company then coats their blanks utilizing select blends of diamond shapes, structure, sizes, hardness, friability and types depending on the final application of the tool. "Thirty years of diamond coating has led to advances in the diamond-coating process unique to our company," Michaeli says.
It is these capabilities that Michaeli says sets A&M Instruments apart from its competitors. The company manufactures diamond rotary tools, mandrels, hole saws, discs, grout removal bits, twist drill bits, wheels, wires and files in addition to borazon-coated tools, and provides Swiss screw machining services. "We're two operations in one," Michaeli says. "It's not common to have both operating seamlessly within the same organization, especially in the dental field, and it gives us the advantage. We can control quality from the moment the bar stock arrives onsite."
Quality Control
Michaeli says the company benefits from having the most advanced equipment possible, which he says is inspired by the principles his father instilled in him at a young age. "I grew up with a father who was very handy,  hard-working and practical," he says. "We would pull nails out of projects that were no longer being used, straighten the nails on a flat surface with a hammer and reuse them. Years later, that pragmatism translated to timing perfectly the replacement of older machines with newer, relevant equipment and technology and justifying the costs. We can convert our machines seamlessly, from one part to another, with no downtime."
Michaeli says quality control is essential for A&M Instruments because customers require continuity of product. "When it comes to our products, quality is our first priority," he says. "Quality is essential to our success, therefore we utilize the highest quality raw materials, train our team to ISO standards, and operate at the highest efficiency possible."
"By implementing ISO procedures, we are able to increase productivity on our standard products, nearly eliminating errors and waste," Michaeli says. "Daily inspections are performed on parts, weekly meetings held, and production charts reviewed quarterly. We also encourage our team to contribute ideas on how we can improve in all areas of our business, especially in the manufacturing process."
Still Moving Forward
Even though the Internet is changing the way supply houses and other customers are purchasing and distributing products, Michaeli says the focus for A&M Instruments remains the same as it has for the last 30-plus years. "Our current strategy remains the same – to continue to produce the finest-quality product at the best price."
To achieve this the company continues to focus on fostering a culture of continuous improvement throughout the organization. A&M Instruments plans to add nearly 10,000 square feet of production space in the coming years to add even more capacity to its capabilities, and Michaeli says the company is expanding its marble, stone, concrete and glass-cutting product lines in the near future.