For the love of bags
Trusted by world class brands, Aargus Plastics has made its name being the best one-stop-shop for custom bags, but in 2020 it has found a new purpose in supplying medical gowns for hospitals
It was in the early 1970s that Chicago native Jerome Starr first became familiar with what was at the time a small plastic bag making company by the name of Aargus Poly Bag, but would go on to become Aargus Plastics (Aargus). Then representing a firm of Certified Public Accountants (CPA) – of which Aargus Poly Bag was a client – Jerome was not initially the auditor in charge of this particular account. Nevertheless, it was an unlikely set of circumstances and a love for man's best friend that set the wheels in motion for a series of events that would see him become the company's Chief Executive Officer.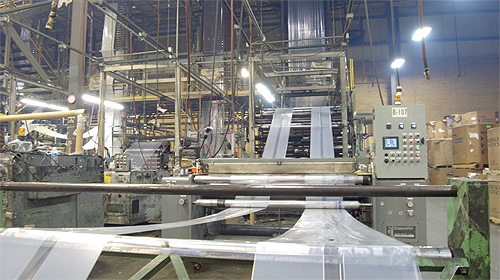 "My involvement with the company really came about due to the fact that I am a big dog lover," Jerome explains. "The owner of Aargus at the time used to bring his Great Dane down to his plant, and it just so happened that his CPA representative then was deathly afraid of dogs. The head of the CPA firm back then knew of my affection for dogs and subsequently handed me the Aargus account, which is how I got to know what was a small manufacturing plant containing only three bag converting machines, and no printing or extruding capabilities."
Pulling together the money necessary to acquire the business in 1971, Jerome and a team of associates subsequently set about expanding Aargus' bag-making capabilities, doubling its converting capacity and adding additional extrusion lines almost immediately. Little more than a year later, an arson-set fire destroyed the company's premises, yet Jerome was undeterred and a move into a new, larger 20,000-square foot building in Des Plaines, Illinois helped set it on a path towards greater things. There, Aargus grew for the next 27 years, before it eventually moved into its existing 125,000-square foot home in Wheeling, Illinois in 2003.
Diversified offering
Today, Aargus considers itself to be a '38-extrusion line, flexographic printing force', and is one of the most multi-dimensional low and high density polyethylene extruders, printers, converters and recyclers in the United States. The company's recyclable products – a number of which are made from recycled resins themselves – are made to custom specifications and are designed to match the constantly-changing world that Aargus' customers operate within.
"We are a highly-diversified company, with the capabilities necessary to manufacture custom bags for retail businesses – from food companies to department stores – and industrial applications, ranging in size from 2×3 inches up to 90×120 inches," Jerome states. "This breadth of offering allows Aargus to navigate any downturns in one particular market segment without a detrimental effect to the business, and – most importantly – act as a one-stop-shop for customers' needs."
The company's retail offering – typically carry out bags given to people when leaving stores – previously accounted for around 50 per cent of Aargus' turnover. It was the arrival of Chinese competitors to the market, backed by government subsidizing, however that saw it turn its attention to alternative revenue streams. This is when it moved into manufacturing industrial bags such as trash liners, box liners, staple packs, bags on rolls, pallet covers, and laundry/dry cleaning bags. Its customers in this area tend to be those relying on just-in-time deliveries within a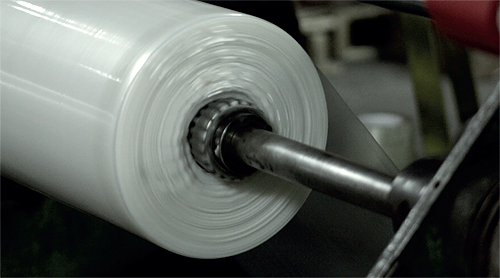 matter of weeks.
"Prior to 2020, it was our industrial products – particularly our trash liners that we supply to schools, municipalities, restaurants and packaging applications – that remained the main source of Aargus' business," Jerome says. "However, with the onset of the Covid-19 pandemic, the closures of many of these customers resulted in a drop off in activity of approximately 50 per cent in a short space of time. As any responsible business would, we reacted to this by immediately looking at other potential income streams."
Gown production
Jerome is one of those unfortunate enough to find himself afflicted by the virus this year, but prior to this, he had already been approached by the company's Vice President of Sales (Jay Tapp) with a design idea for producing gowns for hospital use. "While we weren't able to manufacture the complete product, we were able to produce the film, and had the contacts needed to outsource the die-cutting and heat treatment elements needed to produce the gowns," Jerome details.
Jerome's own experiences when being treated in hospital for Covid-19 gave him first-hand evidence of the tremendous demand for the aforementioned gowns. "As I was in hospital, I was counting each time someone would come into my room – whether it be to run blood tests, checks or bring meals – and how when leaving each person would have to discard the gown that they were wearing. Sure enough, since we began producing our gowns, they have gone on to become one of the most popular products that we make."
Aargus' gowns are also highly unique in that they incorporate a number of technological advances devised by an affiliated start-up business by the name of Smart Plastic Technologies (SPT). "SPT is responsible for developing a bio-assimilation additive called Eclipse, which causes plastic to bio-assimilate naturally via total biodegradation after use," Jerome reveals. "It has also created a unique, anti-microbial additive that is called Gard, as well as an anti-fungal additive, Servo. The former controls pathogens including MRSA, E. coli, Salmonella and other dangerous organisms, while the latter controls bacteria and fungi, and has been shown to be highly successful when used in food packaging, agriculture and medical packaging. We are now putting the likes of Eclipse into our gowns, which is also helping to contribute towards achieving greater sustainability within this field of the plastics industry."
With demand for its gowns showing no signs of abating, Aargus is actively looking to invest further capital into facilitating continued growth. "For one thing, we are currently looking at purchasing the equipment we need to allow us to carry out the die-cutting and heat treatment tasks that we presently sub-contract out. This will allow us to produce all of our gowns, and control the entire manufacturing process, in-house. We are also hopeful of acquiring an additional piece of property in which we can expand our fleet of machinery so as to make high volumes of gowns," Jerome confirms. "While we currently lack the equipment to move into the manufacture of other pieces of medical clothing such as gloves, I am confident that going forward there will be other application demands that our customers come to us for solutions, and I see no reason why we wouldn't be able to adjust either our equipment or processes to meet some of these."
With cleaning and safety measures implemented across its premises, Aargus has welcomed back its employees in increasing numbers in the last few months, and Jerome is now also seeing demand for product lines outside of the company's gowns slowly starting to return. "Demand for ever-more sustainable products that make use of specialist additives is something that slowed down somewhat with the arrival of Covid-19, but we are now starting to see requests for these picking up again.
"The strategy for Aargus going forward definitely comes back around to this issue of sustainability, and because of the specialist additives that we have access too, we feel that we are in the best possible position to increase our sales, and in turn further our own growth as a business."
Aargus Plastics
Services: Polyethylene manufacturing
www.aargusplastics.com