Aavid – Thermal Division of Boyd Corporation
Playing it cool
A world leader in thermal management solutions and innovation, Aavid – Thermal Division of Boyd Corporation – offers a broad portfolio of cooling technologies and capabilities
From its own self-confessed humble beginnings as an industrial fabricator in the Bay Area of California in 1928, Boyd Corporation (Boyd) has evolved into a dynamic global innovator with more than 90 years of customer-focused performance success when it comes to advanced sealing, thermal management and protection solutions. Partnering with its customers to solve their most complex technical challenges, Boyd uses a combination of deep application knowledge, materials science expertise, and highly engineered custom solutions to enable technology advancement. This has helped it to align with the world's leading OEMs and empower the solutions of the future.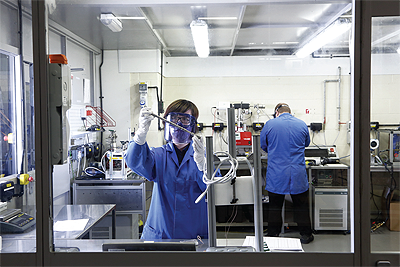 Over the last decade, Boyd has developed a robust acquisition strategy with a keen sense of identifying world-class business operations that, when combined with Boyd, create new value for customers. One of these is Aavid – formally known as Aavid Thermalloy – a leading global provider of electronics cooling solutions and services dedicated to innovative thermal management.
"Prior to Boyd's acquisition, Aavid itself had a strong track record of purchasing well-established brands such as Thermacore and Kunze in Europe, thus rounding out a well-balanced thermal solutions portfolio," explains Boyd's Vice President of European Operations, Jeanette Bragde. "This portfolio includes low to high volume production from various metal fabrication techniques, design teams at the forefront of innovation, and thermal solutions that help to solve a broad spectrum of heat generation needs.
"Boyd has long been the foremost expert in converting two-dimensional thermal management solutions like graphite heat spreaders and thermal interface materials. Combining our thermal solutions with those of Aavid further rounded out the joint product portfolio with solutions for any thermal load, in virtually any dimensional space. Furthermore, having additional complementary solutions for customers to pull from on every continent means that we can shift as our customers need us to, while an enhanced global scale allows us to offer the lowest total cost solutions in a competitive global marketplace."
Boyd's global engineering organisation approaches design work with a mind for velocity, as it understands that its customers need solutions quickly. It also commits to its customers' excellence, responsiveness, global availability and reliability, all of which culminates in close partnerships and long tenured business relationships. "By understanding our customers' current requirements and anticipating their future needs, we can provide solutions that are best suited to their product and more likely to ensure success," Jeanette states. "Working closely together and questioning how we can both do better always results in a better overall product design, which in turn fosters trust and respect, leading to better collaboration and to everyone winning smarter and faster!"
Another key strength of Boyd's global footprint is diversity, as Jeanette goes on to add. "Together, we possess diversity in terms of the solutions we offer, the industries we serve, our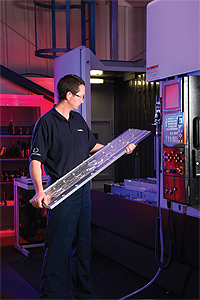 respective geography, manufacturing processes and fabrication techniques, ethnicities and nationalities. This diversity brings strength in how we solve problems and how we respond to market highs and lows.
"We have the ability to be a one-stop-shop for many customers and pride ourselves in being able to convert virtually any material in the most efficient, cost-effective manner possible, and better than anyone else in the world. With the acquisition of Aavid, we stand as the world leader in electronics cooling, including natural and forced air convection, liquid cooling systems, two phase cooling and heat pipes, and heat exchangers."
Arguably one of the company's greatest strengths, however, is its ability to continually develop new technological solutions. "Our in-house R&D activity is focused predominantly on analysing the design challenges of tomorrow," Jeanette continues. "We also learn and drive tremendous innovation from partnering with our customers to solve unique, known challenges. Our UK facility works with customers that have thermal issues that no one else can solve, and by facing these challenges and developing solutions, we drive technological innovation that can then be replicated as other engineers run into similar issues. Our design teams build a library of challenges and solutions, which enables our global teams to learn from one another's successes."
World-class manufacturing operations today run on the premise of Lean Manufacturing and, like those that apply its principles to their full, Aavid focuses on true value-add activities that emphasise manufacturing the best quality products that it can possibly produce, while at the same time delivering the lowest total landed costs to its customers. "By eliminating waste, promoting best practices for continuous improvement, streamlining systems and tracking, and being dedicated to facility safety training and procedures, we ultimately enhance our value as a supply partner, and at the same time provide a better working environment for our employees," Jeanette proclaims.
Looking ahead, there are a number of both traditional and emerging markets that are ideal for the solutions that Boyd has to offer. "Traditional markets are always hungry for the newest innovation, and they will continue to be areas of great interest to us, including aerospace, defence and the smartphone sector," Jeanette proclaims. "We are also excited about the e-mobility industry – specifically electric vehicles and the technological connectivity of transportation – wearable medical technology, and 5G infrastructure developments that will revolutionise data transmission speed and volume processing. Each of these markets is ideally suited for our solutions."
As it has been detailed in great depth above, Aavid, Thermal Division of Boyd Corporation, constantly innovates to prepare for the next generation of its customers' products. "Around the world, electronics continue to become smaller and more powerful, and thermal management is quickly becoming the number one barrier to growth and product success," Jeanette says. "As devices become more difficult to cool effectively, we continue to find new ways to optimise thermal performance, and drive down the size and weight of solutions. This is why more advanced systems, including two-phase and liquid, are becoming more popular and are key for us.
"We are also developing newer, more advanced technologies such as augmented thermosiphons and encapsulated graphite solutions. Our design and manufacturing teams in the UK have historically served customers and markets that force them to be at the forefront of thermal innovation, and we will continue to be able to draw on that focused innovation as other markets begin to experience similar performance constraints."
Aavid – Thermal Division of Boyd Corporation
Services: Provider of electronics cooling solutions