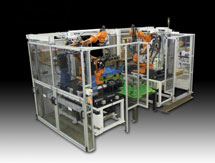 No stranger to recognition, ABCO Automation has earned six "Fast 50" awards – this year marking a third consecutive win  – and was also ranked on the Inc. 5000 list as one of the fastest-growing companies.  To be one of the best in such a highly technical and competitive field, you can be sure there is some major talent working behind the scenes.
That's exactly the case for this industrial automation manufacturer. Among its 130 employees, approximately 40 are engineers who are creating some of the most sought-after assembly and packaging machines. One of the products the company is most known for is  custom-built bag-in-box filling systems that cut, load and fill bags with liquid at high speed within an accuracy of better than 99 percent. These highly specialized machines sell for between $250,000 and $1 million.
According to President and CEO Brad Kemmerer, all engineering is done in-house. "So much of our work is designed to solve our clients' problems," he says. "Our customers will typically articulate a problem and sometimes have an idea of how to solve it. We help them formulate their ideas and turn them into working machines."
Blue Chip Clients
ABCO's clients aren't ordinary businesses; they're mainly Fortune 500 companies. In fact, when the company was founded in 1977, it began as a provider for one of the largest and most reputable corporations – Coca-Cola – by supplying electrical control systems and custom packaging equipment. Before long, ABCO'S reputation led to a broader list of clients who came to the automation specialist for turnkey packaging lines, control work, custom-built equipment, assembly, material handling, inspection equipment and build-to-print machines.
Coca-Cola is still a client of ABCO's, joined by big names such as Westinghouse, Procter & Gamble, Corning and General Electric. Keeping heavyweights such as these happy is no easy feat, but the ABCO team makes it a priority. "We are more focused on execution and building good relationships with our customer, rather than just selling," Kemmerer notes. The CEO, whose background is in project management, says he emphasizes to his employees the notion of "wearing the customer's hat." ABCO staff members are encouraged to think like their clients to add value as if they were an extension of their clients' workforce.
Another form of "wearing the customer's hat" is maintaining weekly contact with customers. "They should never wonder what's going on with their project," Kemmerer says. "The nature of this work is very challenging. We're doing things that are highly technical prototypes and there are issues that have to be worked openly with our customers."
Working Hard, Working Together
One of the biggest challenges in its industry is providing fast lead-times. It's common for manufacturers to take long to decide on making a capital investment, but once the decision has been made, they want the project done as soon as possible. ABCO works extremely hard at this point to provide industry-leading deliveries. "The work is challenging," Kemmerer admits. "It's difficult for our operations people to make things happen faster, but we know this is very important to the customer."
Working hard and working together are part of ABCO's culture. Since the company has an employee stock ownership plan, quarterly meetings are held to go over business information. Kemmerer takes advantage of the meetings to bring up the core values he believes unify his staff. "I might say that in the weeks coming up, let's try to earn a certain amount of business, but also say how important it is to work together and how much more fun it would be if we ask ourselves how we can help our fellow employees," he relates. "That culture seems to make as much a difference as anything in our success."
The end-result is work well done and a feeling of pride. Kemmerer explains that he's proud of his company's growth, including its growth in capabilities. When he looks back at all the systems that have been installed and the plants that have been worked in, he is able to see how far ABCO has come. "It's a great joy to visit a manufacturing customer , see the manufacturing systems we've put in, see the people working those lines, making things – it's all about helping the manufacturer be successful," he notes.