A comprehensive service
With 45 years of experience in the design, testing and production of cabs, chassis, rollbars and equipment ABT Products Ltd has become the first choice partner for global OEM manufacturers.
Formed in 1964 by Anthony Beach-Thomas, ABT Products Ltd was incorporated in 1971. Throughout the 1970s and early 80s the company developed and manufactured its own range of agricultural equipment such as cultivators, bale wrappers and bale handlers that were used by customers across the globe.
With an expanded factory and a neighbouring factory purchased in 1986, the company progressed into the manufacture of cabs for forklift trucks in 1988; this further diversification of its operations meant ABT Products Ltd required a larger factory, which resulted in the purchase of a 3.2 acre Ashburton site and the construction of a new purpose built 2787 square metre factory in 1989. By 1993 the company had become a significant supplier of cabs to the forklift industry and a well-known supplier of chassis for sports cars as well as ABT's own brand of agricultural machinery.


Following further expansions of the factory in 1977 and 2007, the factory reached 6000 square metres – making it the largest industrial vehicle safety structure manufacturer in Britain – and enabled the company to invest in an autophoretic paint plant in 1999 that could provide customers with optimum corrosion protection. Involving the high quality surface cleaning of ferrous metal and an anti corrosion treatment, the autophoretic treatment increases product life as it provides in excess of 1000 hours of salt spray protection. In 2006 and 2008 ABT invested once again in new technology with the introduction of an in-house purpose built rig and the commissioning of a new HD CNC three metre bed plasma machines respectively. The former enables the firm to carry out ROPS/TOPS tests, while the latter investment enabled the firm to produce profiles up to 32 millimetre thickness.
"The autophoretic plant is one of our key facilities, as it is the only process that will give this level of internal corrosion protection on ferrous metal," begins Mark Hignett, Director and Co-Owner of ABT Products Ltd. "On top of this, it is one of the largest sub contracting plants in Europe, which means we can put products with dimensions of up to 3.2 metres by two metres by two metres through the corrosion protection process in comparison to other plants that can only put through small items as their tanks are smaller. Because of the size of our tanks we can put a whole cab through or a whole chassis."
A major development for the highly successful firm took place in 2011, when it was not only acquired by Mark Hignett and Tim Morris, but also merged with Loadmac. Today ABT Products is the UK's leading cab, rollbar and chassis manufacturer for niche OEM's, while Loadmac truck mounted forklifts are designed and built at ABT with sales in the UK and also further afield, to Australia, the US and Canada.
"Since becoming involved in ABT, we have concentrated on not just being sub contract manufacturers, but on manufacturing partnerships; this development means we now make complete complex machines for customers to the point they are shipped directly to our customers' distributors. The business has gone through a real evolution over the last 42 years, expanding from three employees to the 100 we have now working in our 3.2 acre factory. We can now also do everything physically under one roof; from design and procurement, we can take on the whole supply chain, which is highly attractive to customers who would otherwise have to deal with 50 or 60 suppliers for their product. Instead, we do all of that for them so we become their one supplier," explains Mark.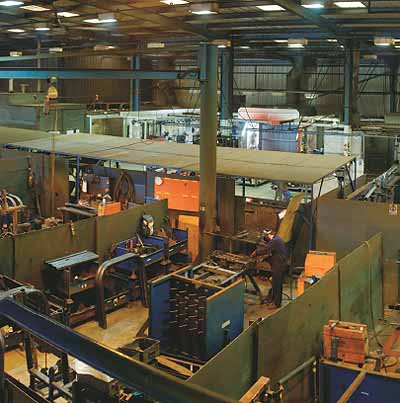 "Another benefit for our customers is that we design and manufacture our own tooling in-house," adds Tim Morris, Managing Director and Co-Owner of ABT Products Ltd. "Very few customers can go to a manufacturer and say 'we want this machine' or 'we want you to design this'; it really is as little or as much involvement as the customer wants. Furthermore, if a customer comes to us and doesn't have a clue what they want, we have the latest 3D CAD and FEA software and highly experienced design engineers, which means we can create concepts and 'virtual' test them to ensure they are structurally sound. We also offer prototyping and pre-production, so even if they come up with the most basic idea we can take them through the design process, right through to full production."
Highly flexible and comprehensive in its service delivery, ABT Products Ltd is focused on providing customers with quality appropriate to their industries standards at the best possible price. This dedication has recently been celebrated, with ABT Loadmac currently flying the flag for Herefordshire manufacturing after being chosen as one of the 1000 companies to inspire Britain, as Mark highlights: "We were noticed for a number of reasons but the main ones were a growth in export due to our market leadership in Australia with the Loadmac truck mounted forklift; this product was 100 per cent designed, developed and tested by ABT. Other reasons include the fact we engaged heavily in a knowledge transfer programme with a local university, our cash generation and re-investment; we were also recognised for our financial performance and the consistency of this."
Like many companies with strong growth, the success of ABT Products Ltd stems from innovation and investment in both facilities and staff rather than strict cost control. Not only investing in new equipment such as a massive six kilowatt laser with a 4m x 2m cutting bed and new paint facilities, the ISO 9001 certified company has also been developing its new apprenticeship scheme, as Tim notes: "An integral part of our new apprenticeship programme involved going directly to schools and cherry picking the best students from the selection process for the apprenticeship course. We got to pick the right people and now have a strong group of apprentices; we are looking to roll this out this year and then keep taking on two or three apprentices each year. We also take on students from university when they take a sandwich year in the hope that when they finish university they come and work for us."
With cutting edge facilities and a new method of getting the cream of the crop when it comes to apprentices, the future looks positive for ABT Products as it seeks out new projects and opportunities in the market, as Mark concludes: "We were originally a single shift company, however, we have recently modernised our working patterns and begun a two-shift system that has resulted in extra capacity and opportunities to take on new projects. We are actively looking for two or three new projects that will have annual production runs of 200 to 2000 units per year."
ABT Products Ltd
Products: Cabs, chassis and rollbars