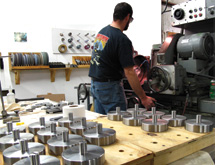 Manufacturers, laboratories, universities and government agencies across the United States look to ABTech Inc. when they need the most accurate measurements possible.
The Swanzey, N.H.-based company, founded in 1998, designs and manufactures rotary and linear air bearings, metrology gauges and custom motion systems used in aircraft and aerospace, automotive, semiconductor, optical and other high-precision applications.
"Our strength is in our ability to assimilate the customer's complex geometric metrology requirements into our products," CEO and President Ken Abbott says. "Since we sell to manufacturers, we understand the challenges of how they measure and we focus on the acceptance and satisfaction of the people actually using our equipment."
ABTech traces its history to Pneumo Precision Inc., a designer and manufacturer of air bearings that served as a primary supplier to Providence, R.I.-based manufacturer Federal Products Inc. Pneumo Precision Inc. was acquired in the mid-1990s, prompting Federal Products Inc. to approach Abbott, who then worked for another Federal Products supplier, to take over its production. Federal Products initially wanted Abbott to relocate his company to Providence, but Abbott, a New Hampshire native, opted to stay in the Keene area, where a number of manufacturing companies are located. "I have deep roots in the area and recognized there were skilled people here, and I wanted to retain that experience," he says.
Air bearings supplied to OEMs remained the company's core business until 2008, when ABTech began developing its own product line in response to the cyclical nature of its market. After recognizing an absence of U.S.-based manufacturers producing metrology gauges, ABTech began developing its own in 2009 and introduced  its range of MicroForm roundness gauges to the market in 2011.
ABTech's MicroForm gauges are capable of measuring to a millionth of an inch or a fraction of a micron. Every gauge delivers smooth, friction-free motion and repeatable, maintenance-free measurements in a user-friendly system. Gauges are made of robust  materials including stainless steel, cast iron and granite for durability on the shop floor. Data gathered by the metrology gauges is quickly collected and interpreted by the MicroForm software program developed in-house by ABTech. A number of noted research laboratories and manufacturers use the gauges to measure and certify components including GE Aviation, Pratt and Whitney, Timken  Lockheed, Raytheon, Feintool and MAG Industries, Abbott notes.
Production Capabilities
ABTech manufactures metrology gauges in its Swanzey facility. The company engineers and manufactures almost all of the components used in its MicroForm gauges, including its own air bearings, gauge stands and motion controllers. It performs milling and turning both manually as well as through the use of CNC lathes and mills. All assembly, testing and certifying is done in-house using the company's own gauges. In addition, ABTech produces air bearings and other OEM components  built to order and specific to customer specifications.
The company in recent years implemented lean manufacturing principles on its shop floor. "We have moved our entire shop around to allow for a better work flow and continue to look at our processes," Abbott says. "One thing I've learned is to not only hire the best people, but to give them the best resources/equipment and encourage input in the processes, which improves the quality of our product overall."
ABTech believes strongly in employee training. "Our people are highly skilled, but I believe in hiring for attitude first and training to the particular skills we use here; most of the people here didn't know what an air bearing was when they first came here," Abbott says. "To us, attitude, a work ethic and wanting to be a part of the team is everything."
Abbott describes the company's work ethic as driven by "pride in precision," which is also ABTech's motto. New manufacturing employees are paired with mentors on arrival to the company, and ABTech also partners with the state of New Hampshire and local colleges to provide training.
Enriching the Community
The company's "pride in precision" ethic extends to its work in the community. ABTech is active in local organizations including the Hannah Grimes Center, a nonprofit business incubation and entrepreneurial support program for which Abbott serves as a board member.
ABTech also supports the Regional Center for Advanced Manufacturing, an initiative of Keene State College and River Valley Community College that provides hands-on manufacturing experience to high school and college students. Abbott serves on the center's advisory council, and his company employs interns from the program.
Other activities and charities supported by ABTech include the United Way, the Norris Cotton Cancer Center at Dartmouth Hospital, Habitat for Humanity, and robotics and engineering competitions. "We've all made the decision to live here and to raise families here, so it makes sense that we do what we can to make the area the best place possible," it says. "With our community outreach efforts we hope that bright and talented people will also choose to make the region their home as well, further enriching our 'soil.'"