Life finds a way
From its bases in the UK and the United States, Abzena provides services and technologies, from discovery to GMP manufacturing, for the world's leading biopharmaceutical companies
What links the cities of Cambridge in the UK, San Diego in California and the town of Bristol in Pennsylvania? The answer is that the three are home to facilities run by life sciences group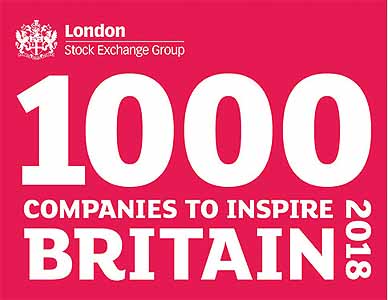 Abzena. Formed in 2013, initially born out of the combination of the UK entities PolyTherics and Antitope, Abzena offers a range of complementary services and technologies for the selection, development and manufacture of biopharmaceuticals, products based on antibodies or other proteins.
"PolyTherics was historically focused on the utilisation of proprietary conjugation technologies for extending the half-life of biological products and also building antibody drug conjugates. Meanwhile, Antitope was known for its antibody engineering capabilities, specialising in immunology research services and manufacturing through the process of cell-line development," begins Abzena's Chief Executive Officer, John Burt."The combination of these two businesses directly led to the creation of Abzena and its subsequent IPO in 2014.The latter development helped us to raise £20 million and embark on a programme of acquisitions to expand the manufacturing capability of the business."
The acquisition of PacificGMP in San Diego allowed it to add the process development and GMP manufacturing of biopharmaceuticals for clinical studies to its portfolio, while the purchase of TCRS in Bristol, PA brought additional chemistry services including antibody-drug conjugate manufacturing under its roof.
Today,Abzena works with companies and academic groups the world over, including the majority of the top 20 biopharmaceutical companies. Supporting the development and manufacture of better treatments for patients, multiple antibodies have been created to date using Abzena's technologies, many of which are currently progressing through clinical development. "What makes us unique is that we have taken a wide range of capabilities and integrated them all within one group," John continues."This in turn provides our clients with access to a one-stop-shop for their contract research, development and manufacturing needs."
Abzena's complete solution allows a client to begin accessing its capabilities from the earliest stages, from research through to determining a product development pathway, and this typically begins at its Cambridge facility."The beauty of our integrated offering is that we are able to utilise state-of-the-art equipment and processes that provide a continuum for our clients," John explains."This is evidenced by the fact that we can do small 15ml cultures in the UK and then scale those up to 500 litres for the production of clinical products over in San Diego.
"From the perspective of developing a conjugated product, such as an antibody-drug conjugate, there is a similar pathway that we can offer utilising our chemistry capabilities.Again, this would usually start in Cambridge before then heading to our Bristol, PA facility. In fact, there is a significant programme currently progressing well in Bristol where we are utilising an antibody produced in our San Diego facility. So, this is a great example of how all three sites can contribute, in an integrated way, towards a client's product being taken to clinical trials."
Since its formation, Abzena has made it a major priority to maintain a programme of investment in its facilities and infrastructure as demand for its services grow."For us, investment tends to fall into three principle areas," John adds."The first involves our own proprietary technology surrounding antibody-drug conjugates, including our own drug-linker technology that we call ThioBridge™.The second area is in the field of cell-line development, where we are always looking to improve the productivity and yield of our manufacturing cell-lines, as well as the time that these development programmes take. Lastly, we also take the time to step back and examine ways that we can invest in improving the already strong degree of integration Abzena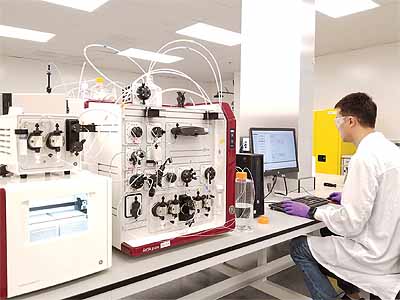 possesses in order to create a seamless experience for our clients."
An example of the latter can be found in the company's present day upgrading of its San Diego infrastructure.This has seen it taking on a lease on a new 50,000 square feet facility, into which it has installed its process development labs and technology for the non-GMP production of engineering batches and material for toxicology studies.
"We have had a lot of success with our transition and upgrading of our manufacturing platform, which has led to the embracing of a greater use of stirred-tank bioreactors, a decision that has seen us forge close relationships with other experts in our field such as Sartorius," John details."Currently we have the capacity to incorporate bioreactors that go up to 500 litres in spec, and we plan to bring our facilities up to the point where we can install a 2000 litre bioreactor to increase our own output."
The strides that Abzena has taken over the last year has seen the company recognised within the London Stock Exchange Group's '1000 Companies to Inspire Britain 2018' report."This is something that we, as a company, are very pleased to be recognised in," John says."It is very rewarding to see that the quality and strength of our integrated offering is being recognised, as is our ability to help our partners being new medicines to their patients as a result of the services that we provide."
In the last year, Abzena's revenues have continued on an upward trajectory, rising by almost 20 per cent, and John's short and medium-term plans involve building upon this success as the company realises the value of the investments it has made and the capacity it now has across the business."We have several significant, multimillion dollar contracts progressing very nicely at this time," he reveals.
"We see that there is great potential for Abzena to be a significant contract research, development and manufacturing organisation and a solutions provider for enabling biological products to come through into clinical development, and into commercial supply once they have obtained regulatory approval," John concludes."Personally, I foresee continued growth as we look to realise this vision and establish ourselves as a truly global player that operates internationally and has a worldwide client base."
Abzena
Services: Life sciences technologies