Towards the post-consumer age
Born in Vietnam and made in America, Accredo Packaging's success is a testament to one family's vision for a cleaner, more sustainable packaging industry
In 1975, after the fall of Saigon, thousands of people left Vietnam, with most seeking refuge in the United States of America. The 11 members of the Nguyen family were among that group. They were picked up by a cargo ship off the coast of Vietnam and arrived in the United States as a group of refugees with the ambition to start a new life in a foreign land. After settling in the US and several years of hard work and struggle, they found success operating multiple seafood restaurants. In 1986, they founded a new business manufacturing plastic grocery bags. As time went on, the company grew substantially. After several years of hard work, the Nguyen's found themselves at the helm of Advance Polybag Inc. (API), one of the largest plastic bag manufacturers in the world.
In 2009, a new era of sustainability emerged. API already had a strong foundation across the US, including an employee base of hundreds of skilled workers. As calls for more sustainable packaging solutions began to grow, API sought to diversify its product portfolio. The Nguyen family launched Accredo Packaging (Accredo) and opened a new manufacturing facility in Sugar Land, Texas. That initial site marked the first LEED Silver-certified manufacturing facility in the flexible packaging industry and demonstrated the company's commitment to sustainability.
Thirteen years have passed since the inauguration of Accredo's largely empty building, which started with just two extruders and two presses. Today, Accredo boasts an employee base of 600 people and is posting impressive revenue numbers. It is a success story built on the company's rigorous sustainability credentials.
"We have a powerful value proposition," Rex Varn, Executive Vice President at Accredo, tells us. "Our plant is powered exclusively by Texas wind energy. On top of that, we use expanded gamut printers – a printing method that uses 95 percent less solvent and produces much less waste than traditional printing techniques."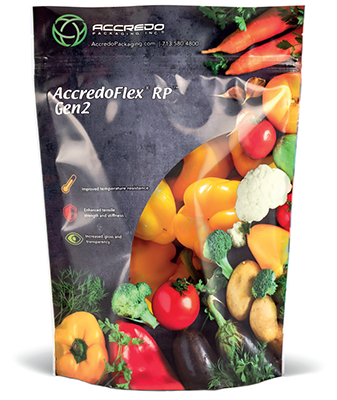 Armed with these innovations, the newly formed Accredo immediately set to work to deliver the first recyclable polyethylene (PE) stand-up pouch in the US: the Gen1. Helping businesses to achieve sustainability goals and source reduction through first-mover innovation, the Gen2 pouch later followed this product. Accredo has found a receptive consumer base in both cases, enthusiastic about embracing Accredo's industry-leading solutions.
"We have grown from having zero sales 13 years ago to occupying a sizable place in the market," Rex reflects. "We have a great portfolio of companies, and all of them form a part of our leadership in providing sustainable packaging solutions."
Now with many established customers, Accredo continues to pursue rapid growth. Over the past three years, Accredo has completed a 200,000 square-foot expansion of its Sugar Land, Texas facility and is scheduled to complete another 85,000 square-foot expansion in Sugar Land this fall. "We now have about 600,000 square feet of office and manufacturing space combined," Rex confirms. He adds that Accredo will continue building with even more growth over the next five years.
In 2019, Accredo Packaging also completed a 250,000-square-foot facility in Vietnam to service the burgeoning Southeast Asia market. As its Vietnam facility suggests, Accredo remains a company close to its roots. As Rex explains, the Nguyen family continues to exert an active presence within the business. "They're here on the ground, working day-in, day-out," he confirms. "Among the Nguyen family, nine from the first generation and nine from the second generation, are all active in the API Companies' day-to-day operations; including one of the Nguyen brothers as CEO, with additional brothers as plant managers at the Sugar Land facility and other locations. They have also kept the company strong throughout the pandemic, maintaining significant inventory to ensure that we have always been able to support our customers."
In a booming industry, developments at Accredo show no signs of a halt. "We expect to see more products and more of our customers making the transition to sustainable products," Rex adds, "We don't have a single customer in our global portfolio today that isn't interested in trying to find a more sustainable product. Among our customers, nearly every company has a Director of Sustainability, with a corner office right next to the CEO. And their customers, in the same way, are saying, 'We want a more sustainable product.' 'Is that recyclable?' 'Does that have recycled content?' It's our role to make those products available. Gen3 recyclable products are now in the pipeline, and we aim to continue to be ahead of the curve in finding and delivering new innovations to the marketplace. Beyond that, our main goal is to keep growing and continue our double-digit growth trend."
Accredo Packaging
www.accredopackaging.com
Services: Recyclable packaging solutions