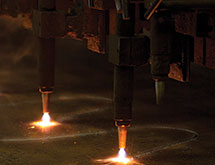 In the manufacturing industry, where the focus has centered on how quickly a company can get its product to market, AccuBurn Inc. meets the demand by proactively responding quickly and easily to customer, industry and market trends.
"It's almost becoming the norm to work under very tight schedule restraints," Vice President Steve Smith says. "The average is about a 10-day turnaround, but we have some customers that expect one- to three-day turnarounds."
The Williamsport, Ind.-based company was founded in 1995 to meet the flame, laser and plasma metal cutting needs of leading manufacturers primarily in the mining, excavating and transportation industries. AccuBurn has about 50 active customers that range in product orders from a few hundred dollars per year to a couple million dollars per year. "One of our key things is that all of our customers receive the same level of service and commitment," Smith notes. "We are there and focused on their needs and put our best foot forward."
AccuBurn, with an ISO 9001:2008-certified quality management system since 2009, prides itself on its extensive array of production equipment, uncompromising commitment to quality and world-class customer service. "With 55,000 square feet of production facilities, AccuBurn is continually adopting new technology with a single goal in mind – to ensure we are always meeting the evolving needs of our customers by producing parts of the highest quality," the company says.
Perfect Cut
AccuBurn's plasma cutting system has a cutting area of 120-inches-by-684-inches and traverse speeds of 900 inches per minute. The table's large cutting area allows the company to achieve better and more efficient utilization of material and machine, resulting in lower costs to its customers.
For its laser cutting capabilities, the company's 10,000-square-foot laser production facility was designed to maximize the effectiveness of its Mitsubishi LVP Plus 40-CFX series lasers. With cutting capabilities up to 16 millimeters on mild steel and cutting speeds that surpass its competition, AccuBurn can accurately process a large amount of material in a short period of time. With three lasers and the capability to add an additional three, the company explains that it can quickly react and expand to meet customers' needs.
To offer cost-effective and innovative metal forming solutions for the transportation, heavy-duty equipment and defense industries, AccuBurn's CNC forming equipment includes a 60-ton press brake as well as a 175-ton press brake. The machines are capable of working with mild steel, stainless steel and aluminum and have the capacity to form components up to 30 millimeters in thickness and six feet in length.
Because flame cutting is an important primary process for cutting through thick steel, AccuBurn doubled the size of its production facility in 2012 and installed a large burning table. "That has done a phenomenal job for us," Smith says. "We can process a vast amount of metal plate in a short amount of time and recently processed two million pounds in one month on a single shift. By adding additional shifts, we have the ability to double or triple our current capacity almost immediately."
The burning table features a 16-torch capability that provides high-speed cutting of mild steel from 16 to 305 millimeters thick. Its oversized work area allows the company to cut large scale shapes with dimensions of up to 130 feet in length by 27 feet in width and weighing up to 15 tons.
In addition to its cutting services, AccuBurn has invested in a customized shot blast machine designed to meet customers' surface condition requirements for a broad range of geometric shapes and material thicknesses. The machine costs more than a traditional shot blast, but Smith says it is worth every penny. "No matter what angle or cutout, we can achieve white metal in one pass," he explains. "With  most machines you have to flip or rotate the product."
For its customers' straightening needs, AccuBurn added a 250-ton H-beam-style straightening press as well as a 100-ton traversing gantry-style straightening press that not only expedites AccuBurn's production, but also benefits the company's employees. "The machine moves to the product instead of us having to manhandle the product," Smith says. "There are still things you can do to make primitive applications the best they can be and hopefully better for employees and the product."
Employee Pride
"AccuBurn's No. 1 asset is their employees," Smith says. "They are the reason for our growth and the reason we are here today. Everyone brings something different to the table. Listening to our employees is the key and the reason we have grown to where we have. They have a greater understanding of what their job is."
With 31 employees at AccuBurn, the company has to ensure all of its employees understand the manufacturing process and are cross-trained on equipment. New employees are screened on a variety of practical skills and aptitudes before being trained on the job by a seasoned employee. "We have confidence in our employees that they have knowledge of our operations and can pass that along," Smith notes. "Your key employees and operators have to have a great understanding of their position so they can teach it easily. It's like second nature to them."
AccuBurn makes an effort to promote from within whenever possible. Plant Manager Adam Johnson for example, worked in the manufacturing plant as a plasma and flame table operator and inspector before becoming plant manager in 2010. "Everyone that has something to do with quoting, scheduling and purchasing have all been on the floor, which has given us a greater understanding of production," Smith notes.
A happy workforce is a productive workforce, and to ensure its employees have a good work environment, AccuBurn makes continuous improvements to the facility. This year, the company invested $70,000 to improve the air quality and temperature inside the manufacturing plant. AccuBurn installed four 18-foot fans to distribute the air evenly, a rapid air unit for heating and cooling and four large air exhausts. "What we do is a very dirty process, but we try to maintain a very clean environment," Smith explains.
AccuBurn also shows its appreciation by offering full benefits, 401K opportunities, bonuses and company parties. "It's a small enough shop where we can keep that one-on-one with our employees," Smith says. "If they need assistance or extra things we try to be there. We do the best we can to make it as comfortable as we can for our employees."
Communicating Expectations
One of the industry trends Smith is noticing is the "off-the-shelf" mentality where everything needs to be ready right now. For advanced planning and to accommodate shorter lead times requested by its customers, AccuBurn operates off its customers' order history to help gauge their upcoming needs. "Everything is right now and we are adapting to that," Smith explains. "It's not just on our end, it's across the board."
AccuBurn says keeping good relationships with its vendors is essential to adapting with industry trends. Smith personally meets with the company's top vendors monthly to have open dialogue about inventory and customer demands. "They become your right hand and that's the biggest thing to understand," he adds. "Right now, cash is king and when you can pay well that's one way you can pat them on the back. Without our vendors, it would be extremely hard to do what we do. They are putting their trust into us and a substantial amount of inventory on their floor, but when we succeed they succeed."
When talking with its vendors, AccuBurn uses their expertise and knowledge to help it succeed, but that's also what it hopes its customers will take from them, as well. Keeping the lines of communication open and honest with everyone involved is the key to finding solutions for any need.
"It's constant learning on both sides," Smith explains. "When you stop asking questions and stop giving input is when you will no longer be an asset. Think outside of the box and bring up new options – being proactive and saving money is the biggest thing."
Continued Expansion
Having a consistent flow through its manufacturing process is paramount in AccuBurn's facility to stay cost-effective and lean, which has been the driving force behind its facility expansions. The company made small building additions in 2000 and 2005 before its largest and most recent 22,000-square-foot-addition two years ago.
At that time, Cost Accountant Martha Hill implemented job-costing software for the company that provides a better understanding of profitability, productivity and process flow inside the plant. "Until you understand and know where you want to save, it's hard to envision," Smith says. "We have a better understanding now than we have ever had due to the software."
Moving forward, AccuBurn purchased an additional five acres for future expansion. The facility can easily more than double in size because of this real estate purchase. "The biggest thing is our capability to expand to bring in new customers and respond to the changing expectations of our existing customers," Smith says.