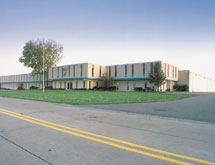 Some manufacturers are content to make the same product daily, but not ACE Controls Inc., President Gary Brewer says. Instead, the firm specializes in products that are engineered to meet its clients' unique specifications.
"If you look at ACE's success, it is [due to] their ability to provide customer-driven solutions," Brewer says, noting that its clients will provide individual application specifications. "[We're] then capable of implementing and manufacturing the solutions." The Farmington Hills, Mich.-based ACE Controls specializes in multiple products, including industrial shock absorbers, stacker crane and crane bumper safety shocks, and dual velocity and feed controls. William Chorkey Sr. started the company in 1963. Chorkey, who had a background in air valves, was looking for new markets where he could apply his motion control products. "[He] saw the need for some flow control valves," says Keith Szukalowski, vice president of global operations. Chorkey ultimately designed products that decelerated loads, prevented impact damage, reduced noise and improved performance. In addition, he developed industrial shock absorbers when he determined that there was a need to control energy on assembly lines. Today, ACE Controls has a strong international presence, with locations in Germany, the United Kingdom, Japan, China and India. "We have distributors in 40 countries globally," Szukalowski says.The company also is part of Kaydon Corp., which owns a number of niche businesses focused on highly engineered solutions with such strong brand names as Kaydon Bearing, Cooper Bearing, Ring and Seal, and Fabreeka. This ownership has given ACE Controls the support to infuse capital to support continuous improvement efforts and acquire such firms as HAHN, a manufacturer in Germany of gas and tension springs and dampers in 2010. This was in addition to the recent purchase of Fabreeka and Tech Products this past June, which are focused on vibration isolation solutions.
Custom Work
Some of ACE Controls' customized products include special shock absorbers, which is where most of the company's core competencies are, Szukalowski says. For instance, ACE Controls has manufactured shock absorbers for rockets that a California-based client uses to put commercial satellites into space. Another application for the absorbers is Vertical Tower rides at amusement parks. "We have shock absorbers on the corners of these rides, [which act] as safety devices," Szukalowski explains. "It will catch the carriage with the people in them."ACE Controls is now developing a customized product for soda bottle manufacturers. Although consumers tend to drink more out of plastic bottles, "You would be surprised how many classic bottles they produce," Brewer asserts, adding that his clients are of capable of manufacturing 40,000 to 60,000 bottles per hour.
Meeting Demands
ACE Controls has seen changes in its customers' demands, Brewer says. "We're seeing people who want shorter lead times and better delivery fidelity, [and] new products focused on specified application requirements," he says. "Our customers are [more] demanding."
In addition, the firm's clients are no longer limiting themselves to domestic markets. "Having a distribution facility and a manufacturing facility in China is critical because these customers are [going] global," he says. To ensure that it keeps meeting their needs, ACE Controls continues improving its manufacturing quality. This has included implementing poka-yoke mechanisms to help its assemblers avoid mistakes. So far, the hard work has paid off, Szukalowski says. "Our suppliers are bringing us good quality components," he says, adding that the company has utilized lean manufacturing processes on and off over the years. However, this year, the company has made a stronger dedication to this initiative. "We've worked with an offsite consultant and we're seeing some very positive results this year," he adds. Another approach includes utilizing value stream mapping, Brewer says. The technique is used to analyze and design the flow of materials and information needed to manufacture a product or complete a service. "Those maps do a great job of articulating [where something needs to be fixed]," he states. Szukalowski adds that the company's on-time delivery rates also have dramatically improved through the use of Kanban. "Last quarter, we edged 93 percent," Szukalowski says. "Last month, it was 96 percent on-time delivery." He also praises the work of the company's supply chain team. "[They have] done a great job with inventory reduction," he says. Brewer also highlights the rest of ACE Controls' staff. "The whole team has done a great job of trying to get the organization focused on customers," he says "We understand we have to satisfy our customers."He asserts that must be accomplished not only in the area of products. Instead, being "a fully integrated organization from sales, application engineering, supply chain, manufacturing and shipping – clear linkage is key to satisfying our customers," he says.
Planning to Grow
ACE Controls plans to grow further through more strategic acquisitions, Szukalowski says. He explains that these can help enhance the company's use of technology. For example, when it acquired the Germany-based HAHN, ACE Controls was able to acquire the firm's gas springs. "[That] was a great product," Brewer says. "It really is a complementary product that allows us to provide our customer with a broader solution." However, he asserts that it also will take more solutions-based products to help keep the company successful in the future. "ACE Controls has a great brand name, great manufacturing operations and great distribution channels, [and] great employees[who grow]," he states. mt