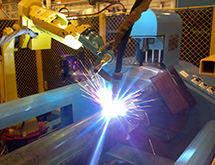 When people hear the word "robot," they tend to fear advancements that will lead to the end of the use of manual labor. But Acieta's robotic welding machines actually result in the addition of more workers, Welding Segment Manager Pete Rogers says.
When companies add Acieta's machines, "It allows the customer to take on more work," Rogers says. "They can have more capacity, which actually creates more jobs in those firms."
Acieta's robotic welding systems have been applied in the agriculture, construction, oil and gas, and mining markets, automotive, and general industries, Rogers says.
The welding systems, Rogers notes, provide distinct quality advantages. "The robot will create the same weld every time, no matter the day of the week."
The systems will also reduce the rework hours and increase speed and output rates. "We'll usually see a three-to-one output increase from manual to robotic systems," he says.
Rogers recalls a project when one of Acieta's systems helped a customer whose operations required the welding of a large part. Workers usually had to spend 40 hours welding the item. "They were essentially creating one part a week," he recalls.
Thanks to "the decreased material handling that our robot cell gave them, the client is now welding one part per eight hours," he says. "They're doing five parts per week."
Another client believed it could weld parts quicker than Acieta's robots. Although the customer's staff moved faster at first, "The robot eventually caught up and surpassed them," Rogers says. "What is took them all week to produce, our system would finish by Wednesday."
Elevating Employees
Acieta's robotic systems help save its clients time, Rogers says.
"They can spend time focusing on their business and less time searching for skilled welders that are hard to find and retain."
But the machines do not lead to the elimination of jobs that already exist, Rogers asserts. After adopting the machines, companies often reassign "welders to manage weld cells instead of doing the actual welding."
Acieta's clients also make sure to train them for these new positions.
"In the past, they may have been welding, [but now] they're getting educated in running the robots becoming more valuable to their employers and earning themselves more money," Rogers says.
Acieta's welding systems also help with worker safety, he says. By letting robots do the hazardous work, "We're not putting welders or factory workers in those positions."
"We've actually had customers that were a little skeptical about putting robots on their floor," Rogers recalls. "But when the robots were up and running the heavy parts, [the clients] actually thanked us, because they were happy they didn't have to move those heavy parts around."
Overcoming Obstacles
Acieta conquered challenges during the development of the welding machines, Rogers says. One of the largest was when customers' parts fit up was poor. This resulted in the machines struggling as they tried to weld the items.
That technology has improved. "There have been advancements in vision systems for the robots so they can adaptably weld," he describes. "If the weld joints are not perfect, the robot can adapt to fit them. In the past, those technologies weren't as prevalent. You wouldn't get a perfect weld."
Acieta works with its customers to make sure they are knowledgeable about the system they purchase. "We provide training for the customers," he says. These sessions are often held at Acieta's facilities. "We have a full training and test lab that the customers can use."
Engineering Solutions
Acieta, with locations in Pewaukee, Wis., and Council Bluffs, Iowa, specializes in industrial automation technology and robotics. Acieta began operations in 1983 as Automated Concepts Inc., an integrator for robot systems that do machining, welding and palletizing.
Twenty-two years later, the company became Ellison Technologies Automation because of its relationship with machine tool distributor Ellison Technologies. Today, as Acieta, the firm can now work with any machine tool company in the market and has installed more than 4,000 robotic systems in North America.
Rogers joined Acieta nine years ago and has appreciated the opportunities the company has given him. Initially, "I was hired as a programmer," he recalls, noting that he later moved into its project management department.
"I learned a ton about business and customer needs working on their floor, why people are automating, and what the process is to decide if they're going to automate," he recalls. "From there, I moved into my current position in the sales department."
Today, "I am in charge of working with all of our regional salesmen on the welding projects," he says. "[I'm proud of] our ability to do complex systems and to engineer solutions that specifically fit the customer's needs."
He also praises the company for its willingness to stay close to its clients. "It's just a matter of giving attention to the customers and wanting to partner up with them," he says. "We like to make partnerships. That helps them grow internally and fix any of the issues they have manufacturing goods."
The company also is willing to venture into new areas to find solutions for its customers. "Acieta is not afraid to do new things that have not been done before," he says.
Expanding Reach
The future of Acieta looks strong, Rogers says. "We're expecting to grow and plan to serve a lot more customers in all segments of automation, specifically in robotic welding," he notes. "We also want to develop more solutions internally for customers."
"At the end of the day, we help reduce customer's part costs and increase their productivity," he explains, noting Acieta may expand its reach. "We're looking at new areas to robotically weld and automate."