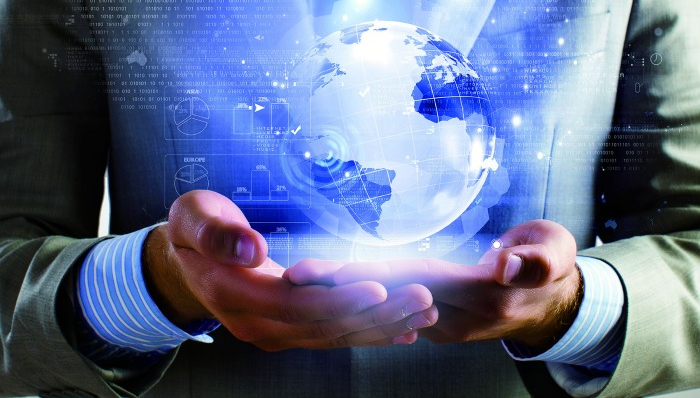 Acument Global Technologies
Acument Global Technologies may be known for its fasteners, but it also solves problems. "We have a very experienced and knowledgeable engineering staff, not only at our plant, but also our corporate level to help customers with solutions," Vice President of Quality Rocky Pinheiro says.
Based in Sterling Heights, Mich., Acument provides fastening systems and engineered products to automotive manufacturers including Ford Motor Co., General Motors, Chrysler and Volkswagen. The company began in the 1950s and '60s as CamCar and Ring Screw Fastening systems. These units were combined over time by Textron into one large company under Textron Fastening Systems.
In 2006, Pinheiro says, Textron sold all of its fastener plants to Platinum Equity LLC, leading to the formation of Acument. Eight years later, it was sold to Fontana Gruppo, an industrial company based in Italy.
Along with serving the Big Three, "We're directly or indirectly into almost every other automotive manufacturer," Pinheiro says. "You'll find our parts in just about every car, truck or van made on the planet."
The company also serves the aerospace market, as well as clients such as John Deere, Caterpillar and the U.S. Department of Defense. "We also do work in the building and construction industry," he says.
This variety benefits Acument, Vice President of Supply Chain Reginaldo Tascio says. "When one market is down, another is better," he says. "We are able to sustain ourselves."
Down the Lean Road
Acument has a strong commitment to lean enterprise. In fact, this was one of the reasons Fontana Gruppo purchased the company two and half years ago, Vice President of Lean Enterprise Tim McNelis says.
"We've been down the lean road for eight years," he says, noting that Acument has employed the help of Rick Harris, the president of Harris Lean Systems Inc. "He's been our sensei."
Rick Harris says, "What stands out about Acument Global Technologies, is that even though there have been leadership and ownership changes, they have remained steadfast in their dedication and commitment to creating, sustaining, and improving a true lean enterprise. This is very unusual in my experience over the last 20 years."
Acument's Lean initiatives include the use of value stream mapping, a fully integrated pull system on its shop floor, the use of the small team process to involve and develop associates in improving quality, reducing changeover time and improving uptime, and applying many of these same tools and techniques to improve our business processes. "In a capital intensive, primarily commodity based business, lean is a huge differentiator for us," McNelis says.
The company also implemented its own version of hoshin kanri to align its goals with its vision and strategic objectives. "We have regularly scheduled review sessions to see if we're on track," he says, asserting that Acument's approach sets it apart from competitors.
"Many traditional manufacturing companies do a good job with the alignment of goals, but often they don't care how they achieve the goals," McNelis says. "The 'how' is just as important because how you do things impacts so many different parts of the business."
These initiatives have benefited Acument over time. "We've reduced our days of inventory on hand by over 25 percent," he says. "Our EBITA also has grown."
Acument's use of lean will not be ending anytime soon, McNelis asserts. "Lean is a never-ending journey," he says. "It requires a lot of change but drives the ability to adapt."
Ensuring Quality
Acument reviews its manufacturing performance regularly, Pinheiro says. "We look at minor and major kaizen events for improvements to correct things that are becoming systemic," he says.
For example, with the help of a QA matrix, Pinheiro and his team can determine if a machine in Acument's plant is producing defects in fastener surfaces. "It allows us to look at a specific part number or machine," he says.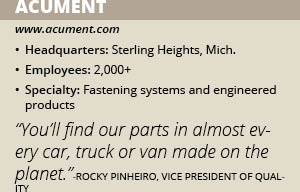 This also enables Pinheiro's team to be so proactive that it can fix problems before they occur. "If you don't collect that data, you can't do that," he says. An illustration of this is the continuous improvement at least 10-percent in the Cost of Poor Quality performance areas of scrap, sorting and customer chargebacks Acument has realized each year for the past five years.
Reaching Out
Like many manufacturing firms, Acument is coping with recruitment challenges, McNelis says. "As our workforce ages, getting young people to consider manufacturing as a career – specifically in the fastener business – is becoming more and more of a challenge," he says.
"We try to ensure that we are competitive as far as wages and benefits," he says. "We also have an apprenticeship program to bring on young people."
The company appears at job fairs at high schools and colleges "as much as possible," McNelis says. "We even have a college graduate-in-training [program]."
Good Things Ahead
Pinheiro, who joined Acument in 2012, praises the company's level of service. "We have the greatest working relationships with our customers," he says, noting that Acument is known by its clients for being proactive "if we have an issue."
This has led many to praise the company, which is as good as any award, Pinheiro says. "It's always good to get recognition for a job well done," he says.
McNelis praises Acument's leadership for its commitment to lean, particularly its president and CEO, Patrick Paige. "That [support] trickles all the way down to the shop floor," he says.
Pinheiro sees a strong future for Acument. "One of the things that's been really invigorating for me was when Fontana Gruppo purchased us in 2014," he recalls. "What they've done with us since we've been under their umbrella has been more than amazing."
The parent company has instilled additional levels of operational discipline and oversight, which will "push us to really just distance ourselves from the competition in the years to come," he says. "I'm really looking forward to that."
Tascio agrees. "They know what to do to improve the business with all the investments that they are making," he says, noting that Fontana Gruppo's acquisition in Acument helped make it the world leader in fasteners. "I see good things, improvement and growth [ahead]."
Being Green
Acument Global Technologies has invested in sustainable initiatives, Vice President of Quality Rocky Pinheiro says. "We're trying to maintain as green of a footprint as we can," he says. For example, "We've gone through our facilities and office area and changed our overhead lightings systems to save on energy and save on emissions," he says.
Partners in Performance
Acument Global Technologies not only monitors its own work, but also the performance of its suppliers. "We take a firm and fair approach," Rocky Pinheiro says, noting that the company tracks their performance on a daily, weekly and monthly basis. But when an issue arises, Acument is more than willing to partner with them to solve the problem. "[We've] worked very diligently over the last two years to get our supply base to be a partner with us," he says.