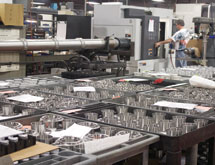 Acutec Precision Machining
Acutec Precision Machining, Saegertown, Pa., started out in 1989 producing "good, old-fashioned machined parts," says Rob Smith, president. As the company evolved, it found its niche in manufacturing metal parts for the aerospace and power generation industries.
"Those areas, particularly the aerospace industry, require the use of close-tolerance, critical-feature parts," Smith says. "It requires a lot of documentation, audits and approvals to ensure these tolerances are met."
In the 1990s, Acutec discovered its aptitude for making these parts, as well as providing the stringent documentation required for client Lord Corp. Among other products, Lord provides vibration and motion-control systems for several aerospace and defense clients. "We realized that we were getting very good at [manufacturing these types of parts]," notes Smith. "With that expertise, we extended our customer base to include more aerospace clients."
This strategy has worked well for the company. Ten years ago, sales were $14 million. With revenues just under $40 million in 2009, the company anticipates 2012 revenues to increase by approximately $25 million.
The company holds various National Aerospace and Defense Contractors Accreditation Program (NADCAP), AS and ISO certifications. Acutec's client list includes Bell Helicopter, GE Aviation, Goodrich Corp., Meggit Aircraft Braking Systems Corp., Parker Hannifin and Messier Bugatti Dowty. As a result, the company has grown from a 17-person operation to a team of 340 employees who operate three machining facilities. "We take advantage of being a relatively small company which allows us to move quickly in response to customers' needs," he says.
With its main facility in Saegertown, Pa., the company also has plants in Meadville, Pa., and St. Stephen, S.C. The Saegertown facility offers 68,000 square feet of space and includes 58 CNC large and multi-axis turning, milling and grinding machines. The Saegertown facility also has NADCAP-approved nondestructive testing (NDT) and chemical processing capabilities.
The 80,000-square-foot Meadville plant houses all of the company's small turning machines including 34 CNC turning machines and six lean machining cells set up for specific products as well as a dedicated assembly area. The Meadville facility also had NADCAP NDT capabilities and houses Acutec's EDM department. The St. Stephen facility is comprised of two climate-controlled buildings that feature 30,000 square feet of space and includes 19 CNC turning and machining centers, tube-bending capabilities and a precision TIG welding cell.
Rapid Deployment
As Acutec has grown, it has learned to adapt swiftly to accommodate its customers' manufacturing demands. One distinct advantage of its operation is the team's knowledge of the equipment. "We use primarily Mori Seiki and Mazak equipment," says Smith. "Because of this, our teams get to know the machines very well."
"I call it the Southwest philosophy," Smith asserts. "Because that company's crews only operate 737 aircraft, everyone from the pilots to the maintenance staff get to know that equipment very well ­– rather than shift focus to an entirely different machine made by a different manufacturer."
To remain cost competitive, he explains that Acutec avoids purchasing technologies totally dedicated to making one specific part. Smith compares the firm's manufacturing operations to a "Lego" kit wherein the company researches and purchases needed technologies that can be combined with existing equipment. "This way, we can group equipment into a lean cell to make the part instead of purchasing a mega-machine for one unique part," he says. The company's large maintenance department, he adds, is "very good" at continually installing and reconfiguring new and existing equipment for clients' manufacturing needs.
"Our technology base is all CNC equipment," notes Smith. "We currently have more than 140 machines that perform a range of tasks from simple turning to five-axis machines that perform highly sophisticated functions." The company says its  continuous investment in the latest equipment and software gives it the flexibility to accommodate its clients' changing needs.
"We try to look out at least five years to see areas that will require our strategic attention, with either people skills or capital equipment or space," Smith notes. "For example, contrary to many, we embarked on a $6 million, two-year capital investment plan in 2009, when the market demand was at a low point, because we could see the rebound of 2012 and beyond."
Acutec's engineers are trained in all of the latest software, allowing the company to contribute complete customer design and development support. "We use CATIA V5 R18, AutoCAD and Mechanical Desktop–Inventor design software as well as MasterCAM (3-D) and Mazak Camware manufacturing software," the company says. "We also utilize JobBoss for production planning to help manage our workflow."
Continually Evolving
Smith adds that Acutec constantly strives to improve its machining operations. "Whether it's implementing lean manufacturing principles or making parts with more repeatable quality, we try to consider how we can do it better – not just faster or less expensively."
Smith credits these abilities to his cohesive, knowledgeable staff. "I am very proud of the people who work here," he boasts. "They are very dedicated and take pride in what they do."  Backed with the knowledge of the equipment and the technology needs, the firm has been able to expand its service offerings.
In addition to machining services, Acutec offers support including raw material procurement, design, engineering, EDM, welding, grinding, removing surface contaminants, non-destructive testing and assembly. The company works with a variety of materials including aluminum, brass, carbon, stainless steel and titanium in addition to exotic alloys and aerospace plastics.
Having worked with several of its clients for a number of years has given Acutec an edge in understanding their operations. For example, in addition to making the large parts of the carbon fiber braking systems for one client, Acutec now delivers the whole system assembly. "There are 18 different parts in the assemblies," Smith explains. "We purchase the smaller parts and assemble them at our plants." He adds that Acutec likes to think of itself as a partner to its clients. "They can count on us for new product development."
"We can offer complete systems and packaging for customers," Smith claims. "In this way, we can consolidate our clients' vendors."
"Our clients like our high level of service," Smith says. "We can offer a wide variety of parts and understand their stringent requirements, but don't have a big learning curve to overcome in order to meet their needs." If a client seeks an improved or new system, Acutec can determine some value-engineering strategies to save money.
"During the planning phase, a client may have designed some very difficult machine processes that can be costly to perform," Smith says. As Acutec engineers review the design, they may find that some parts of the assembly don't need the tight tolerances noted in the original design. "Because we know this industry so well, we're able to provide different ways to design the parts."
Acutec also works very closely with its vendors and suppliers to support its operation. "Our tooling vendors come to our shop weekly to work with us," Smith explains. "Because tooling is such an integral investment in our plants, we look to them to help us find better methods of tooling." He adds that its distributors "do a great job of keeping inventory down and making sure our workers have all the parts available."
Investing in People
Because the workers' expertise is critical to the company's success, Acutec utilizes local education and training programs. "We're continually striving for our people to become better machinists, inspectors or programmers," Smith says. The Precision Manufacturing Institute offers hands-on training as does Crawford County Vo-Tech. "It's a good way to train our existing employees to further their skills and it's a way to recruit new employees," he maintains.
As well as taking part in their standard class offerings, Acutec may customize a class specifically to its needs. In addition, employees can partake in online learning through ToolingU. This portal offers classes in the latest manufacturing equipment.
"I advise my people to wake up paranoid every morning," he says. "This way, they will never be satisfied with the status quo and continually find ways to make better parts more efficiently."