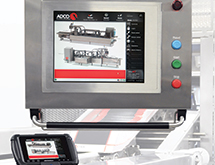 Even though ADCO Manufacturing is a 56-year-old company, the packaging machinery manufacturer has had something of a coming-out party these past few years. The Sanger, Calif., based company is a vertically integrated manufacturer of packaging machinery including end load cartoners, top load systems, sleevers, corrugated tray formers, case packers, robotic systems and retail-ready packaging machinery. Although ADCO has developed a strong word-of-mouth reputation and a steady list of repeat clients, COO Glen Long explains that increased competition has motivated the company to step up its presence.
"We have lots of new competition – including foreign competition – that was not in our industry as early as five to 10 years ago," Long says. "So now we have equipment from Europe and the Far East that is being widely promoted and sold into the market."
Instead of backing down in the face of mounting competition, ADCO has increased its sales and marketing efforts. Long comments that last year alone, the company appeared at more tradeshows than it had in any one year in its entire 56-year history. Also, because its products are becoming more technologically advanced day by day, ADCO has increased its direct salesforce; arming those representatives with the technical expertise needed to answer clients' questions and more effectively market the product line. Each representative lives in the territory he or she covers.
In addition to increasing its U.S. presence, ADCO has taken cues from foreign competition to develop a strong export business, as well. The company works with a network of distributors and it's clear that the effort is paying off. Historically, ADCO enjoyed a large market in Japan. While this has diminished, the company has developed other areas. Last year, the company sold several machines to China and it has an active exporting business in Canada, Latin America and Australia, as well.
Long explains that the marketing activity is driven by a company that is confident in its products.
ADCO serves customers in many industries including refrigerated and frozen foods, convenience foods, bakery and snack foods, dairy, personal care, cosmetics and household products to name just a few. The company analyzes each industry to ensure it has appropriate technology to meet the needs of each one.
"One of the trends we are seeing is an emphasis on flexibility because markets are changing so fast," Long says. "For instance, the increase in club stores has affected our customers. Their packaging sizes and styles change frequently so flexibility in the equipment is very key for the customer."
Another trend, Long says, is concern for food safety. With the passing of the Food Safety Modernization Act, which aims to reduce food contamination and recall events, many of ADCO's customers are rethinking their manufacturing processes and looking for safer and more sanitary processes and equipment.
"Peanut butter recalls and other recalls you hear about in the press are forcing customers to reevaluate the sanitary design of their packaging machinery – how well is it built, how easy is it to clean and keep it clean?" Long says. "It's important for manufacturers to design equipment that is sanitary for either wet or dry applications and ADCO specializes in these types of machinery. Everything we build is stainless steel and designed to be sanitary. We have two versions of everything. A standard stainless steel for low moisture or dry products and  a washdown stainless steel version that can be caustic-washed for wet products."
ADCO has been able to meet these industry needs, but Long explains that it has to meet them in a cost-effective way. No matter what the industry, costs to maintain equipment over the long-term are a major concern.
"The total cost of ownership, including things like energy consumption and total downtime over the lifetime of the machine, is a focus for customers," Long says.
ADCO has addressed this concern by providing reliable products at a competitive price, which is a true challenge since ADCO doesn't run a one-size-fits-all operation. Its products are customized to each client's process. One way it keeps prices down for its customers is through lean manufacturing. The company engaged  a lean consultant four years ago that has helped it build routine efficiencies into its manufacturing and business processes. ADCO conducts regular Kaizen events where cross-functional teams made up of employees and sometimes even vendors and customers will devise a plan to improve a particular process which reduces manufacturing time and or cost.
For example, "one lean manufacturing kaizen event yielded an almost 50-percent reduction in the assembly time for our BBC horizontal end load auto-load cartoner and another event yielded a similar reduction to our work-in process," Long says. "These gains are key to our competitiveness in the market not only in value to our customers, but improved delivery times as well."
ADCO also achieves cost savings by working with valuable vendors such as its preferred conveyor equipment manufacturer Dorner. "They manufacture to our specs and deliver to us just in time," Long says. "Partnering with them allowed us to reduce our manufacturing cost to manufacture those units and reduce our lead times, as well."
Partners such as these will play a critical role as ADCO continues to increase its market presence. The company is not only expanding geographically, but is also investing in new capabilities that will launch it into complementary product lines for secondary packaging machinery. Just like its current products, Long says any new lines will be made in its California facility.
"We're a member of the National Association of Manufacturers and are very proud that we manufacture in America," Long says. "We have a very dedicated team of talented individuals who are proud of the equipment we make."