Defining the future
ADEY is working tirelessly to future-proof its business, having developed a commercial sector water treatment service and a new commercial division that will enrich its offering and spike sales, home and abroad
As the creator of an entire segment in the heating and cooling sector, ADEY is compelled to stay one step ahead of the competition at all times, in order to protect its position as the leading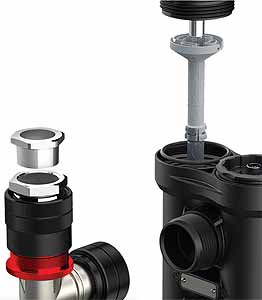 developer of magnetic filter technology for the protection and maintenance of systems in the UK. To this end, the company has demonstrated agility and expertise during the past 12 months, taking the necessary measures to respond to new market requirements, in order to get the most out of new and expansive opportunities.
Building on its market dominance in its domestic market has been a major focus area for ADEY, with extra focus being placed on the development of the commercial side of the business. "The UK market accounts for 85 per cent of our turnover, so it is just natural that we have to take care of it. We have ambitious plans to invest in new products and services and grow our export business, but, in order to implement them, we need to generate the funding from our sales activities at home," establishes Edward Davies, Chief Operating Officer of ADEY.
"We have invested substantially in the creation of a separate commercial sector division within the company, bringing in a new divisional Managing Director, Sales Director and sales people from a commercial background, to accelerate the growth of what is regarded as a strategically important division of the company. Furthermore, we have created a new product roadmap and recruited a dedicated Product Manager. It is also of interest to us to solidify our position in the commercial sector through various acquisitions, so this is another area to keep an eye on," Edward discusses.
Dovetailing with this commercial division, Adey has also created a commercial water testing service, reflecting the business' strategy to diversify its proposition, by growing into an expert water treatment solutions provider.
Innovation remains at the heart of the business and its future. "We have an eye on connected products and the IoT, as we strive to keep moving forward with product innovation," Edward reveals.
"We are looking to develop solutions that can accurately predict the health of the water in a system, because unhealthy water can cause failure of components. If you can use technology to see if the water system is dirty you can start to draw conclusions as to what will happen if the system is not cleaned up and no intervention is taken. Systems need to be developed to move towards predictive maintenance and away from costly reactive repair and replacement." Edward continues.
After years of dominance in the UK, ADEY has aspirations to considerably augment its international activity. "International markets are the next stage of building a long-term sustainable future for the business. It is part of the natural progression of the company. Whilst there is still a huge market to go at in the UK, if we don't look beyond that we limit the business. Growth in international markets will lead to a resilient balance to our revenue streams. We know that we have a good business model, a number of high-quality products, and most crucially, we are aware that our products serve a purpose that can and are transferrable to other markets around the world. We have already proven their benefits in Europe, and we have started to do so in America, Canada and China."
The initial forays ADEY has made into overseas trade have evidently been impressive enough for the company to win its third Queen's Award for Enterprise and first in the 'International Trade' category, in 2018, the previous two (received in 2012 and 2017) presented for innovation for their filters then chemical products. Edward comments on the significance of the recognition for the organisation: "As a UK manufacturer, this is the highest accolade that we can get. It comes not only with a Royal seal of approval, but also with a government one, as it is essentially the Prime Minister, assisted by an advisory committee, who gives recommendations to the Queen and Her Majesty ratifies these, in turn. It is the type of award where you cannot hide or disguise anything. The entry criteria are stringent and the financial documents you are expected to provide, have to be backed by an independent audit certificate, so you cannot put any fluff and bluster in your submission.
"Gaining the recognition is down to our people at every level. We have a very clear set of strategies across the company, which are clearly communicated and responsibilities are allocated. Each and every one of us knows the part we need to play. We are all pulling in the same direction with enthusiasm and commitment, to win. Accolades of this sort help validate our work and progress," he adds.
The board has mapped out the key themes that will grow and protect ADEY's business in the next few years. What is common between the separate points of the action plan is ADEY's clear refusal to stand still, choosing to constantly innovate and reinvent itself, and thereby remain the industry pacesetter.
"After we broke ground in this sector, a lot of companies became our competitors, enjoying the benefits of what we have created. They continue to follow us and we have to make sure that this remains the case. We are the UK market leader, it is ours to lose, but everyone is committed to never allowing this to happen, which means we are determined to keep moving forward and set the standards industry-wide. We need to replicate what we have done here, in the foreign markets we are targeting. If we maintain the quality of our offering, as well as the high levels of customer service, there is no reason to doubt that we will meet our objectives and guarantee a bright future for ADEY," Edward concludes
ADEY
Products: Magnetic filters, associated chemical products and testing services for the protection and maintenance of heating & cooling systems; water treatment solutions