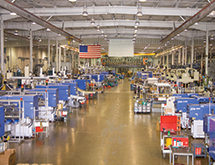 For Adkev Inc., decisions are not always made based on the bottom line, Plant Manager Nathan Biehl says. Instead, "Our decisions are made by making sure [the job] gets done right for the customer," he says.
"That's what has made us successful," Biehl states. "Obviously, we are mindful of the dollar, but sometimes pinching a penny costs you more than what it is worth."
Based in Goodland, Ind., Adkev Inc. specializes in custom injected-molded parts, insert-molded parts, two-shot parts and value-added assemblies. Owner and President Gary Rheude co-founded the company in 1987 with his wife, Cathy.
At that time, the Rheudes had only a 1,200-square-foot facility with a single full-time employee and only two molding machines. But in its first year, Adkev Inc. generated sales of $181,864. This year, the company expects to enjoy sales of $54 million.
Adkev Inc. also now has 333,000 square feet of manufacturing space in Goodland and Monticello, Ind. Sales Manager John Durlacher notes that the company serves the appliance and electronics industries, but 90 percent of its work is for automotive clients.
"They have a high demand for quality," he says, noting that Adkev Inc. produces HVAC, interior, visual and under-the-hood components and fasteners for its automotive clients. "[We manufacture] any plastic parts that are originally in the vehicle."
Leader of Technology
Biehl, who manages the company's location in Goodland, says that Adkev Inc. stands as a leader in its industry, thanks to its use of technology. Often, "Our customers will tell us how our facility is much more automated than the [competition]," he says.
Durlacher agrees. "We're in rural areas, so we don't have vast amounts of labor resources available to us," he says. "We're always finding ways to use technology that allows us to better use our people and make products better."
This includes using robots and cameras that inspect products over and over again. "That allows us to have a better quality," he says. "At the same time, by utilizing robots to do the work, it means less of a need for labor."
Making Things Better
Adkev Inc. has earned TS 16949 and ISO 14001 certifications in its quest for quality. These drive the company to not rest when issues arise and to solve them immediately. "We don't settle for less," Biehl says.
Because of this approach, "We don't have an issue cropping back up and causing a problem with our customers," he asserts. "Even one bad piece for us drives some sort of corrective action. We don't wait until we get 100 bad parts."
Jeremy Kyser, plant manager of the Monticello facility, notes that this philosophy and its focus on continuous improvement come straight from Gary Rheude. "He says, 'No matter how good it is, we can make things better,'" Kyser says. "We're trying to train people to see an abnormality, react to it and make it better."
Rheude adds that Adkev Inc. frequently gives its own suppliers suggestions on ways to make their equipment and software better. "They've accepted a lot [of them]," he says.
"Every piece of equipment that we have has got some of our requests for improvement on it," Biehl adds. "It's now [the supplier's] new standard."
Additionally, when Adkev Inc. finds errors in its software, it does not work around the problems. Instead, it pushes its supplier to fix them. "We've done that with a number of software suppliers," Biehl says.
Branching Out
Adkev is at work on diversifying its product line. "A year ago, we didn't have any appliance work," Biehl says, but he notes that this changed when it brought in its first appliance customer last year.
But Adkev has no plans to stop focusing on its automotive clients. Instead, "[We want to] grow with them," Biehl says, explaining that the company is looking at opportunities where it can manufacture products or provide other services for these clients that it has not offered in the past.
One example of this, Durlacher notes, is automated assembly, which it further developed for multiple applications in the last several years. "We're able to apply that to some of our customers' needs when they're localizing work from Asia," he says. "It's allowed us to be very competitive."
Biehl declares that there is no limit to Adkev Inc.'s growth possibilities. If it requires a third facility, "We'll put that in a location that makes the most sense and continue to grow," he says.