In the lap of luxury
Vehicles created by Adria Mobil Group have an unrivalled reputation for quality, reliability and innovation, and these traits are once again on display with the launch of its game-changing new model, the Astella
Adria Mobil Group (Adria) has been designing and manufacturing leisure vehicles for over 50 years, leading the way in intelligent design, technology, construction methods and materials. Established in 1965, this Slovenian company has been a part of the Trigano Group – Europe's leading manufacturer of motor caravans – since 2017. With popular recreational vehicle brand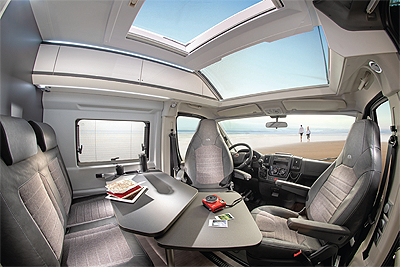 names including 'Adria' and 'Sun Living' within its portfolio, Adria distributes its products in more than 30 countries through more than 500 authorised dealers, with a particular emphasis on Europe, placewhere it has a market share of seven per cent, and is especially strong in Scandinavia, Germany and France. It also sells as far afield as Japan, Korea, Australia, Israel and China.
"Adria tends to break the mould thanks to its unique design, elegant style and superior quality, and this is reflected in our award-winning and best-selling vehicles, including our Sonic, Coral, Matrix and Compact motorhomes, Twin vans and Alpina, Adora, Action Altea and Aviva caravans. These are premium positioned vehicles with contemporary design and innovative solutions, including the largest panoramic windows available," explains Executive Sales & Marketing Director, Matjaz Grm. "Adria has its own approach when it comes to design, boasts a strong internal skill-set, a close supply chain, and is able to call upon its 50-plus years of experience to continually innovate when it comes to vehicle layouts and features."
In the last six years alone, the company has experienced year-on-year double digit growth, while annual volumes of recreational vehicles have doubled in this period to over 15,000 units. "I believe that our recent success is as a result of, amongst other things, our steadfast focus on our products, brands and distribution, all of which rests on a solid foundation based on high quality, efficient production and manufacturing practices," Matjaz continues.
An ISO certified company that takes what it describes as a 'family-friendly' approach to its activities, Adria prides itself on being close to the market and able to respond to new trends and consumer needs rapidly. Adria is an advocate of 'intelligent design', bringing modern aesthetics, technology, materials and construction together in its vehicles. It also considers itself to be a 'quality first' organisation, a testament to which is the fact that for each of the last eight years its vehicles have supported its partner, KTM Motorcycles, in winning the annual Dakar rally.
The epicentre of Adria's production of recreational vehicles is its state-of-the-art manufacturing facility in Novo mesto, Slovenia. Opened in 2005, it is the largest and most advanced facility of its kind in the industry, housing world-class manufacturing practices and principles, from just-in-time deliveries, to kaizen (continuous improvement), multifunctional teams on four production lines, and superb control quality procedures, and is fed by world-class supply partners. "The factory is a blend of automated processes and human skills, and all vehicles are built to Adria's 'Thermo-build' standards of heating, insulation and airflow," Matjaz states.
Such automated, robotised technology includes Plasmatreat, which combines cleaning with an electric beam and the application of adhesive on all windows and doors built into Adria products. The company continues to invest in new technology, and in 2018 it installed its own 'climatic chamber' enabling it to test entire vehicles – as well as individual components – to varying extremes of temperature and humidity. Here, testing can be carried out in conditions of -25°C up to 60°C, and in humidity levels ranging from 45 per cent to 80 per cent. The company also possesses the ability to conduct in-house 'monsoon-testing' to monitor water ingress and impermeability testing.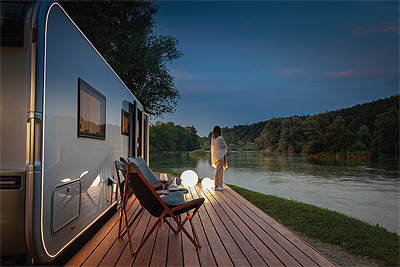 Each year, the manufacturing efforts of Adria result in new, innovative vehicle designs, layouts or features. For instance, in recent years it has become especially well-known for embracing contemporary designs, especially when it comes to its interiors, which offer plenty of space for 'atrium-style' living, with large panoramic roof windows. In 2018, these large double windows were incorporated into its Twin campervan and Twin Supreme models, which resulted in not only a European Innovation Award being bestowed upon the company, but also a dramatic increase in sales volumes.
"When it comes to sales of our Twin campervans, we have outperformed the market," Matjaz adds. "The 'hero' feature of these is arguably the application of our panoramic roof windows, which have had an amazing impact on the feeling of space within our Twin range, making them comparable to motor homes when it comes to interior comfort, however that is just one feature of our redesigned range. Available on Fiat and Citroën platforms in most markets, they offer an innovative 'cabin loft design' with more headroom and open space, new kitchen, new bathroom and new bedroom solutions. There is also the Twin SGX model – which comes in our Supreme, Plus and Axess models – which comes with a rear bedroom with an electrically liftable double bed for more storage space."
Staying with the theme of innovation, in late August 2019, at the Dusseldorf Caravan Salon Event, Adria officially unveiled its latest ground-breaking creation, the new luxury line known as Astella. With this, Adria has brought together its experience in luxury caravan and mobile home design and manufacturing. The Astella is a redefinition of the luxury holiday home in that it can be towed like a regular caravan – with an appropriate car – but can also be set down at a customers' desired location, before being moved at said customers' discretion.
"The new Astella redefines holiday home mobility, providing consumers with a luxury product that they can move at the end of each season," Matjaz enthuses. "By combining the best experiences that a caravan can offer with the best elements of mobile homes, the Astella turns conventional wisdom on its head by offering a luxurious holiday home on wheels, and delivers an experience like no other. Not only is it pleasing on the eye – boasting pure design aesthetics alongside modern, free-flowing and voluminous living spaces – but the Astella was also developed with our partners in the aerospace industry to give it proven aerodynamic qualities. Although it is a niche product, we fully anticipate the Astella will shake up the RV industry and have a lasting impact for years to come."
On the back of several years of considerable growth, Adria and the rest of the RV industry across Europe now finds itself approaching 2020 with an open mind as to what the future holds. "While it is difficult to anticipate seeing such accelerated growth continuing at recent levels, we are optimistic about the opportunities that lay ahead for Adria and its various models," Matjaz goes on to conclude. "From an internal company perspective, our strategy is to further improve our levels of excellence in all that we do, be it our products, operations or the quality of our service. In short, for Adria it is about focusing on what we know we do best, but doing it even better!"
Adria Mobil Group
Products: Leisure vehicles, caravans and motor homes