Raring to go
Through stringent quality tests, experience and a commitment to innovation, award-winning Adria Mobil has become one of the leading European manufacturers of caravans, motor homes and mobile homes
Adria Mobil d. o. o. began operations in 1965, when the first caravan, Adria 375, was manufactured in Novo mesto and exported to and sold in Sweden. Indicative of the company's future success in the European market, Adria Mobil went on to develop increasingly more sophisticated and higher quality products that have resulted in a leading reputation in a competitive market.
Discussing the company's history of success Matjaz Grm, Executive Sales and Marketing Director at Adria Mobil d. o. o. said: "The Adria brand celebrated its 50th birthday in 2015; we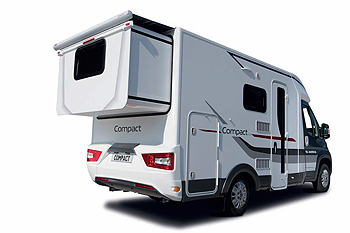 believe that the main reason for our success lies in detailed adaptation to our customers' needs, our own design and development, which is upgraded each year; close connections and fruitful relationships with our global distribution network, an extensive dealer network which encompasses more than 400 dealers and, last but not least, we strongly believe that without the dedicated work of each and every employee over the generations we could not be where we are at this moment. Complementing these strengths is the fact we allocate three per cent of our yearly income on the development of new products. This year, the three new products presented at trade shows throughout Europe were Sonic Supreme, a novelty among motorhomes, Aviva, a novelty among caravans, and Active, a novelty among the van series."
The new Sonic A-Class vehicle range of integrated motorhomes is designed around the way customers use and enjoy it, with a purity of line, form and function. "It is a harmonious, uncluttered design where everything is 'just right', where space is uncompromised and where all the features you want are in the right place. Moreover, there is a new different exterior profile, with sweeping curves and dynamic rear wall yet retaining the characteristics of previous Sonics when it comes to road presence and easy –to-love driving and handling. Sharper more 'automotive' styling and clever detailing includes LED lights and new front mask, while inside Adria Mobil has created the new benchmark with an environment of true harmony and luxury; easy on the eye wherever you look, it is designed for luxurious touring for the most discerning of motorhome aficionados," highlights Matjaz.
In comparison to luxurious Sonic range, the all new, innovative and original Aviva caravan range offers a new style of camping with a range that boasts innovative features, cutting edge style and nine layouts. Sleeping up to seven persons, the Aviva has been a stalwart in Adria's caravan line for many years and has accumulated a significant fan base from those who seek a basic, entry level and good value for money caravan that also offers good build quality. "The new Aviva from Adria is an easy caravan to own, tow and enjoy, is original and affordable and offers a stylish interior design with refreshingly clean lines, a bright, playful interior and a choice of textiles," notes Matjaz. "There is also of course a new entrant in the camper van market with the new Active, a multi-purpose camper that is targeting new consumers."
As part of the Adria Mobil Group, Adria Mobil today is the principal company that designs and manufactures motorhomes, camper vans and caravans that proudly take on the wellknown Adria badge; the company also produces motorhomes and camper vans under the Sun Living brand, which are also created in its stateof- the-art factory in Novo mesto, Slovenia.
"The new state-of-the-art factory of Adria Mobil was constructed in 2005 and is a leading proponent of World Class Manufacturing principles and techniques. The investment in a new production location was 30 million euros and the size of the entire factory complex is 15 ha (147.735 m2); inside of that there is a management building of 4000 m2, productionfacility with 36.560 m2 and a warehouse forthe finished products with 49.437 m2. The work in the production hall is entirely supported by technology, based on a system of wireless data transfer with the help of a bar code reader, which results in paperless operation," highlights Matjaz.
He adds: "The production organisation follows the principles of the World Class Manufacturing approach (WCM). This is a wide array of concepts, principles, politics and techniques regarding the management and performance of a production company. The basic orientation is constant improvement in quality, costs, time, flexibility and customer services. The most visible method regarding WCM is 5S, according to which the whole production operates; only what the production process requires at a given time is in production, and what it requires is located at standard designated places."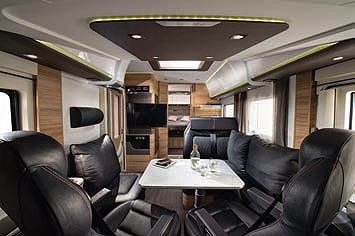 Working alongside these superior facilities and the company's ethos of operating in an efficient and flexible manner are two key points that Matjaz stresses have a strong influence on the quality of the end product: "Supercontrol is one of the most important control checkpoints and comes at the end of production process. It is totally independent of production control, and randomly takes into complete inspection five per cent of finished products. The time for inspection at the supercontrol is eight hours per unit on average, while individual inspections can take up to 24 hrs. One of the most important tests at supercontrol is testing the water ingression: every product at the supercontrol enters the shower cabin. The test is very demanding and simulates the most challenging conditions in use. The condition of acceptance is 100 per cent sealing rate of all the joints.
"The second is plasmatreat, a robotised process that combines cleaning with an electric beam and the application of glue (adhesive) on all windows and doors built into our products. With this technology the joints between windows and body elements have become stronger and more secure and the process itself has become environmentally friendly, fast and executed each time with the highest degree of precision."
Benefiting from a cutting edge facility based strategically in the heart of Europe, the company is able to reach its diverse range of customers with ease through the development of a general distribution network throughout Europe. "Our main markets are Scandinavia, Germany and France, where we grow faster than the market itself and have reached first place among motorhome and van producers and fourth place among caravan producers," says Matjaz. "Our customers are split into three segments, distributors, dealers and end buyers; we have more than 30 distributors throughout Europe and the area, for example we also have representatives in China, Japan, Korea, Australia, Israel and Turkey. In each country distributors have dealer networks, which in the last period grew to more than 400 dealers throughout Europe."
He continues: "End users, meanwhile, differ regarding the fact whether they are the owners of our products or they rent our products for a certain amount of time. Owners of Adria brand products are mainly older couples, while people who rent Adria products tend to mainly be younger people, with or without children."
Aware that, as one of the top manufacturers of recreational vehicles, it is constantly watched, compared and copied, Adria Mobil is consistently active in seeking out new possibilities and solutions with its products. Because of this, the company won the gold award for innovations by the Chamber of Commerce and Industry of Slovenia on the national level as well as a European Innovation Award for its motorhome Compact SLS, a product that offers the benefits of a long bed in a compact 599 m motorhome, thanks to its unique SlideOut technology. Quick and silent in operation, it extends the rear bedroom to enable a full 1980 x 1680 mm wide bed when in fixed position.
Renowned for consistent quality, innovation and intelligent designs, the future looks ever positive for Adria Mobil, a company that offers endless possibilities for those who are living in motion. By continuing to move forward in the motorhomes, camper vans and caravan market, Adria Mobil is certain to not only lead the way in Europe, but also on a global scale.
Adria Mobil
Products: Motorhomes, camper vans and caravans