One to stick with
Advance Tapes produces a range of adhesive products that provide the latest solutions to customers' needs
Advance Tapes has a history that stretches back to 1964, when it was founded by David Ayres, Harry Holyoake and Peter Hargrave and since that time the company has grown significantly,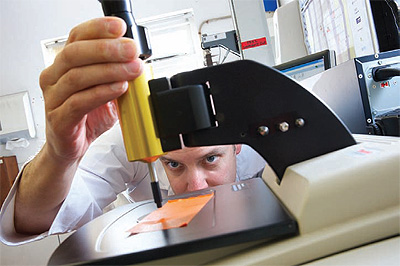 and become one of the largest independent manufacturers of adhesive tapes across Europe. Throughout the company's history it has experienced many exciting milestones, whether that be the visit of royalty, winning a gold award for its exports, or launching a number of new products, and numerous others. More recently, in 2012, it became the regional winner of the HSBC Business Thinking Initiative, also in that year the company rejuvenated its marketing and branding across the business, while also opening its purpose built converting facility and head office. The background of Advance Tapes has provided it with a wealth of qualities that it continues to tap into today, whether this is its expertise, passion, or one of its many other strengths.
One of the key ways in which the company has developed is through the expansion and investment in its facilities. It currently has two purpose designed manufacturing sites, and as a result Advance Tapes provides its customers with a highly efficient and integrated manufacturing process that utilises the latest technology. The company also designed and commissioned its mixing and coating facilities in-house, which means that no matter what product Advance Tapes is making everything that comes out of the factory is achieving the highest levels of quality.
In addition to this the business has also improved a number of other areas of its facilities, as Managing Director Sharon Boyle discussed: "The expansion of our converting capabilities in 2010 has been of primary importance to Advance Tapes with significant investments in new machinery including a fully automated slit and rewind machine, as well as new lathes, which allows the conversion from jumbos (master rolls) with the ability to automatically pack cut rolls into cartons." Also, in 2012 the company moved into its new headquarters in Thurmaston, and Sharon added: "This is a part of Advance Tapes' global expansion plans, and the company made a major investment in relocating to new premises which is 55,000 square feet of floor space, plus a further 15,000 square feet for potential future expansion."
The major investments that the company made during 2012 to 2016 were significant for the business and its coating abilities. These mean that Advance Tapes now has the latest technology and capabilities to provide a fully automated adhesive mixing and cloth coating line. The four million pounds that the business invested has already paid dividends, and the new line offers a wide range of opportunities for Advance Tapes. In regards to this major development Sharon said: "The line uses some of the most advanced technology seen within the adhesive tape industry and as such has given Advance Tapes far greater control over adhesive formulation and the coating process, enabling us to refine and develop products to suit the end users applications." She added: "This investment provides Advance Tapes with a perfect platform for further expansion into Europe where it already distributes 80 per cent of its turnover and allows the company to explore global markets that perhaps were not previously in reach."
This has meant that it is now able to bring its range of over 120 different types of tape to more customers than ever before, and doing so to an even higher level of standard. At the same time the company is also introducing a number of new products that utilise the recent investments, and some of these are the AT132 and AT6190. The first of which has an extremely consistent coat weight across the width of the product providing uniformity within the roll and so achieving a high quality product. It is also designed to particularly benefit those working at heights as it has tight unwind for controlled handling, however it remains easy to tear and will conform to awkward surfaces. All of which makes it a highly versatile and an essential bit of kit for a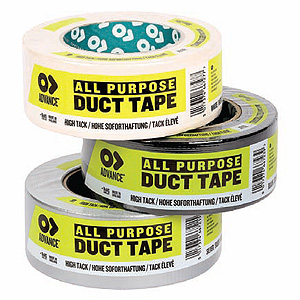 customer tackling anything from asbestos removal to general industrial applications. The second product is most useful for plasterers, painters or exterior cladding specialists: "It is specifically designed for the French market, the AT6190 is an orange general purpose building cloth tape with extreme tack for initial good bond to surfaces, especially in winter, sheeting up securely. It has a very good abrasion, UV and water resistance which makes it ideal for outdoor use," Sharon stated.
Due to the quality of its facilities and the innovation of the people at Advance Tapes there is a large portfolio of products, and some others include the AT6102, which is a hugely successful polythene tape that offers the benefits of PVC but is a greener alternative. The popularity of this product spurred on the development of the AT6103, which is an easy tear, clean peel, and clear polythene tape. This provides the quality of being a versatile option, and can be used for anything from aluminium surface protection to natural stone surface protection.
Another key strength of Advance Tapes is that it provides customers with solutions tailored to their needs, which is possible due to the business being an independent manufacturer that has complete control over the production processes. This was something Sharon highlighted: "Flexibility is a key benefit of working with a manufacturer such as Advance Tapes and this is achieved by continuously developing new innovative products conforming to the highly demanding specifications required by many specialist industries such as construction, nuclear and military." This is a skill that the company has honed over many years within the industry, listening to the feedback that its customers provided, which has supported Advance Tapes in making products that exceed expectation.
In addition to this Sharon added: "Along with developing new products, we offer the possibility to customise a product from the colour to the packaging of the tape; through options like Advance Rapid Colour which is a service for customers who want to buy cloth tape in a specific colour." Advance Tapes puts its customers first, and places their needs at the heart of what it does, which is no doubt a key reason for why the company has become one of the largest independent manufacturers of adhesive tape in Europe. Therefore, with such a major investment having gone into its facilities, increased capabilities, great customer understanding, and an expanding presence in markets across the world, the future for Advance Tapes looks bright and it will continue to find the latest solutions to its customers' adhesive needs.
Advance Tapes Ltd.
Products: Adhesive tapes