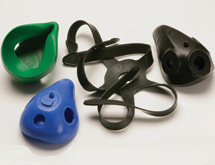 Advanced Rubber Products – a Division of TMP Technologies Inc.
Advanced Rubber Products (ARP), a Division of TMP Technologies Inc., has an extensive customer base of large national and international companies, and Vice President and General Manager Bob Flowers explains how a relatively small organization like ARP can attract such industry giants. A few years ago, a major household products OEM visited the TMP facility in Buffalo, N.Y., looking for an operation that could imprint the company logo brand on its foam cleaning product.
The TMP and OEM reps discussed the issue, and when they broke for lunch, one of the TMP engineers went back to his station and figured out a solution. He brought it back to show the OEM reps during their lunch, and according to Flowers, the OEM group was amazed at how quickly the engineer found a way to do exactly what they wanted.
From then on, TRS Packaging, a subsidiary of TMP Technologies, has been the exclusive manufacturer and packager of the best-selling household cleaning foam product.
"A small company likes ours attracts a lot of Fortune 500 and 100 companies and that is for a number of reasons," Flowers says. "We can go from concept to manufacturing to market very quickly, and that is due to the good people we have and that we're not tied down with large-company bureaucracy. When large electrical utility apparatus companies visit us, they were impressed with the rapid progression of concept to reality and with our ability to 'speak their product language.'"
ARP is based in Wyoming, N.Y., and with two other locations in Buffalo, ARP specializes in custom rubber molding and assembly, offering value-added design for manufacturability capabilities. The company serves the electrical utility, respiratory safety, aerospace, alternative energy, automotive, consumer health, hydronics, industrial, government, medical and business machines markets.
TMP Technologies was founded in 1954 and is a world-class designer and manufacturer of components and assemblies using foam, rubber, plastic and metal. All of TMP Technologies' divisions' quality systems are ISO 9001:2008 certified.
Chairman of the Board Jeffrey Dorn is the principal owner of TMP Technologies and has more than 40 years of experience in the manufacturing industry. Dorn served in the U.S. Marine Corps before earning his undergraduate degree at Canisius College in Buffalo, and received his MBA from the University at Buffalo. As the principal owner, Jeffrey Dorn's military service certifies TMP and its divisions as a Service Disabled Veteran-Owned Business.
"Our greatest resource is truly our human resource," Flowers says. "We succeed because our people have outstanding technical capabilities and extensive backgrounds."
Understanding Responsibility
ARP's dedication to its customers is demonstrated in not only the industry leaders it attracts, but also the high percentage of clients it holds onto, thanks to the value-added customized solutions it provides.
A major reprographics company chose ARP to provide a highly critical-to-function charged metering blade component used in its digital copiers' customer replaceable units. ARP introduced a mold design specifically geared to the close tolerance requirements and high-volume production output of the component for this copier company, at an affordable cost and ahead of project schedule.
Flowers notes that ARP's largest business segment in terms of sales is the high-voltage utility market, and it serves these customers in a number of ways. It has more than 100 years of collective experience in the manufacturing of polymer distribution and transmission insulators for above- and below-ground applications.
"We serve electrical OEMs by helping them design components for manufacturability – we offer modifications to the customer's design so it can be made well. We have a lot of people here with backgrounds in high voltage, so they understand the language and deliver a quality product. We understand our responsibility and that our customers need quality systems that are parallel to the expertise we provide."
'Strategy for Success'
ARP is proud of the long-standing relationships it has with customers, but it continuously works to improve its operations so it can deliver an even greater level of quality. Flowers explains ARP recently adopted lean manufacturing and 5S practices in its daily operation, which has gone far to organize and improve its rubber molding facility.
The company also believes in green manufacturing, and by recycling as much of its byproducts as possible, EPA considers ARP to be a non-producer, Flowers says.
The company is growing and doing more with the aviation, government and hydronics markets, and it is able to do that, Flowers says, because everyone chips in to ensure ARP's customers are served.
"It is one for all and all for one, and everyone knows that," he stresses. "We are very technical and we take our jobs and roles seriously, but we also know that it's important to respect all of the good people we have and to treat them well. That is our strategy for success."