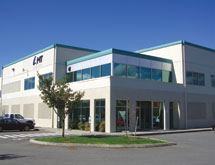 Advantage Manufacturing Technologies
Long gone are the days when a contract manufacturer could survive with the bulk of its sales stemming from a single client. Advantage Manufacturing Technologies (AMT) of Monroe, Wash., made this scenario work for most of its 12-year history as a medical device manufacturer, but Casey Tuller says the company has diversified to make sure it doesn't live and die with the success of any one customer.
"We've been working on our diversity the last two years," says Tuller, who serves as director of development for AMT. "Our goal for 2012 is to diversify within our biggest customers with multiple departments with our different part numbers."
Founded in 2000, AMT originally manufactured niche Swiss-designed orthopedic medical devices and grew into contract manufacturing for OEMs in the medical device industry. President and owner David Parsons had launched the company as a five-person machine shop in Washington state.
Today, AMT says it is the low-cost, high-quality manufacturer of choice for several growing medical device companies as an ISO-certified manufacturer with more than 100 employees.
The company says it provides comprehensive medical manufacturing solutions at 20 to 30 percent less cost than its competition. It also has helped bring more than 30 FDA-regulated products to fruition, often giving clients the opportunity to go to market faster than their competition.
AMT's capabilities include manufacturing engineering, precision machining, fabrication, assembly and kitting, production, surface finishing, cleaning, type 2 and 3 ti-anodizing, laser-marking and packaging of complete components.
Diversity Pays Off
At one point, the company was relying on just one customer for approximately 90 percent of its sales. In the last two years, though, Tuller says two clients now account for 40 percent of AMT's sales apiece, with two smaller clients accounting for the remaining 20 percent of sales. In 2011, the company claimed $9 million in revenues.
Along with diversifying the client base, AMT took a similar approach to its product line. Last year, the company launched about nine new items, and Tuller says the OEM sector has responded by ordering these new products for their own components.
"It was great because it keeps you busy on the engineering side," Tuller says. "We're reaping the benefits of that because it leads to repeat production work."
Making products on a commodity scale is a new venture for AMT, but Tuller admits the company isn't going into the production side completely. AMT will only manufacture its own innovative items to avoid competing with overseas manufacturers, whose prices are too low for its operation to contend with.
"We're innovative and we offer bidding, and we are constantly in contact with customers and working with their products," he says. "We purposely go after that market so we are not competing with China and bidding for the same part.
"When you do that, you tend to eliminate the competition because we'll be around when OEMs pull back from China because they always have development work they want done," Tuller adds.
Growing Sales
Although AMT is working to diversify its client base, the company still values its existing customers and has managed to create a sense of loyalty among them with quality workmanship and on-time deliveries. AMT says it has a 100 percent customer retention rate, less than 1 percent product returns, and an on-time delivery rate of between 95 and 98 percent.
These factors will lead to ongoing growth for AMT in the near future, and Tuller says the company is ready for the uptick in business. Although AMT operates out of a 65,000-square-foot facility in Monroe, Tuller says the company uses only 40,000 square feet presently.
AMT recently made some tenant improvements to use the additional space, Tuller explains. The company also has ordered new machinery to expand its capabilities in 5-axis milling, specifically to increase its volume of plating systems.