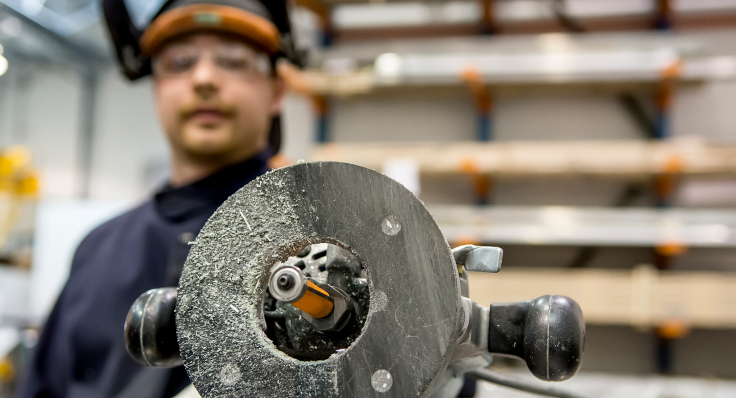 AdvanTec Global Innovations
AdvanTec Global Innovations is highly recognized for its strengths in the industrial and marine markets because of its quality pipe bending and metal fabrication capabilities, among other skills. With recent changes, the company may soon be recognized more for evolution. Not only has AdvanTec evolved its own operations, but it continues to adapt and change to best serve the needs of its customers around the globe. The company's capabilities prove its strengths, and its new focus will ensure ongoing levels of high quality and service.
Based in Langley, British Columbia, AdvanTec is a leader in innovation and creative manufacturing systems and processes, dedicated to working closely to meet customers' needs in terms of precise quality and cost. On one side, AdvanTec is the leader manufacturer, designer and integrator of custom enclosures, oil field skids and related products for commercial and industrial applications. AdvanTec has locations in the United States and Canada to design, engineer and manufacture specialty closures for North American and international navies, governments, militaries, commercial vessels and super yacht builders. AdvanTec is notably stronger by bringing its industrial and marine sides together.
"When a customer speaks to us, they are speaking to AdvanTec," says Matt Kirby, Vice President of Sales and Marketing. "We have a lot of capabilities, and a customer may think of us for gas or oil, or only for Marine, but our manufacturing can serve both sides. We lead with our capabilities, as well as in areas such as our size, locations and barge access."
AdvanTec started as one company, Kirby explains, and "started bumping into other companies as competitors." About five to six years ago, AdvanTec started acquiring these competitors when the other companies were struggling. "In many cases, they reached out to us and said they needed help," he says. "Our ownership saw that as an opportunity."
One example of this was Freeman Marine Equipment, which demonstrated a high level of quality in its products, but the owners were considering retirement and making plans for life after Freeman Marine. AdvanTec saw this as "an obvious fit," Kirby says, and acquired it, as well as Diamond Sea Glaze, Steelhead Marine and Pacific Coast Marine. This amalgamation allowed AdvanTec to consolidate the marine closure companies in North America and bring them under one umbrella.
The company's industrial side also came together through acquisition. "Advanced Flow Systems started from the ground up, but then it acquired Surround Technologies, which was an enclosure manufacturer," says David VanLaar, Director of Manufacturing Operations. "Marine and Industrial had combined expertise and skills, and serve similar customers. One customer could get a product from AdvanTec, Advanced Flow and Surround Technologies and don't have to shop around to get a full solution."
'From Fear to Excitement'
AdvanTec is bringing all facets of its operation together and communicating as one. It started about three years ago by uncoupling sales and engineering teams from their manufacturing facilities, making them standalone entities. Now it is pulling its operations together, collaborating on projects and finding new ways to better serve its customer base. AdvanTec ships products all over the world, so it has focused on changing the internal mindset to work together.
"We can manufacture most of our products anywhere, so now it's up to sales and engineering to get together, go out to the market, find out what projects are out there and figure out how to do it," Kirby says. "Right now we're doing a lot of culture management, but we are coming together on visibility. When the Industrial and Marine teams can see what's happening on the other side, it removes the fear of change and moves from fear to excitement."
VanLaar notes it was key that leadership started the move to combine the two entities. "Most of our leadership team is now responsible for both the Marine and Industrial groups," he says. "This streamlines us and makes decisions better for both parts of the operation because we are all sharing services."
"It's important that there has been strategic collaboration with our customers," Kirby adds. "We are reaching out to customers and planning facilities where they can better serve customers. It's a pride thing – we are very proud of where we are going."
One way in which AdvanTec is encouraging collaboration is by moving the operations of its Langley, British Columbia, facility to its facility in Chilliwack, British Columbia. This is the company's first facility to serve both entities – Industrial and Marine – from the same building. The Chilliwack facility is larger, and the company plans to invest further in equipment to improve its throughput and on-time deliveries.
"We benefit with the human element, too," Kirby says. "By pulling the two companies together, we expand the opportunities for our people with cross-training. They can learn faster and collaborate more, which gives them more opportunities to grow. It creates a better environment for our people; we have a lot of people with long tenure, and by pulling it all together, it fully supports their work and dedication."
Many of the brands within AdvanTec started as smaller companies that were staffed by people who were committed to making high-quality products. As one of the few companies that can perform its vast capabilities of at a high level of quality, AdvanTec Global Innovations takes pride in the skills of its people and wants to offer an environment where they can thrive.
"Our pride comes from our people, and that is not something you can force," Kirby says. "People stay with us because of the satisfaction they have in what they do. Our quality comes from the team and we are fortunate to work with the people who are so proud of what they do."
This pride, however, means that AdvanTec staff members are passionate about their operations and are not afraid to share with management their thoughts and feelings. This hasn't been a problem for the management team. "The leaders believe they are here for a purpose – to develop people, develop the company and hit targets," Kirby says. "It's important that we listen to the team and own the feedback they give."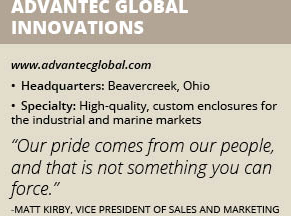 Comprehensive Care
AdvanTec listens to its team members because they understand how to best serve its diverse customer base. "We literally can serve someone coming off the street wanting a window for their boat to serving a large marine base," VanLaar says. "It's a challenge, but it also shows anyone in the world that we can meet their requirements. This is hard to do without employees caring about every customer equally."
About four years ago, Kirby explains, AdvanTec's biggest challenge was to ensure on-time delivery of customers' orders. The company took it seriously as a group, and went from 60 to 65 percent on-time delivery to around 90 percent now. Now, every year AdvanTec finds one to three areas where it wants to focus on improvement, and works until its staff and customers are pleased with the results.
"We are a one-stop solution," Kirby says. "We can work on a small project or something highly complex, but they are all custom solutions. We are big enough to matter but small enough to care. These days, it seems the sale happens too quickly, so we want to slow it down and work with someone strategically. Customers aren't looking to be sold, they are looking to us to solve a problem, and we can help save them from a potential mistake.
"By ensuring we provide the right product for the particular application, a sale is the typical outcome," he continues. "Our sales are very technical because the sales team has to fully understand what the customers need and then go back to the engineers with the opportunity. We are big enough to have the resources most of our customers don't have."
With its comprehensive offering and dedication to service, AdvanTec is focused on providing solutions. Committed to meeting customers' requirements, the company uses a process of customer consultation, creative and collaborative thinking, innovative design solutions and world-class manufacturing systems. This process and its resources are available to all customers, and AdvanTec is expanding to offer even more.
VanLaar says a new Alabama facility "is a good example of that. With other brands, we can justify adding a facility to better help our customers."
Earlier this year, AdvanTec opened a new facility in Robertsdale, Ala., covering 40,000 square feet, adding 46 new jobs to the area, and bringing more than $2.4 million in annual payroll during its first three years. The company notes this positions it to better serve customers in the greater Gulf of Mexico and Southwestern regions, as well as access a skilled labor market with deep experience in marine metal manufacturing.
Kirby explains this facility has already impacted AdvanTec's business. "David's team is pulling ahead in production on a bunch of ship sets – they are just sitting in a warehouse ready for a particular customer," he says. "Not only do they need us to be on time, but clients need us to adjust and react quickly. We can pull things forward and stock some product to help us guarantee being on time all the time."
Continuous improvement is an important focus for AdvanTec. "Our facility in Oregon has an aluminum foundry, and we plan to increase capacity there and modernize it to do better castings," VanLaar says. "At the Langley facility, we do a lot of glass, so we plan to improve, modernize and increase our throughput of glass handling. On the Industrial side, we plan to work on coating and painting throughput to better react to customers' demands."
Strategy for Profitability
AdvanTec is working on developing deeper relationships with its customers and supplier base, to further improve its level of service. With its suppliers, the company is focused on being more strategic about who it partners with on projects, while being focused on growth and profits for all involved.
"A lot of companies would allow European or Asian companies to take over and say 'we can't compete,'" Kirby says. "But we can compete, we just have to put our mind to it. We can do that by continuing to be very good at what we do, providing good engineering, good production and good manufacturing."
He stresses the industry has moved past "the era where companies beat vendors into submission" because it is important that "everyone makes money and makes a profit" for the industry's ongoing strength. AdvanTec also wants to work closely with its vendors to better serve its customers. Ongoing partnership is key to the company's ability to demonstrate its focus on service and growth.
"When we are strategic with customers, both sides improve," Kirby says. "The people we are talking to are demanding partnerships and strategic alliances. The global business is becoming more competitive, and the only way is to be more strategic. We can't be everything to everyone, but we can be incredibly meaningful to a select group."
With these goals and plans in place, AdvanTec continues to be open to acquisition opportunities. It wants to ensure ongoing strength, competitiveness and quality for its customers. At the same time, the company wants to be smart about its growth, ensuring it evolves along with its markets, maintains a focus on solutions and cohesive advancement.
"Acquisitions just make sense for us, and we do it with a very solid social responsibility mindset," Kirby says. "It's a passion for us – our ownership is very committed to giving back, and we are committed to proving to North America that we can do this as well as anyone else. With our strengths, we are capable of doing anything."