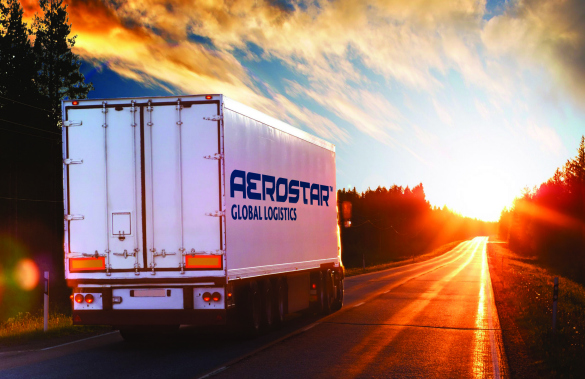 Aerostar Global Logistics
Aerostar Global Logistics carved out its niche in the aerospace industry by offering a full suite of international and domestic transportation and logistics services complemented with unparalleled customer service. "We compete with some of the largest companies in the world and beat them every day," CEO Tom Gioia says. "The way we do that is our absolute obsession with customer service, understanding delivery demands that airlines and OEMs have and providing constant communication to our customers."
The company is based in Lombard, Ill., a suburb of Chicago, but has opened offices in Dallas, France, Germany and the United Kingdom to remain an international leader. Gioia is part of Aerostar's new management team brought on in mid-2016 to focus on growth and expansion, not just in the United States but worldwide. "They hired me to come in and grow the customer base and locations, expand opportunities for employees and hire more people to facilitate that growth," Gioia adds.
As more manufacturers begin to consolidate their supply chains, Aerostar prides itself on being the company that can handle all their logistics needs. "As manufacturers are consolidating facilities and vendor bases, they need partners that can satisfy their requirements worldwide, hence our growth and expansion into different geographic areas," Gioia says. "The company was originally a freight forwarder and now offers air, ocean, rail, trucking, warehousing, customs clearance, product inspection and quality assurance for our customers. We truly offer a full suite of value-added logistics."
Suite of Services
Over the past few years, Aerostar has begun offering a full suite of logistics services to its customers. "It is our consistent strategic vision to combine all offerings for every customer," Gioia explains. "We were doing international shipping for one customer, domestic for another and warehousing for another customer. We've shifted to a one-stop shop. Now we execute on-time delivery for complicated supply chains in the most demanding industry – every day."
Aerostar is reintroducing its services to the market as manufacturers consolidate vendors and their supply chains. The company is also adding salespeople to enable the company's growth. "Customers used to be secured in the past by word of mouth and reputation," Gioia explains. "Now we're ready to compete at scale."
New opportunities came when companies needed to get out of a difficult situation, which left Aerostar to react. Industry peers would refer those companies to Aerostar when they needed to meet a tight delivery deadline, get a product released from customers or save money, for example. "We did a great job and built an ongoing relationship," Gioia says. "We were much more reactive. Moving forward, we will be more aggressive and solicit customers to be proactive."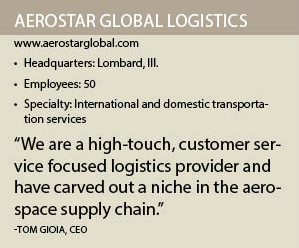 Case-in-point, Aerostar recently hired Terrence Brown, an industry veteran from one of the 10 largest freight forwarders in the world, with a specific focus on aerospace. Gioia is confident Brown will be a huge coup for the company. "It validates our strategy," he adds. "We are going to market and saying we are the specialist in the aerospace supply chain, dedicated to delivering on expectations with a commitment to customer service. We are a high-touch, customer service focused logistics provider and have carved out a niche in the aerospace supply chain; so much so that much larger companies have taken notice of who we are. The addition of Terrence is proof of the fact that the industry believes there is a need for specialists and Aerostar is ready to meet those specialized needs."
To provide a full suite of services, Aerostar implements leading-edge and best-in-class third-party software to ensure it has the most up-to-date programs. "The industry as a whole is still in the 20th century when it comes to technology, and transportation is one of the last industries out there to see major innovation," Gioia says. "Big data and analytics are becoming available to smaller companies, so we are bringing people in and hiring people with experience in those fields who understand the value of data and what I can offer to our customers."
Aerostar is not only an expert in moving products, but also provides information to its customers that results in higher-touch customer service. "We deliver information as much as we deliver products, which is why people use Aerostar," Gioia adds.
Strong Relationships
Aerostar has been a value-added partner to Zodiac Aerospace's Gainesville, Texas-based seat facility for 20 years. "We consider them a partner and they consider us to be a critical partner in their supply chain," President Serge Bernard says. "That's why we have co-located next to their facility and have relationships across all levels of the company."
Zodiac Aerospace prides itself on its on-time delivery rate, which Bernard says is supported by Aerostar. "We are their provider to make sure they have 100 percent on-time service and that's been our track record with them for the past seven to eight years," he adds. "We move heaven and Earth to make sure they meet their delivery schedule while providing them with solutions that are cost-effective."
Aerostar is always looking to add value. "We have offered our services and expanded our facility in Dallas to try and offer Zodiac more space and service for warehouse and distribution," Gioia says. "We sit down with leadership to focus on driving cost out of the supply chain and demonstrate the value in working with one partner for all their needs."
Moving forward, Aerostar plans to continue focusing on the aerospace industry, which represents 70 to 80 percent of its business. The remaining percentage will target automotive, healthcare and other hard-to-handle goods, which Gioia says fits right into the company's strategy.
"The goal we have is for our company to quadruple in the next three to five years and we will do so through our sales force, strategic investments and targeted efforts to grow in the aerospace supply chain and any other industry that has the same demanding customer service needs," Gioia adds. "The aerospace industry is counting the minutes that something needs to be delivered just in time. If we can satisfy aerospace, we can handle and do handle automotive, healthcare and other specialized products like sport ammunition. If someone has hard to handle products and not everyone can ship them, we have people on staff who are product experts and who can get the job done."