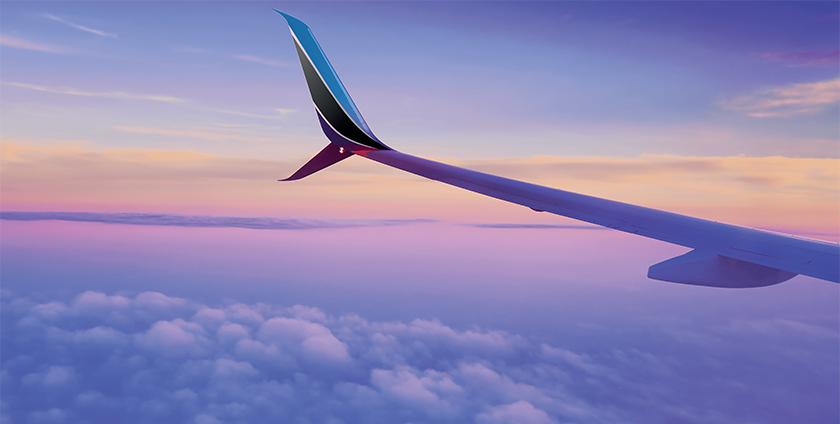 First-class manufacturing
As it seeks to become a global leader within the wider aviation industry, Aerotron's composite division is swiftly moving through its impressive three-phase plan for success
Aerotron is one of Europe's leading suppliers to the aviation industry. Serving civil, commercial, and military markets, the Gatwick Airport-based company specializes in providing first-class component suppor t solutions to its global client list of air lines, original equipment manufacturers (OEMs), and maintenance, repair, and operations (MROs) outfits.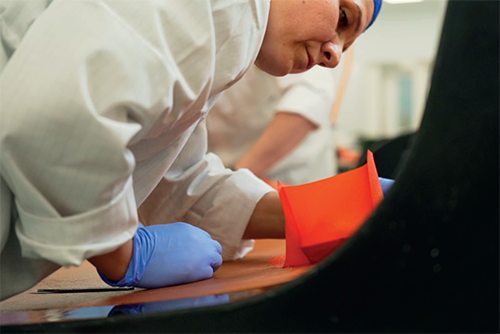 One key section of the wider organization is Aerotron Composites. Established in 2019, it delivers a varied range of industry expertise and aerospace and defense experience through its design and manufacturing of quality composites and structures for numerous types of aircraft.
"We're an important division within the broader Aerotron family," begins Andrew Leslie, Director at Aerotron Composites. "We operate out of our new, purpose-built facility in North Cambridgeshire, where we focus on components and tooling for the aerospace and defense industries. With aims of becoming a global leader in the aerospace and defense industries, our mission is to firmly establish ourselves as the partner-of-choice for our growing list of customers. That means consistently delivering best-in-class product development, manufacture, and repair, thus covering the entire life cycle of a product. We now find ourselves in a stronger position than ever. Before we moved to our state-of-the-art facility in the height of the pandemic, we had just 45 people on our books. Now, as the threat of Covid-19 begins to fade, we've increased that figure to more than 100. Fortunately, that growth is ongoing.
"Now, more than ever, communication is key," he continues. "We've faced many challenges since our inception: Brexit, the pandemic, and now everything we're seeing happen in Europe. Although challenging, working through all these various unknowns has certainly bolstered the company. Being able to effectively share information with stakeholders means we get better decisions with buy-in from all parties; these collaborations simply wouldn't be possible without this transparency. Another central lesson we've taken from these turbulent times is that, generally, longer supply chains have been unable to cope with the aforementioned uncertainty compared to local solutions. While there still may be a cost difference, the actual amount is much smaller when all of the other hidden costs are revealed. As such, we're incorporating this knowledge in our decision-making process, especially when determining who we partner with in the future."
Though it began operations a little over three years ago, Aerotron Composites has already secured a strong reputation for its work with the latest materials and specifications as well as older and legacy engineering methods. "By operating in this way, we're equally comfortable with creating new parts from scratch and continuing to support mature platforms across a 20-to-30-year life cycle," explains Andrew. "Whether that means small and simple monolithic laminates or larger multi-cored complex assemblies, our customers can be assured that we will supply them with the finest of aerospace and defense parts. Recently, we've noticed that many customers want to extend both their current production systems and their tooling, which means we have had to pivot and undertake the reintroduction of what we call old product implementation (OPI) and new product implementation (NPI). Adapting to customer needs in this way truly sets us apart from the competition; each process requires different methods, knowledge bases, and skill sets."
In a rocky global climate, companies have to evolve and find new ways to replace contingency with consistency. To that end, Aerotron Composites is making the most of its build-to-print and reverse engineering abilities. As its competitors struggle, the North Cambridgeshire-based firm has been in a position to design and create its own tooling to suit the facility in which these processes take place.
As Andrew points out, having to act in this way enabled the company to fine-tune its methodologies and deliver more consistent and affordable end components as a result. "Our sizeable team works with a range of clients on bespoke plans from the beginning of development to make sure that their products are efficiently manufacturable," he details. "Everyone gets what they want from day one. We're always supporting customers; one of our major rotorcraft clients, for instance, had to relocate its composite manufacturing partner overnight. We agreed to assist them in their tight predicament. This example demonstrates how we approach relationships with our customers. Though some parts were simple, others were quite complex. More than 350 manufactured composite parts later, we've helped guide that client through its entire relocation and, at the same time, have produced some of the best assemblies they've seen.
"From a national perspective, our work will benefit the UK supply chain as more of that company's platforms can now be manufactured domestically," he adds. "With some of our suppliers, like most of our customers, we will invite them to become a partner within the wider Aerotron family, helping us solve global challenges every day, particularly with regards to material availability. Another form of partnership we're proud of is our Chatteris Town Football Club sponsorship, through which we provide over 100 home, away, and training kits for the team. By using recycled structures from our site development, moreover, we plan to rebuild their locally significant stadium in the near future. As we continue to grow, we hope to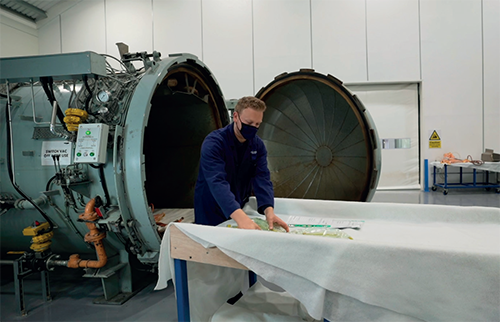 develop more of these robust partnerships and deliver better value to the supply chain, build company resilience, and improve our overall sustainability. We feel the environment we've chosen to base ourselves in offers great work and life opportunities for our employees, and we look forward to becoming part of North Cambridgeshire's industries."
For Andrew, that location – North Cambridgeshire – is significant. It marks a deliberate move out of what is often called 'motorsport valley,' that is to say, the swathe of land in the West Midlands and Oxfordshire that has since become the center of transport engineering expertise within the UK. "We wanted to separate ourselves from that rollercoaster ride," he reveals. "It was a hard decision for us to make because it meant moving away from a well-established resource pool; however, in the long run, the relocation was certainly worthwhile. In terms of aerospace and composite manufacturing, we can now access the untapped potential of North Cambridgeshire, and we know that will serve us well as we continue to grow. To make the most of the new location and give something back, we will be employing many apprentices this (and every) year, putting them through a new, purpose-built training center in Chatteris.
"Our company is built around people, and apprenticeships such as these are a fantastic opportunity to show that to the local community," Andrew elaborates. "We encourage diversity of thought and promote teamwork to enhance our collaborative future. On site, we have people with experience from a diverse range of industries – aerospace, defense, aviation, marine, motorsport, automotive, food processing, financial, renewable energy, and military. People also come to us with a range of educational experience, from university and apprenticeship graduates to those training on-the-job, and we make sure to utilize each unique skill set in order to achieve the best end results."
Taking on all it has learned over the last few years, Aerotron Composites has put a clear, scalable growth plan in place. The first phase – manufacture composite components and tooling within a purpose-built 80,000-square-foot facility – is already complete. However, as it progresses to phase two, the company will increase its MRO, machining and fabricating capabilities while adding non-destructive testing (NDT) to its growing collection of services. To facilitate this phase, an additional 60,000-square-foot facility will be built nearby, incorporating renewable energy systems to improve sustainability.
The final phase is truly colossal. By this point, the company will have utilized the remaining footprint of its nine-acre site, building another 160,000-square-foot facility to enable further growth and add more storage space. "Coupled with Aerotron's expanding communal links, these builds will allow us to leverage our knowledge and experience to further solidify the company as a major player across the aerospace, defense, and aviation markets," says Andrew. "Going forward, we will remain agile in our ability to react to what is happening in the world around us. Our formal plans are very simple: build stronger relationships with our current customers and make use of our three phase-plan to assist them in their growth, while also adding new organizations to the wider Aerotron family.
"More recently, we've seen manufacturing come to the fore of the UK's Build Back Better agenda, and therefore we need to ensure that we're creating more high-value jobs in global industries," he concludes. "The UK is a major player in the aerospace and defense sectors, and to keep it that way, more support is required in educating the next generation, encouraging them to take up careers in engineering and manufacturing. Though Cambridgeshire is not typically known as an aerospace area, our manufacturing campus aims to change that and reinforce the government's Levelling Up initiative. It's good to know we're doing our bit for the future."
Aerotron
www.aerotron.co.uk
Services: Aviation parts