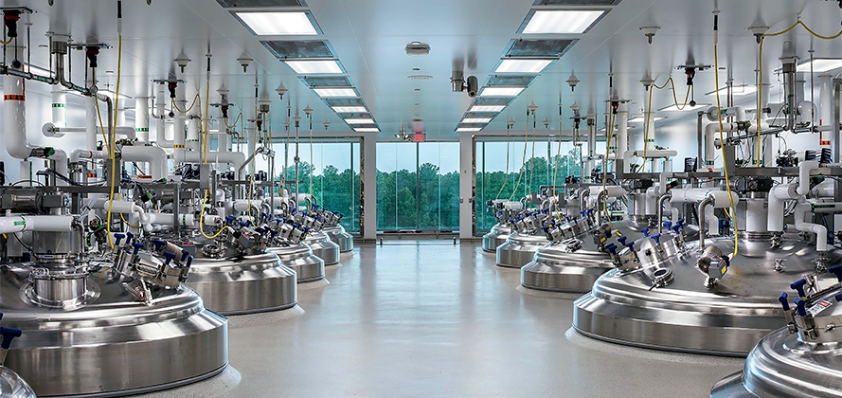 Taking on the impossible
Since its inception, AES Clean Technology's standards for high quality have guided its dedication to designing and manufacturing leading cleanrooms that support the critical processes essential to its customers' industries
As a builder of cleanroom facilities for the biotech industry, AES Clean Technology (AES) prides itself on the innovation that contributes to clients that are making a difference throughout the life science sector. Grant Merrill, the company's CEO, discusses with Manufacturing Today the expertise that drives the business as the leading cleanroom company that self-performs the design, manufacture, and installation of cGMP modular cleanroom facilities in North America.
"Our core business is designing and building cleanroom facilities for pharmaceutical and biotechnology companies, medical device manufacturers, and others serving the life science marketplace. When we started the business in Pennsylvania in 1986, it was small and regional, but since our inception, we have focused on achieving steady and refined growth. Fast forward to today, and we are a business of 350 people, continuing on that same mission, but doing it on a much grander scale throughout the US, Canada, the Caribbean, Mexico, and Central America."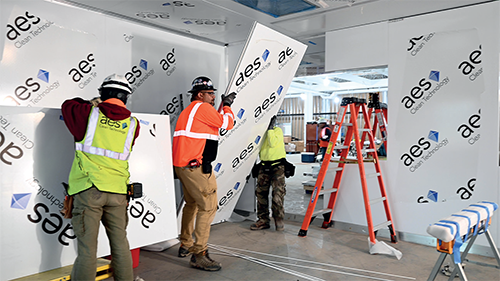 According to Grant, in the late 80s and early 90s, Europe was leading innovation in the development of modular architectural finishes for cleanrooms, and AES was fortunate to be an early adopter of that technology. "We implemented modular architectural systems to create the cleanroom facilities because we saw value in the clean construction techniques, the predictable finishes, the performance, and the way those systems assisted in minimizing maintenance for our clients. We then had an opportunity in 2001 to purchase the manufacturing assets of one of our modular system suppliers.
"So that put us in the position to be what we consider a single source solution for our clients; a one-stop-shop for the execution of any given project," he says. To get an understanding of the level of pride with which Grant speaks of his company, it is worth noting the value AES places on its projects. Many of these cleanrooms have a mission-critical use, and in most instances, the cleanroom is considered the most crucial square footage in the building. "It's the most expensive space in the facility because it's where our clients perform their manufacturing magic. The requirements for the facility are heavily regulated by the FDA, European agencies, and other global regulatory bodies to ensure that the final product, whether it's a vaccine or a treatment that cures a disease, is created in the safest of spaces," Grant adds.
In addition to producing a cleanroom facility that is of the highest possible quality, AES dedicates itself to working closely with its clients to produce the best results. "The theme of how we work together is important in terms of how we counsel our clients through the process. Often, we have a situation where a customer needs to develop a manufacturing facility, but they may not understand how to create one that fully protects their science, so as a company, we have built the resources in-house to perform early conceptual planning. To give you more of a specific example, our design team will sit down with a client and a clean sheet of paper, and we will help them develop the facility right from the very beginning. Therefore, we are able to influence the design from the outset and ensure that when the facility is deployed, it will meet all the requirements that the regulatory agencies would expect of the cleanroom."
Pioneering science
Although customization is key to the company's portfolio, AES is also determined to improve its efficiency, and as a result, to incorporate a level of standardization within its capabilities. "Even though we work for many different companies, each with unique specifications, there are repeatable elements of what these facilities require, and we create template designs that can be leveraged across multiple projects. Subsequently, we invest the time and energy into developing module designs that we can deploy faster for clients with similar processes. This enables us to either manufacture that cleanroom system faster, or ideally to have it already manufactured, so it is waiting in inventory. We see great opportunity in leveraging our experience through standardization to help our clients move even faster; we are not creating a custom 'home' every single time for each client, but rather making use of repeatable solutions," Grant shares with us.
With leading capabilities in the life science sector, AES also takes care to nurture an unshakable company culture in which its team feels valued in their work, and the role that their work plays in the industry overall. "Our employees are critical to our operation, and we try to encourage a space in which they really enjoy what they do. It's a pressure filled business, and one with deadlines and high stress levels to create these optimum performance facilities, so it is really important for us to understand why we do what we do. A great example would be the way in which our work has transformed over the past two years of pandemic response. Our team can take great pride in knowing that they played a part in bringing together multiple facilities that allowed their own loved ones to receive the Covid-19 vaccine, which was ultimately manufactured inside of AES cleanrooms; that is something quite remarkable.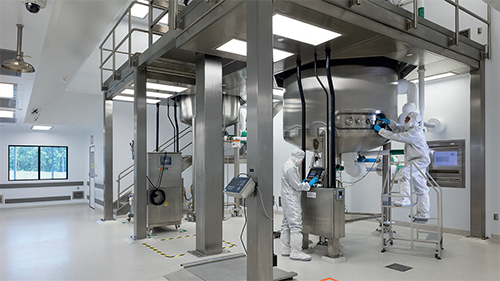 "The pandemic has impacted the whole world, and shone a new light on the importance of scientific breakthroughs and the facilities that help make them happen. For us as a company, we know that the real magic is in the science of the product itself, but that science cannot flourish without the proper facility to wrap around it for protection, and that is what we do. So, we know that our facility really does make a difference, and that is truly exciting for us and our partners to realize," he adds.
Diving deeper into the role the business had in combating the spread of coronavirus, Grant tells us more about a particular project to increase the pace at which vaccines were being produced. In Operation Warp Speed, where the US Government and the military became heavily committed to accelerating the country's efforts against Covid-19, AES was called upon to bring facilities online for production, not only for vaccines but also for antibody therapeutics and diagnostic devices. "We worked for a client that manufactures a device used to measure certain conditions in the body as a way of helping doctors make therapeutic decisions for patients. We created facilities according to incredibly fast timelines to support many products that were deployed in the fight against Covid-19. Most of the typical projects that our clients execute take years to develop. That is why it was such a privilege to be part of programs that were completed in a small fraction of the typical time, all in an effort to save lives and improve outcomes for patients.
"It took a pandemic to accelerate these new technologies to reach the market, and, as devastating as the last two years have been, it is so rewarding to witness firsthand the capabilities of this industry, and how we can all push ourselves to make the impossible happen," he says.
Now, as he looks to the future, Grant is especially excited to be part of more projects that will enable radical developments of the life science industry. "We have tremendous opportunities in front of us that involve some pioneering science to create facilities that are going to protect new life science products being manufactured. We are working with clients who are trying to cure cancer, autoimmune diseases, MS, diabetes – truly noble goals – and to know that we are playing a small part in enabling that science to succeed is exciting for us, and that is our goal as a company. The next ten years in medicine will be driven by advanced therapies where our clients are harnessing biology to create cures and treatments for unmet medical needs.
"We continually think about all the people that our work impacts; if the facility can come online more quickly due to the efforts of our team, imagine the add-on affect that will be experienced as more patients are treated. So we take this work very seriously. There are lives at stake here; the patients that need the treatments are the people we are ultimately serving, and so that is a humbling experience for us as a company," he concludes.
AES Clean Technology
www.aesclean.com
Services: Cleanroom manufacturer