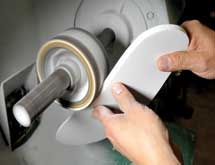 Aetrex has spent 65 years advancing the technology of pedorthtics, so much so in fact, that the company is seen as more than just a manufacturer of pedorthtic products – it's actually in expert in the field. "We've always been in the foot health market," explains Evan Schwartz, third-generation co-owner and president. "Even when we were doing OEM manufacturing, we were always making foot health and pedorthtic product . As we grew, we built off that platform and developed our own branded products."
Aetrex manufacturers an extensive line of men's and women's comfort shoes and foot aid products developed by its in-house design and development team, which boasts more than 25 certified pedorthists. Ideas for new products often come from the designers themselves or from the reports of salespeople routinely speaking with customers. Retailers who carry Aetrex products will also chime in on what their customers' feet are aching for.
"We are always reviewing what sells and seeing where the trends are when we develop new products," Schwartz explains. "Then I'll sit down with my design and development team and figure out what we want to get out of the product, how can we put the Aetrex spin on it, and how can we make it different from everyone else. That's when we take our medical background and start putting those features into the product."
It could be tennis shoes fashioned from antimicrobial fabric to combat fungus or sandals manufactured with memory foam that adjust to a person's gait pattern, equally distributing pressure as he or she walks. Even women's heeled shoes use soft, full-grained leathers and moisture transfer polyester linings. The men's dress shoes use Aetrex's Mozaic Customization Technology that ensures the best fit for each foot, no matter what the shoe.
The Mozaic technology is just one example of how Aetrex has moved beyond being a footwear maker to being a footwear expert. In three simple steps, customers use a flat sole-shaped pattern with peel-off gel pieces to relieve stress on certain pressure points. The customer simply peels of the gel pieces corresponding to where their foot discomfort occurs and inserts them into the shoe, alleviating the pain and pressure of that point. It's a quick and efficient way to turn an otherwise OK-fitting shoe into something that feels like it was made for you. But the real beauty of the Mozaic technology comes with its use in tandem with another Aetrex innovation.
In conjunction with its branded shoe and foot-aid products, Aetrex created iStep, a scanning device that evaluates a consumer's foot size and shape and offers suggestions on the shoes and products that would best benefit that person. Schwartz says iStep is available in 5,000 to 6,000 retail locations. In September 2010, Aetrex released a new wireless form of the product – the handheld iStep Wave.
In May, Aetrex took another step toward becoming the go-to place for all pedorthtic products with the opening of its first corporate-owned retail store in Englewood, N.J. The concept store marks Aetrex's breakthrough into becoming a vertically integrated healthy foot products solutions specialist. First, the iStep can assess a customer's foot condition and recommend the most beneficial product. Next, Aetrex's line of foot-aid products and footwear – including dress, casual, sport and seasonal – provides that recommended solution. Now, with the first Aetrex store, as well as an online store, customers can go straight to the source rather than a general retailer. Schwartz explains that the corporate-owned location can serve as a model for future stores licensed to independent operators who have approached the company in recent years about opening Aetrex stores.
"We believe in creating healthy shoes and healthy insoles and a foot health community," Schwartz says of launching its retail store. "The idea is for us to be the foot geeks and provide the best possible product solutions for your feet." Schwartz credits Aetrex's ability to innovate and expand its operations in the current market with being a debt-free company – a decision the company made nearly a decade ago.
"We knew that we wanted to take our custom-made background and go into consumer-friendly products, things the average person would wear," Schwartz says. "In order to do that, we knew no matter what the economy looks like, we have to be a healthy company so that we could take risks. When the economy turned, being debt free, we were still able to continue down our path." Because of its solid financials, Aetrex can offer retailer incentives and prolong invoice collections because it is not pressed to pay down debt. Schwartz says this allows the company to continually promote its products while helping its retail partners remain healthy with a list of current and new products.
The strategy has paid off. Despite the economy, Aetrex's numbers have continued to rise and it has even outgrown its Teaneck, N.J.-manufacturing facility. Schwartz says the company is scouting for a new facility. This way, the company can continue its growth and innovation to maintain its standing as the "foot geeks."