Brilliant simple
Operating with a conviction that fields should be taken care of at plant level, Agrifac has developed a range of smart solutions to ensure that just the right amount of chemicals is being used every time
Going back to the basics of farming is the way forward for Agrifac. The Dutch manufacturer of agricultural machinery, including sprayers and sugar beet harvesters, is gaining the attention of the biggest farmers in the world with its NEED Farming concept that enables plants to be taken care of at an individual level. Roeland Coopman, Sales & Marketing Director at the company, explains: "Back in the day, this was the way we were nurturing the plants. The last few decades, however, have seen the introduction of machines that would treat huge fields all at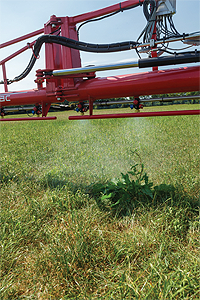 once, disregarding the needs of single plants. With NEED Farming, we are trying to go back to the roots, making use of innovative technology to reduce the use of chemicals on plants, which, in turn, leads to higher yields."
Incorporating a series of features, NEED encompasses solutions such as DynamicDosePlus, SmartDosePlus, and AiCPlus (pronounced I See Plus). The former is the first system of its kind that executes prescription maps at plant level, making it possible to spray every plant individually and adjust the dosage according to its needs. In the meantime, SmartDosePlus tackles the challenge of not knowing the exact amount of spray mix needed in advance, when taking care of plants on an individual basis. By injecting and mixing the agents directly in the spray system, the right amount and concentration are made on-the-go during spraying, meaning that there is no need to refill and make a new mix when switching between fields, thus saving the farmer precious time.
The latest of the NEED features, the AiCPlus camera system is Agrifac's first that boasts integrated AI to interpret what is seen, just the way farmers do. With the cameras mounted directly on the boom, the system processes and analyses the crop and the Agrifacrequired rates can then be applied directly with the help of DynamicDosePlus. "Going forward, we will be looking to improve the technology further by enabling the direct injection of multiple chemicals at the same time," adds Roeland.
In our conversation with him last year, he also established that Agrifac was looking to win over the various stakeholders in the farming industry. Back then, Roeland emphasised that chemical companies were a bit suspicious of a new technology that questioned their prescribed amount of chemicals to be used on plants. Nearly 12 months later, a very positive development of the situation has taken place, with these companies increasingly embracing the NEED Farming solution. "The development of new products is actually opening up new opportunities for the producers of chemicals, so they are now a lot more interested in working with us," Roeland notes.
Together with reducing chemical use, taking care at plant level also drastically cuts water consumption. "We are talking about reduction in the range of 80 to 90 per cent," Roeland points out. "With shortage of water and the droughts Europe has experienced in recent years, many counties no longer allow taking water from the rivers, which means that our technology provides a vital solution from an environmental perspective, too."
All of the NEED Farming features find an application in Agrifac's two signature sprayers – the Condor and the Condor Endurance II. Earlier this year, the latter won one of the most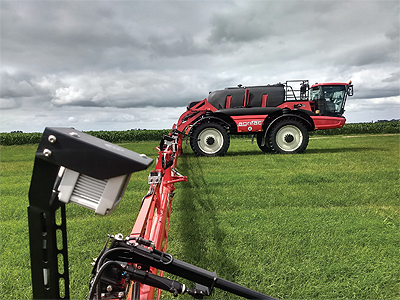 prestigious design competitions in the world – Red Dot, in the Product Design category. Asked about the machine's most outstanding traits that have impressed the jury, Roeland singles out its ease of operation. "We make our machines with a thought for the driver. We are aware that drivers need to work long hours and days, so it really makes sense to have a design that does not require much effort or advanced skills to operate. It is a 'brilliant simple' machine that accurately reflects the four core principles that we follow – efficiency, economy, ergonomics, and ecology."
Being relentless in pursuing constant improvements to its proposition has paid off for Agrifac in the past 12 months. The company is now seeing a significant growth in demand for the solutions it offers, which has resulted in a considerable internal restructure to meet the new requirements. "Our sales and service departments had to undergo certain changes. It was especially important for us to drive optimisations that will increase the quality of our customer service, because we are currently working on predictive maintenance. This requires us to operate at a faster pace, as we want to be able to notify our customers if we detect a possible issue with their machine and introduce new updates remotely. We have more than 200 sensors on our sprayers to help us monitor their performance," Roeland discusses.
"To give you an example of the type of interest that we are witnessing at the moment, many of the world-leading farmers who supply some of the biggest supermarket chains are considering the development of labels that will not necessarily be 100 per cent bio, but that will be made using 90 per cent less chemicals. This is where we need to step in and help them with our solutions to achieve that," he continues.
"It promises to be a very busy future for us, as we will be engaged in supporting these major farmers, whilst tweaking our machines and technologies to increase their efficiency and support higher yield results. Following the changes we have implemented internally, we are now ready to meet the rapid growth we are experiencing in all of the ten countries where our sprayers are available," Roeland concludes.
Agrifac
Products: Sprayers, beet harvesters, farming management solutions