Spraying revolutionised
Agrifac Machinery's inherent innovativeness has enabled the manufacturer of sprayers and sugar beet harvesters to launch game-changing technologies for the more efficient and environmentally-friendly spraying of plants all over the world
The last eight years have seen Agrifac Machinery catapult its growth figures, as the manufacturer of innovative machinery for the agricultural industry has experienced an unheard-of 600 per cent increase in turnover during the said period. Formed just before World War II under a different name, Agrifac spent much of the time since the 1950s-building field spraying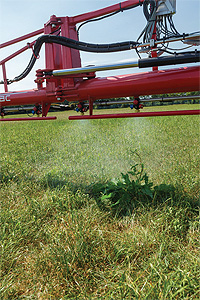 machines. In 1986, the company released its first self-propelled machine. Four years ago, the business was acquired by the Exel Group, which has since invested a significant amount of money to stimulate Agrifac's further growth.
Part of Exel Group's investment covered the construction of a brand-new factory in the Dutch city of Steenwijk, which has given Agrifac the necessary room to increase its production capacity and double its turnover in the coming Agrifacyears. "The new plant was built according to the four core principles we believe in – efficiency, economy, ergonomy, and ecology," comments the company's Sales and Marketing Director, Roeland Coopman. "It allowed us to bring the various facilities we had scattered across multiple locations under one roof, thus optimising our work environment and reducing our overall costs. In addition, we have installed solar panels to fulfil our sustainability vision."
What is unique about Agrifac, is the fact that the company develops the majority of its products in their entirety itself. "To give you an example, 30 years ago, our engineering team designed our StabiloPlus chassis, which remains the base of all of our machines to this day, having proven itself across a range of products we have created," Roeland states. "In addition, we tend to equip our sprayers and harvesters with the latest hi-tech innovations to keep ourselves ahead of the competition. We are now getting ready to introduce predictive maintenance and supply our machines with nearly 200 sensors that will monitor critical aspects of their performance and allow us to glean a lot more data that will help us detect any anomalies in a timely fashion."
The latest sprayer in Agrifac's portfolio is what the business calls 'the capacity monster' Condor Endurance. "It is mounted with an 8000-litre polyethylene tank, giving farmers the opportunity to do a lot more work in less time, because they do not have to refill it too often. What is more, due to the smooth material and the design of the tank, no rest liquid stays behind in the tank or on the tank wall, meaning that optimal use of its capacity is easily made," Roeland explains.
"One strategic decision we have taken in the past year and a half was to restructure our distribution network a little bit, in order to allow ourselves to perform testing all year round across
multiple locations. This means that instead of doing that only in the Netherlands, we have also extended our testing facilities in Australia, so we could run our testing processes in more favourable weather conditions, because in the Netherlands, just like in the UK, it rains a lot, making the timeframe for spraying really tight," he analyses, adding that very few other companies can match the speed and neatness of Agrifac's testing phase.
Having found itself in the crossfire of conflicting views about the future of farming, the company has also designed a game-changing system called NEED farming, in an attempt to address some of agriculture's pressing issues. "Truth being told, farming in Europe is receiving some bad publicity at the moment. Public opinion sways towards blaming comthe spraying business for its negative impact on the environment. Whilst we do not produce chemicals, but only machines to make farming more efficient, we fully understand that something has to change. On the one hand, you have the rapidly growing world population that needs to be fed, and on the other hand, you have the effect farming has on the environment," Roeland discusses.
"The NEED Farming product is a truly disruptive technology that can play a hugely positive role in the reduction of chemical use. In agricultural business, farmers tend to spray the entire field. Our system allows them to spray plants according to their individual needs and hit the exact amount only on the plants that need that at the given moment. We have been doing this for two years in Australia and for a year and a half in the Netherlands and the results have been fascinating. The challenge is to persuade farmers who still mistrust the idea of not having to spray the whole field," he maintains. "It is also a matter of negotiating with various chemical companies whose interest might differ from ours, in terms of the amount of chemicals they prescribe to be sprayed. We are trying to reach consensus on the direction the industry should be taking and regard these discussions as a positive and rewarding challenge for us as a company."
Going strong, Agrifac's expanded distribution network is projected to drive further growth for the company, hence Roeland's view that preparing for the heightened demand should be its main priority in the coming years. "We want to be in a position where we do not let the market hurry us too much, but we do not want to push it, either. Our main concern is to facilitate the anticipated exponential growth coming from the new technologies we are planning to introduce," he sums up.
Agrifac
Products: Sprayers