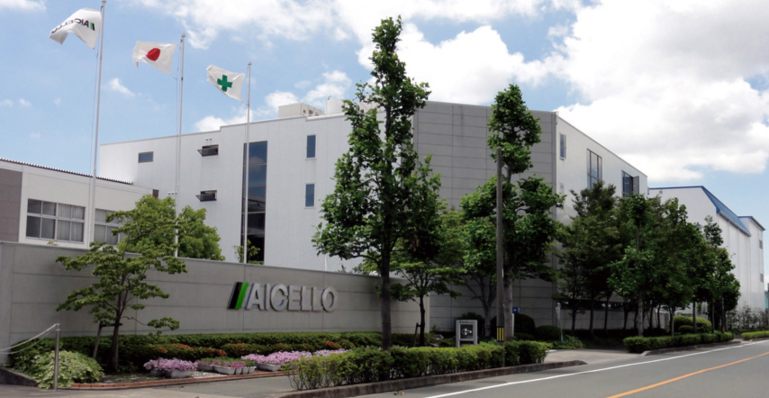 Aicello does not simply think about packaging in terms of a box or a bag in which to place a product. The company's continuous goal is "to pursue true packaging." True packaging not only protects the contents, but adds additional value to the customer. Aicello strives to not only accomplish market-leading packaging, but through its expertise offer process improvements and achieve all of this with a minimal impact on the environment. This approach has made Aicello a leader in the global market and guides its constant innovation in developing new solutions for its diverse customer base.
The company's origins date back to 1933, starting with the production of cellophane in Japan. Aicello was successful in that line, with sales increasing as the spread of supermarkets created a larger demand for cellophane throughout the country. Which makes it all the more surprising that in 1970, Aicello voluntarily shut down cellophane production because the product was not in line with its environmental values. This commitment to remaining environmentally friendly is a key part of Aicello's dedication to true packaging.
"At that time, no one in the industry really thought about environmentalism, but we were on the forefront of being environmentally responsible," Sales Executive Phill Evans says. "With all of our products today, we keep that in mind."
Aicello makes three core products for the North American market:
BOSELON – This is a volatile corrosion-inhibiting (VCI) packaging film that protects metals from rust in the automotive, heavy machinery, steel and other markets.
SOLUBLON – This is a water-soluble film based on polyvinyl alcohol used in packaging, among other industries.
CleanContainers – These containers are used to manage ultrapure chemicals for the microelectronics, life science and other mission-critical industries.
"We have 1,200 employees worldwide with facilities in 11 different countries," Evans says. "We serve a variety of markets, but with BOSELON, though we have a large automotive and machinery presence, it can be used on any part that you don't want to rust. Aicello is also a global quality leader with SOLUBLON water-soluble film, used as a water soluble packaging material for a diverse range of product types including consumer laundry and dishwashing detergents.
"We are not rehashing other people's innovations; we are creating new products and stay on the forefront," Evans continues. "The CleanContainers are for storing ultrapure chemicals, such as the chemicals used to make LCD screens, for example. We confidently provide the best particle- and metal-free containers in the marketplace."
Alpha and Omega
Aicello introduced the world's first VCI film, BOSELON, in 1969. The company created BOSELON to protect corrosion-susceptive auto parts under different shipping conditions, which was important as automotive manufacturing became more global in scope. Aicello received a request from one of its customers to develop the product, and today remains the industry leader in VCI Film.
BOSELON is known for these six key characteristics:
It has a specially designed film structure, consisting of class-leading formulations of VCI corrosion inhibitors.
BOSELON is designed to react to the presence of electrolytes in the packaged atmosphere and has the capabilities to maximize their effect when severe climate change occurs.
Completing both rust prevention and packaging in a single process reduces operation costs while maximizing productivity.
BOSELON is heat-sealable and can be processed through automated packaging machines.
BOSELON can significantly reduce or eliminate the need for VCI oil.
Aicello is continually developing enhancements to push BOSELON's VCI technology even further.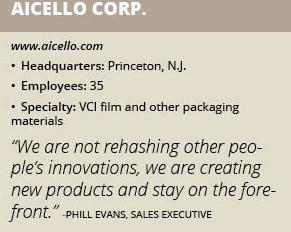 In its production of BOSELON, Aicello continuously exercises strict quality control throughout its global manufacturing locations and in demonstration of its safety and quality, BOSELON has been approved by the German military. The company also offers a certified VCI engineer to consult with clients about BOSELON.
"We are a material company with some fairly unique values," Evans says. "One of our core values is 'the less packaging the better.' It may sound contradictory at first, until you think back to the origins of BOSELON. Aicello created BOSELON in response to a customer need. It had been supplying the customer with standard poly bags, which were used in conjunction with a VCI paper."
However, he notes, the problem was that "when a part is wrapped in paper, you can't see the part or inspect it. If you want to check its quality, you can unwrap it, but then the part is exposed to air and moisture, which create rust. Additionally, the customer was buying both the bag and the paper, and then wrapping the part twice, which was both inefficient and costly.
"We offered a value-added solution that resulted in less packaging, which is very green and we are very proud of that," Evans says. "Clients aren't just buying our product, we are helping them create process improvements in the safest and most efficient ways possible. We are less about material sales, and more about being rust-prevention specialists. We're not just providing material, we're forming a partnership with our clients to reduce packaging, which reduce costs and increases performance.
"It's this commitment to our work which makes BOSELON the Alpha and Omega of rust prevention," he continues. "It's the Alpha because it is the world's first. It's the Omega, because we truly believe that BOSELON is the last VCI Film you'll ever need. Customers might think they can save a penny here or there by cutting costs on materials, but that's only until they have to scrap out their parts."
Global Network
With all of its products, Aicello is dedicated to leading through innovation, quality and communication. In terms of SOLUBLON, Aicello is the global leader, having manufactured polyvinyl alcohol (PVA) water-soluble films since 1961. The company is registered under ISO 9001 and ISO 14001, and its technical team works closely with clients to help them realize new ideas and enhance the value of their brands. It also has extensive in-house converting, printing and bag-making capabilities, with state-of-the-art casting machines that produce water-soluble film with a high level of roll-to-roll consistency.
Additionally, the company notes its pursuit of innovation leads it to continuously expand its understanding of the chemistry and physics of film, extrusion and clean room technique, as well as to continually work closely with its suppliers and customers to improve.
"We have a global network," Evans explains. "This helps with shipping and logistics around the world. We are able to help customers when they are packaging their materials and we are also able to be there to help inspect the parts when they have arrived at their destination. To get the full picture of how we can best serve our customers, you need to be on both ends, and we have the ability to do that."
Through its CleanContainers division, Aicello works with microelectronics, pharmaceuticals, cosmetics and food additives industries. The company's clean bottles and containers allow for the safe transportation of high-purity chemicals without compromising quality.
Not only has Aicello custom designed resins for its CleanContainers, it also has designed facilities in-house for their production. In addition to manufacturing these containers in clean rooms, the company does not put any additives in the raw materials, and provides particle inspection on every lot.
"We focus on the market niches, and we want to be the best at the few things we do," Evans stresses. "We focus money, manpower, research and development on efficiently packaging our customers' products all around the world."
Maximizing Materials
The company takes great pride in the products it supplies to the market, but its key goal is to continue creating "true packaging." It is part of Japanese culture to value objects as though they have a soul, and Aicello believes that by utilizing and understanding nature, it can find ways to cleverly maximize the full range of nature's materials.
"We believe that packaging is like the atmosphere that surrounds the Earth," the company says. It understands that if plastics are not properly disposed of, they can be hazardous. Aicello is dedicated to being a safer and more responsible corporation, and its environmental policies are based on the following principles:
Consider ways to minimize the use of natural resources.
Reuse products and establish returnable systems.
Assume an aggressive position on recycling those plastics that Aicello manufactures.
Convert non-recyclable materials into sources of energy when reuse and recycle principles cannot be applied to them.
Concentrate research efforts on recyclable products. If new products cannot be recycled, develop products that have as little impact as possible on the environment.
Commercialize carbon-neutral, plant-derived plastics.
"We strive to always package efficiently and help improve customers' processes," Evans says. "With BOSELON, it's not enough to only be the best VCI film, we wanted to also make it completely recyclable.  If you have any parts that you do not want to rust in shipping or storage, you want to wrap it with VCI film, and ours is the best.
"Lead times are shrinking," he continues. "We physically ship things in the same way, but what has changed is the pace and the expectation. When parts arrive at their destination, there is no margin for error and no time to deal with rust. Customers need a prevention method that is secure, and as that immediacy is increasing, the demand for BOSELON is increasing."
Aicello continues to work toward its ultimate goal of being the leader in new, innovative packaging, and to this end, it remains dedicated to its customers. "In today's market, you can have anything tailored to your needs, and the same goes for packaging," Evans says. "Aicello really excels in this area. We make something specific to customers' needs and markets, then balance that with stocking on-the-shelf items as well. We provide the best solutions in a timely manner for our customers, because that is what they require."