AIDA- America Corporation
For nearly a century, AIDA Engineering has been at the forefront of metal-forming technology, and that technological edge has been critical to the company's evolution into the global leader it is today. The company is one of the world's leading providers of metal-stamping presses and metal-forming equipment, and its operations in the United States speak to the company's expertise when it comes to utilizing the most advanced technology in the industry.
Based in Dayton, Ohio, AIDA-America Corporation is the company's North American headquarters for manufacturing, service and support. The 180,000-square-foot facility features state-of-the-art equipment and processes, allowing the company to serve some of the most respected and successful manufacturers in the world, according to President Patrick Ambuske.
More than three-quarters of the company's business is related to the automotive industry, he notes, with Tier I and Tier II metal stampers making up the majority of its customer base. A smaller portion of the company's equipment is provided directly to large-scale automotive OEMs, and the rest of its products are utilized in appliance and HVAC manufacturing applications.
Although AIDA-America's competition has become tougher in recent years with a number of European and Asian companies entering the North American market, Ambuske says the company remains in a strong position thanks to its combination of people power and technological savvy. With unique proprietary technology at its disposal, giving its equipment capabilities its competitors can't match, Ambuske says AIDA-America is poised to remain at the forefront of the industry, just like its parent company.
Numerous Advantages
Ambuske says AIDA-America's advantages in the marketplace are numerous, and many of them are related to the company's technological strength. He points to the company's Ohio facility, which was built in 1996 and still features technology and processes that are considered state-of-the-art in the metal-forming industry. The facility has five major machining centers, including one that was just brought online in 2016.
Ambuske says the company's strength in production equipment gives it the ability to produce equipment that's a cut above its competitors'. "We have some very good toys to play with here," he says.
AIDA-America extends its technological advantage to its products, where it has developed some distinct technology that is of greater value to its customers. "One of the biggest competitive advantages we have right now is product-related and tech-related," Ambuske says. "AIDA was the developer of direct-drive, servo-driven stamping press technology."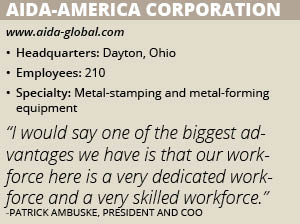 As Ambuske explains, this technology replaces the drive mechanism on a traditional stamping press with a high-torque, low-RPM servo motor that provides the operator with greater control to allow for better forming of difficult materials. "AIDA was the pioneer of direct drive servo press technology," Ambuske says.
The company's technology isn't nearly as valuable without the right people at the controls, however, and Ambuske says AIDA-America is fortunate to have the employees in place to make the most of its technology. "I would say one of the biggest advantages we have is that our workforce here is a very dedicated workforce and a very skilled workforce," he says. "Many people have been with us for more than 20 years."
Overcoming Obstacles
Ambuske says AIDA-America's advantages in the marketplace have become more important over the last few years as competitors continue to enter the market with lower-priced equipment. Although these competitors have an advantage on price, he says, they can't match the overall value AIDA-America brings to its customers through its innovative and highly effective equipment.
Another challenge that Ambuske says the company sees on the horizon is related to the cost of one of its most important materials. "One of our concerns as we go forward with the new administration is what's going to happen to steel prices, because steel alone probably comprises 25 percent or more of our total product cost," Ambuske says.
Despite the challenges, however, Ambuske says the outlook for AIDA-America is a bright one over the next few years, thanks in large part to the company's technological advantages. "I see us continuing to advance in servo press technology, and I see us continuing to be the leader in that field," he says. "I see us continuing over the next years to continue our focus on servo technology and driving that technology into other segments of our business that haven't fully adopted that technology yet, but certainly could use it."