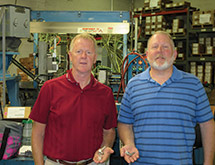 Air-Way Global Manufacturing Co.
When Air-Way Manufacturing Co. first attained ISO 9001 certification fifteen years ago, many of President of Manufacturing and Engineering John Hamm's manufacturing industry peers cautioned him "every day will be an audit day." This prospect has proven to not be particularly daunting for the Olivet, Mich.-headquartered hydraulic fittings manufacturer. "We're ready every day," Hamm says. "We use ISO to our advantage."
The company's internal quality processes and management philosophies – many of which are strongly influenced by value-added and lean methodologies – ensure its constant readiness for any kind of close scrutiny, ISO audit related or otherwise. "Back in 2008 and 2009, when things in the economy were bad, we were forced to take a serious look at everything we were doing, and created our own lean program which has evolved over the years," Hamm says. "We go out of our way to create one best way of doing things, and that's the 'Air-Way way.'"
The "Air-Way way" includes ongoing employee training and process improvement programs including a "toolbox" on each employee's computer. The topics in the toolbox are arranged by drawer and they range from helping the user deal with HR-related problems to providing assistance in constraint management through process review. The company also collaborates closely with vendors on lean practices by visiting suppliers' facilities and vice versa. Many of Air-Way's process improvements were put into place following the hiring of a consultant who in 2011 led Air-Way through a "competitive operational journey," COO Kim DeYoung says.
Like many journeys, the road hasn't always been completely clear. "Sometimes we implement things that don't stick, and when that happens there's a reason for it," Hamm says. "Often it's a challenge to figure out why, but we always maintain a sense of urgency and constancy of purpose to meet our goals, and that's very important to us."
Knowing which goals are most important can also be challenging. "There's a zillion things you can work on every day, but you have to prioritize based on what your biggest constraint is," Hamm says. The company's constraint management program includes a program of "layered audits," where employees and management staff audit each other's work, he adds.
A Willing and Able Staff
Hamm credits Air-Way staff for their willingness to adapt to not only changes within the company itself, but also the needs of its customers. "I'm most proud of our people; we have a dedicated and creative staff in every facility and every plant, and we've empowered them to be that way," Hamm says. "Our people genuinely care and are responsive to customer requests. Many companies talk about responsiveness, and some do it better than others can, but we are awesome at it, and that is a feather in our cap."
Established in 1950 by John Hamm's grandfather, Air-Way today is the largest independent hydraulic fittings and fitting adapter manufacturer in the United States. The company's products include carbon steel and stainless steel hydraulic fittings such as the O-Ring face seal, its top-selling product line. The O-Ring face seal is a leak-free fitting designed to operate at high pressures.
The company's primary clientele includes OEMs in the agriculture, construction and material handling industries, as well as distribution. "We align ourselves with the needs of our customers large and small, whether through design, building kits or special packaging – you name it, we go out of the way," DeYoung says.
Air-Way's ability to design products to customer specifications, as well as its higher than 95 percent on-time delivery performance, has earned it the recognition of clients including John Deere, which this year gave the company a supplier diversity award. The award recognizes the company's overall business relationship with John Deere, noting in particular its responsiveness to requests and ability to resolve problems and share information. Only two John Deere suppliers are given the award each year.
Quick Response
Air-Way maintains its headquarters and two manufacturing facilities in Olivet, Mich. The company also operates a manufacturing facility in Hamilton, Ind.; and final assembly, packaging, and shipping in Edgerton, Ohio; with subsidiaries in Lavonia, Mich., Vancouver and Edmonton. In addition, an Air-Way manufacturing plant in Shangdong Province, China, helps serve the international market.
The company's manufacturing process includes the use of single- and dual-turret CNC lathes, vertical machining centers, rotary transfer machines, screw machines and EDM machines. "We like to control as many parts of the manufacturing process as we can, so we are able to respond to customer requests as quickly as possible," Hamm says.
Air-Way runs lines of both standard and custom products on an around-the-clock basis to fulfill customer requirements. "Sometimes the requests we receive from customers are cut-and-dried, meaning we'll make a print, provide a quote and then produce the fitting. Other times they are custom configurations and require design reviews with customers," he adds. The company is capable of performing pre-production runs and sending customers sample fittings for fit up before the larger production runs are performed.
The company assures the quality of the parts it manufactures in part through its use of the Micronite predictive process control system. Operators use electronic gages to input key and critical characteristics into the system, which then analyzes each measurement prompting them to make adjustments to the machine when variances are detected. "The idea is that, with this system, we will never run a bad part," Hamm says.